117 new locally transmitted COVID-19 cases in Singapore; 2 new clusters identified
Thirty-eight infections were not linked to previous cases, said the Ministry of Health (MOH).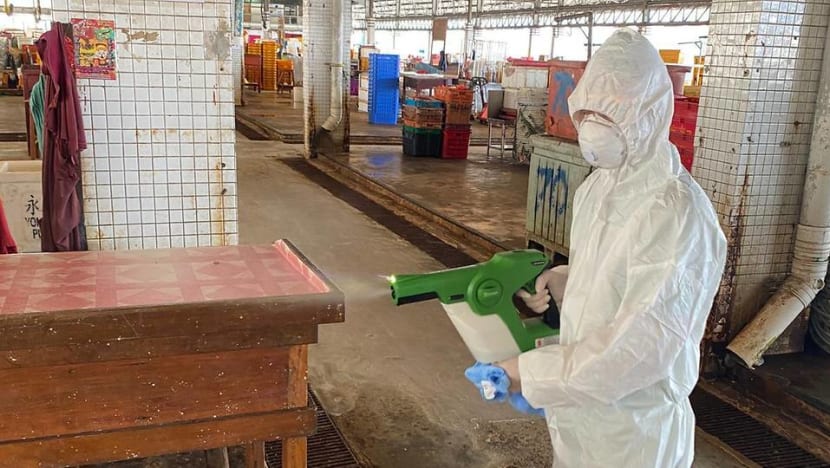 SINGAPORE: Singapore reported 117 new locally transmitted COVID-19 infections as of noon on Sunday (Jul 25), including 46 cases linked to the Jurong Fishery Port cluster and five to the cluster in KTV lounges.
A total of 43 infections were linked to previous cases and already placed in quarantine, and 36 were detected through surveillance testing.
The remaining 38 infections were not linked to previous cases, said the Ministry of Health (MOH).
Two cases were people above the age of 70 who were unvaccinated or partially vaccinated, and are at risk of serious illness, MOH added.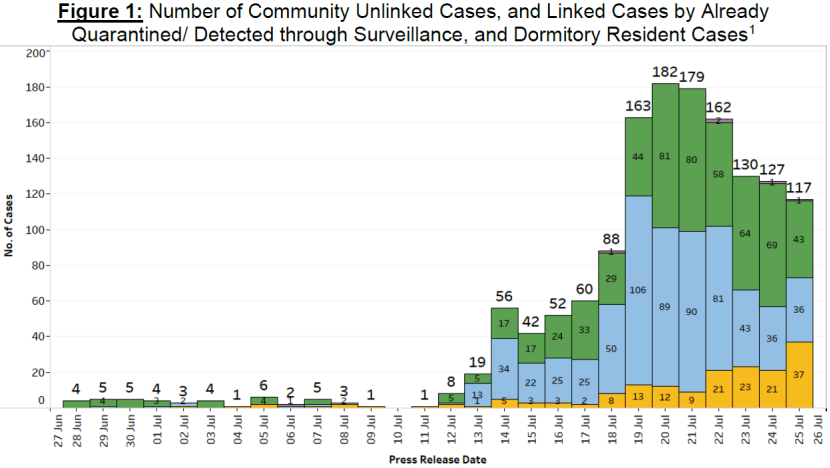 The Health Ministry also reported two new clusters, both with three infections each. The new clusters were linked to Cases 65893 and 65846.
MOH did not give further information on these two cases. 
Three clusters have been closed as there have been no cases linked to them for the past two incubation periods, it added. 
These were the clusters linked to 115 Bukit Merah View Market and Food Centre, 119 Bukit Merah View and Case 64394. 
A total of 94 infections were linked to the cluster at 115 Bukit Merah View Market & Food Centre, while eight were linked to 119 Bukit Merah View. 
The Health Ministry said last month that COVID-19 transmission at the market and food centre could have taken place through long queues and surfaces in toilets. 
There were four cases in the cluster linked to Case 64394, an 81-year-old Singaporean retiree who was partially vaccinated. He tested positive for COVID-19 on Jun 22. 
There are currently 25 active COVID-19 clusters in Singapore ranging between three and 792 cases. 
With 792 infections, the Jurong Fishery Port/Hong Lim Market and Food Centre cluster is the largest active cluster in Singapore. 
ART SELF-TEST KITS FOR THOSE NEAR TWO NEW MARKETS
MOH said it is working with the People's Association to distribute antigen rapid test (ART) self-test kits to people who had visited selected markets and food centres in the last 14 days. 
This is part of the ministry's investigation into cases of COVID-19 infection involving markets and food centres which are likely seeded by fishmongers who visited Jurong Fishery Port to collect their stock and sell at the markets and food centres. 
The collection will run from Jul 26 to Jul 27 July at Residents' Committee Centres in the vicinity of two new markets - Geylang Bahru Market and Food Centre and 146 Teck Whye Avenue Market.
LIKELY TO SEE HIGH NUMBER OF CASES IN COMING DAYS: MOH
MOH said the overall number of new cases in the community has increased from 324 in the week before to 1,056 cases in the past week.
"We are likely to continue to see high number of cases in the coming days as we step up efforts to detect them to contain their spread in the community," it added. 
The number of unlinked cases in the community has also increased from 24 cases in the week before to 136 cases in the past week.
A total of 524 cases are currently in hospital, with most well and under observation.
There are now 12 cases of serious illness requiring oxygen supplementation, and two in critical condition in the intensive care unit. None of the 14 cases is fully vaccinated. 
Seven people above 60 years old, who are unvaccinated or partially vaccinated, have fallen very ill, said MOH.
"There is continuing evidence that vaccination helps to prevent serious disease when one gets infected," said the ministry.
"Over the last 28 days, 15 local cases required oxygen supplementation, were admitted to ICU or passed away. Six are unvaccinated, nine are partially vaccinated and none was fully vaccinated."
There were also eight imported cases, who were placed on stay-home notice or isolated upon arrival. Four of these infections were detected upon arrival in Singapore, while four developed the illness during their stay-home notice or isolation.
In total, Singapore reported 125 new COVID-19 cases on Sunday.
An 83-year-old woman died from complications due to COVID-19 on Saturday, becoming Singapore's 37th fatality from the disease.
The Singaporean woman was unvaccinated and was linked to the 121 Bukit Merah View cluster, the Health Ministry said.
In a video posted on social media on Saturday, Prime Minister Lee Hsien Loong urged senior citizens to get vaccinated against COVID-19, assuring them that the vaccines are safe.
"Don't wait till it's too late," Mr Lee said. "Most people your age are already vaccinated, including many of your friends and neighbours. Protect yourself, and your family too." 
As of Sunday, Singapore has reported a total of 64,179 COVID-19 cases and 37 fatalities from the disease.
Download our app or subscribe to our Telegram channel for the latest updates on the coronavirus outbreak: https://cna.asia/telegram