Singapore reports 451 new COVID-19 infections; nurse and dormitory security guard among 7 community cases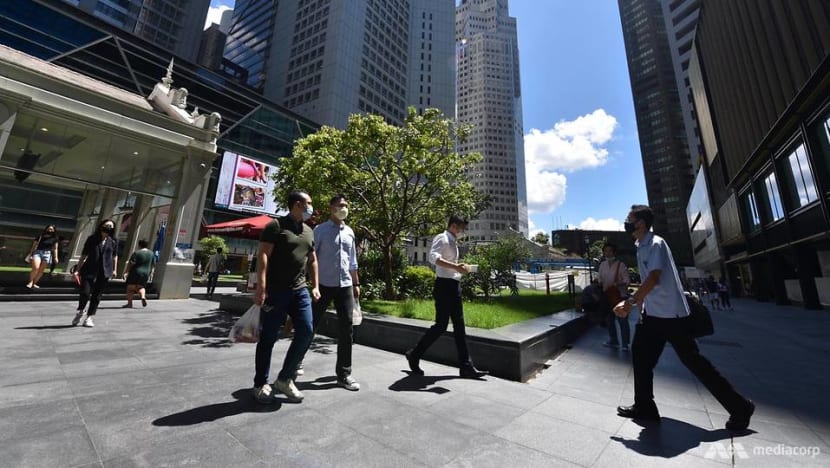 SINGAPORE: Singapore reported 451 new COVID-19 infections as of noon on Wednesday (Jun 10), including seven cases in the community. 
Three of the community cases are Singaporeans or permanent residents, and four are work pass holders, said the Ministry of Health (MOH). 

This brings the total number of COVID-19 cases in Singapore to 38,965.

Among the community cases are a nurse at the National Heart Centre Singapore and a security guard at a dormitory at 31 Sungei Kadut Avenue.
The nurse, a 38-year-old Singaporean woman, was confirmed to have COVID-19 on Jun 9 and is currently warded at SGH. She has no recent travel history to the affected countries or regions and did not go to work after experiencing symptoms. 
Epidemiological investigations are ongoing for the nurse, who is identified as case 38,697, said the ministry.

Case 38,741 is a 56-year-old Singaporean man who works as a security guard at a dormitory at 31 Sungei Kadut Avenue. He was asymptomatic but underwent testing as part of a screening of individuals working at dormitories.
The third Singaporean is case 38,555, who is a household contact of case 37,751 and had already been quarantined earlier. The latter case was confirmed to have COVID-19 on Jun 6 and was identified as an unlinked case. 
All four work pass or work permit holders are asymptomatic and were detected from the ministry's "active surveillance and screening", said MOH.
Among them, cases 38,632 and 38,857 were tested as part of a screening of workers in essential services, and case 38,633 was swabbed as he works as a security guard at Hai Leck Engineering (12 Tuas Drive 1), an active cluster.
Case 38,635 is a housemate of previously confirmed cases, and had already been quarantined in a government quarantine facility earlier. He was swabbed during quarantine to verify his status.

The average number of daily new community cases has increased to nine in the past week from four in the week before.

The number of unlinked cases in the community has also increased, from an average of two cases per day in the week before, to an average of 4 per day in the past week.
"This is partly due to our active surveillance and screening of targeted groups, which have picked up more cases in the past week," said MOH.

A total of 444 cases involve work permit holders residing in foreign worker dormitories.

Three new clusters were identified at dormitories located at 9 Sungei Kadut Street 3, 19A Tech Park Crescent and 113 Tuas View Walk 1.
DISCHARGED AND REMAINING CASES

MOH also announced that 655 more cases have been released from hospitals or community isolation facilities. In all, 26,532 have fully recovered from the infection.
There are currently 223 confirmed cases who are still in hospital, most of whom are stable or improving. Three are in critical condition in the intensive care unit. 
A total of 12,185 patients are being isolated and cared for at community facilities.
Singapore's COVID-19 death toll stands at 25.
Earlier on Wednesday, Tychan, a Singapore-based biotechnology company said it would start human clinical trials next week for a treatment that could slow down the progression of COVID-19 in patients, help them recover faster and provide temporary protection against the coronavirus.
The company said it has received approval from the Health Sciences Authority (HSA) for the Phase 1 clinical safety trial in healthy volunteers.

While trials are in the pipeline, Minister for National Development Lawrence Wong said on Tuesday that Singaporeans must stay "disciplined and vigilant" as COVID-19 is not likely to go away.
"We have to be realistic and gird ourselves for more challenging times," he said in a televised address.
Singapore is increasing its testing capacity by procuring more test kits and building more laboratory facilities, as well as training and recruiting more laboratory technicians and people to carry out swabs and blood samples, Mr Wong said.
However, Singaporeans must be prepared for a rise in COVID-19 cases as human contact increases following the end of the "circuit breaker" period, he added.
"This has happened in many other places which exited from their lockdowns, and we must expect it to happen here too," he said. "The key is whether we are able to keep community infection rates stable. If so, we can continue on the path of progressive easing."
Editor's Note: An earlier version of this story stated that the nurse works at Singapore General Hospital. MOH subsequently amended its earlier statement to say the nurse works at the National Heart Centre Singapore.