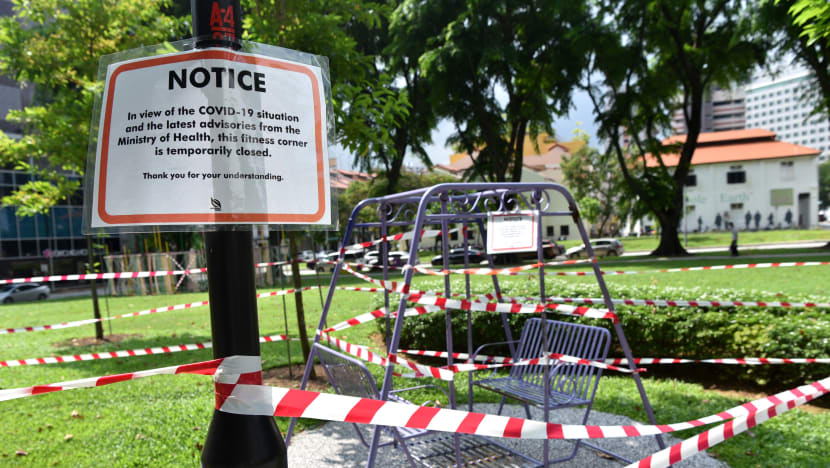 SINGAPORE: Singapore reported 506 new COVID-19 cases as of noon on Saturday (May 30), taking the country's total number of infections to 34,366.

The health ministry reported five community cases among the new cases, the Ministry of Health (MOH) said in its daily update.

One of the new community cases is a Singaporean, one is a permanent resident, two are work permit holders, and the remaining case is a work pass holder. 
A 45-year-old permanent resident is a non-teaching pre-school employee who was picked up as a COVID-19 case as a result of MOH's proactive screening to prepare for the phased reopening of pre-schools.

She experienced onset of symptoms on May 10 and tested positive for COVID-19 on Friday. MOH said she works at My First Skool @ 192 Lorong 4 Toa Payoh.
"MOH will conduct a serological test to determine if this was a past or current infection," the health ministry added. 
The only Singaporean case - a 48-year-old man who tested positive for the coronavirus on Friday after onset of symptoms on May 19 - is currently unlinked.

Among the new work pass and work permit holders cases, one is a contact of Cases 29257, 29258 and 33723, and had already been placed on quarantine earlier. The 36-year-old Indian national is also linked to the cluster at 564 A-E Balestier Road. 
A 26-year-old Indian national tested positive for COVID-19 on Friday. He was swabbed as he was due to start work on a plumbing project at a pre-school, MOH said. He is currently not linked to other cases.
The remaining community case is a 35-year-old Filipino who experienced onset of symptoms on May 22. He tested positive on Friday and is currently an unlinked case while epidemiological investigations are ongoing.
The number of new cases in the community has decreased, from an average of seven cases per day in the week before, to an average of four per day in the past week. 
The number of unlinked cases in the community has remained stable, at an average of two per day in the past two weeks. 
"We will continue to closely monitor these numbers, as well as the cases detected through our surveillance programme," the health ministry said.

MOH reported on Saturday that 501 of the new cases are work permit holders living in dormitories. 
"We continue to pick up many cases among work permit holders residing in dormitories, including in factory-converted dormitories, because of extensive testing in these premises, as part of our process to verify and test the status of all workers," the ministry said.
A new cluster was identified at a dormitory at 15A Senoko Way.

A total of 1,096 more COVID-19 patients have also been discharged from hospitals or community isolation facilities. In all, 20,727 have fully recovered from the infection and have been discharged from hospitals or community care facilities.

There are currently 374 confirmed cases in the hospital. Of these, most are stable or improving, and seven are in a critical condition in the intensive care unit, said MOH. 
A total of 13,242 cases are isolated and cared for at community facilities. These are people who have mild symptoms, or are clinically well but still test positive for COVID-19. 

Twenty-three people have died from complications due to COVID-19 infection.
DON DON DONKI OUTLETS ADDED TO LIST OF PUBLIC PLACES
In the release, MOH added Don Don Donki outlets at 100AM and JEM to a list of places COVID-19 cases had visited during their infectious period. 
Other new places added to the list on Saturday include: Mayflower Market and Food Centre, Junction 8's FairPrice Finest and Food Junction, an NTUC FairPrice at 414 Yishun Ring Road, as well as a Giant supermarket at 418 Yishun Avenue 11. 
People who visited these places during timings specified in the list are advised to monitor their health closely for 14 days from their date of visit.

On Friday, the Singapore Land Authority (SLA) said the former Qiaonan Primary School site has been refurbished to house foreign workers in essential services.
The site has space for about 500 people.
Moving healthy foreign workers to temporary facilities has been part of the Government's strategy to curb the spread of COVID-19.
Download our app or subscribe to our Telegram channel for the latest updates on the coronavirus outbreak: https://cna.asia/telegram