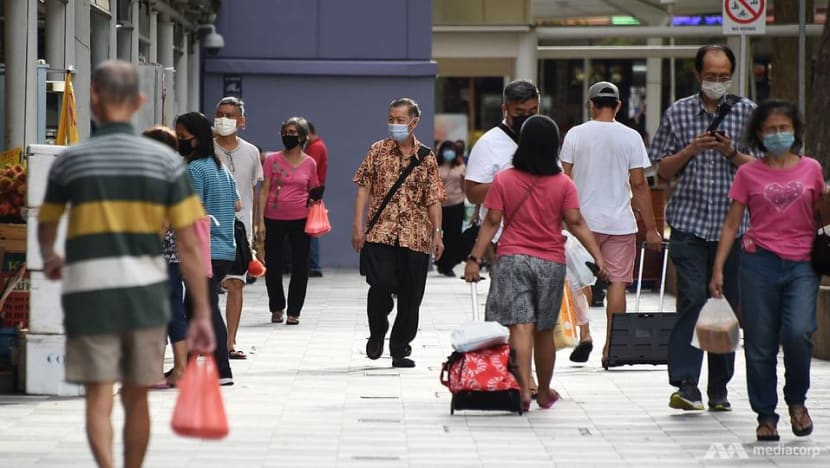 SINGAPORE: Singapore reported 45 new COVID-19 cases as of noon on Thursday (Jan 14), said the Ministry of Health (MOH).

There is one case in the community and no new cases in foreign workers' dormitories. 
The sole community case, known as Case 59280, is currently unlinked. The 32-year-old Singaporean man works as a para-veterinarian with the Singapore Police Force's K-9 Unit and his job mainly involves tele-consultations with dog handlers. 
The man developed a fever on Jan 11 and sought treatment at a general practitioner clinic on the same day, where he was tested for COVID-19 as part of prevailing health protocols. 
He had remained at home on medical leave until his result came back positive for COVID-19 infection on Jan 13 and he was taken in an ambulance to the National Centre for Infectious Diseases (NCID). His serological test result has come back negative, indicating that this is likely a current infection, said MOH. 

All his identified close contacts, including his family members and co-workers, have been isolated and placed on quarantine. MOH will conduct COVID-19 and serological tests for them as well.
TWO IMPORTED CASES TRAVELLED TO SINGAPORE FOR E-SPORTS EVENT
The remaining 44 cases are imported infections, and were placed on stay-home notice or isolated upon arrival in Singapore.
This is the highest number of imported infections in Singapore since Mar 23, when 48 imported cases were reported. 

Among them are three Singaporeans who returned from Qatar, the Philippines and the United Kingdom as well as three dependant's pass holders who arrived from the United Arab Emirates and Ukraine. 

Two are student's pass holders who arrived from Pakistan and Myanmar while three are work pass holders who travelled from India and the UAE.
There are 29 work permit holders who arrived from Bangladesh, India, Indonesia, Myanmar and the Philippines, of whom 14 are foreign domestic workers. One of them, Case 59260, is a sea crew member who worked onboard bunker tanker NewOcean 6. The NewOcean 6 cluster now has a total of 13 confirmed infections. 

He had been identified as a close contact of Case 58812, and was placed on quarantine on Dec 31. He was tested during quarantine and confirmed to have COVID-19 infection on Jan 13. 

Case 58812, an Indonesian crew member, was the first infection linked to the bunker tanker. He tested positive for COVID-19 on Dec 30, 2020 after arriving in Singapore on Dec 17.

The remaining four cases are short-term visit pass holders. One of them arrived from India to visit his Singaporean child while another arrived from Indonesia as caregiver to her parent who was already receiving medical care in Singapore and had returned for further treatment. 
The remaining two short-term visit pass holders, aged 21 and 24, arrived from Brazil to participate in an e-sports event. The men are contacts of a previously confirmed case - a 24-year-old man who also travelled to Singapore from Brazil to participate in an e-sports event. 
MOH also added several new locations to its list of places visited by COVID-19 community cases during their infections period. The locations include Chong Pang City Wet Market & Food Centre as well as Junction Nine's Sheng Siong outlet in Yishun.
NO CASES IN INTENSIVE CARE UNIT
MOH said the overall number of new cases in the community has decreased from nine cases in the week before to three cases in the past week. 
The number of unlinked cases in the community has also decreased from six cases in the week before to one case in the past week. 

Thirty-five more cases have been discharged from hospitals or community isolation facilities, bringing Singapore's total recoveries to 58,757.
There are 41 cases still in hospital. Most of them are stable or improving, and none is in the intensive care unit. Another 202 are being isolated and cared for at community facilities.

SINGAPORE ACCELERATING VACCINATION PROGRAMME
More than 6,200 people in Singapore have received COVID-19 vaccines, Health Minister Gan Kim Yong said on Wednesday, adding that the country is set to establish four vaccination centres by the end of January.

Another four vaccination centres are also on track to open by the end of February, said MOH on Wednesday.

"More centres across the island are being planned, and will be rolled out in tandem with the arrival of the vaccine shipments," said the ministry.

"These centres, together with the polyclinics and selected Public Health Preparedness Clinics (PHPCs), will ensure that every Singaporean and long-term resident in Singapore who is medically eligible can receive their vaccinations conveniently."
When the time comes, people should get themselves vaccinated with an approved vaccine, rather than hold out and wait for another brand, said Education Minister Lawrence Wong, co-chair of the COVID-19 multi-ministry task force.

"What we have today is an authorised vaccine that is safe, that is effective," added Mr Wong on Wednesday after receiving his first dose of the Pfizer-BioNTech vaccine.
As of Thursday, Singapore has reported a total of 59,029 COVID-19 cases. 

Download our app or subscribe to our Telegram channel for the latest updates on the coronavirus outbreak: https://cna.asia/telegram