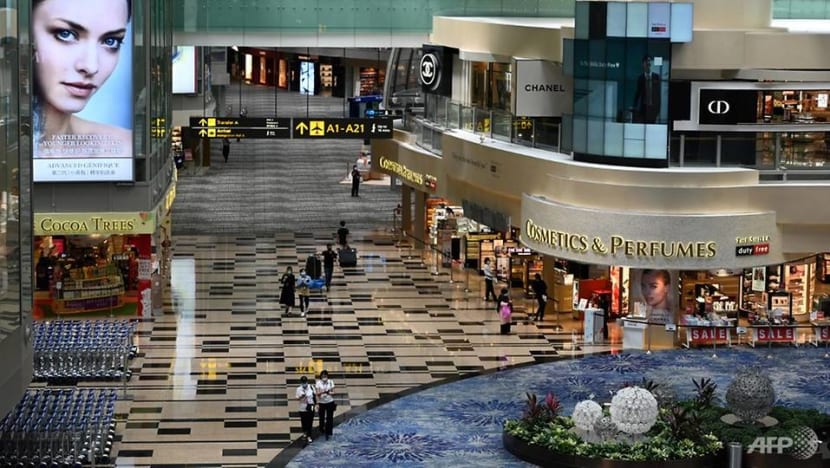 SINGAPORE: Singapore reported 18 new imported COVID-19 cases as of noon on Wednesday (Nov 11), said the Ministry of Health (MOH).

Among Wednesday's cases are two Singapore permanent residents who returned from India and Indonesia. 
Another 14 are currently employed in Singapore. Of these, four are work pass holders who arrived from Myanmar, the Netherlands and Switzerland.
Ten other cases are work permit holders employed as foreign domestic workers who arrived from Myanmar and Indonesia. 
The remaining cases are a dependant's pass holder who arrived from Nepal and a special pass holder who arrived from Russia to board a ship docked here as a crew member. Both the 23-year-old woman who travelled from Nepal and the 35-year-old man who travelled from Russia were confirmed to have COVID-19 on Nov 10. 

All the new imported cases had been placed on stay-home notice upon their arrival, the ministry said.

No new locally transmitted infections were reported.
The new infections bring Singapore's tally of COVID-19 cases to 58,091. 

MOH said all new cases reported on Wednesday are asymptomatic. 
The overall number of new cases in the community has remained low, with a total of two cases in the past week. Both cases are currently unlinked, said the health ministry.

Further details can be found in the health ministry's daily situation report. 

The health ministry also provided an update on Case 58262. The serological test for the 25-year-old Malaysian who worked as a cleaner here came back positive, which indicates likely past infection.
Prior to this, he had been tested twice using the polymerase chain reaction (PCR) test. His first test on Nov 3 was inconclusive and his second test on Nov 9 yielded a very high cycle threshold (CT) value, which is indicative of a low viral load, said the ministry.
MOH added that the man works at an office building at PaxOcean Singapore at 33 Tuas Crescent, and is connected to a previous case, Case 58216. However, there are no indications that they had interacted.

As reported by MOH on Tuesday, the Malaysian had last gone to work on Nov 2. He developed symptoms a day later and sought medical treatment at a general practitioner clinic, where he was tested for COVID-19. 

33 CASES STILL IN HOSPITAL
Five more cases have been discharged from hospitals or community isolation facilities, bringing Singapore's total recoveries to 57,990. 
There are 33 cases still in hospital, Most of them are stable or improving, and no one is in the intensive care unit. Another 40 are being isolated and cared for at community facilities.
To date, 28 have died from complications due to COVID-19 infection.

SINGAPORE, HONG KONG AIR TRAVEL BUBBLE TO START ON NOV 22
An air travel bubble between Singapore and Hong Kong will start on Nov 22, with one flight a day into each city with 200 passengers each way.

This will increase to two flights a day into each city from Dec 7, the Civil Aviation Authority of Singapore (CAAS) said earlier on Wednesday. 
Travellers have to take the dedicated flights, but will have no restrictions on their travel purpose and do not have to follow a controlled itinerary. They will also not be subject to quarantine or stay-home notice.
However, they must test negative on COVID-19 polymerase chain reaction (PCR) tests within 72 hours before their scheduled departure time.
On Tuesday, Minister for Education Lawrence Wong said that Singapore may be able to enter Phase 3 before the end of the year "if all the stars are aligned". 
Mr Wong said the timing will be "contingent" on individuals doing their part. 
In particular, he said, Singapore needs to see higher participation in the TraceTogether programme, as well as continued cooperation and compliance with all prevailing safe distancing measures. 

"There's still some time before the end of the year. I do not know whether all the stars can be aligned, but we continue to monitor and we will give you updates if so," said Mr Wong. 
MOH on Tuesday also announced that travellers who are not Singaporeans or permanent residents entering Singapore from high-risk countries will need to take a COVID-19 Polymerase Chain Reaction (PCR) test within 72 hours before their departure.
This is part of Singapore's plans to reduce the risk of imported cases from high-risk countries and regions. 
The pre-departure requirement will begin on Nov 18. 
Download our app or subscribe to our Telegram channel for the latest updates on the coronavirus outbreak: https://cna.asia/telegram​​​​​​