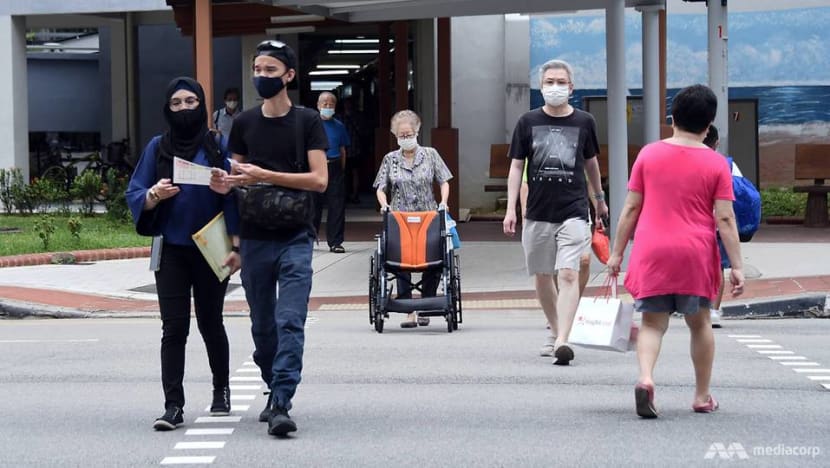 SINGAPORE: Singapore reported seven new COVID-19 cases as of noon on Sunday (Oct 18), bringing the national total to 57,911.
Of the new infections, one is in the community and another case is a dormitory resident, the Ministry of Health (MOH) said. 
There were also five imported cases, all of whom were placed on stay-home notice upon arrival in Singapore. 
The sole community case is a 40 year-old Bangladeshi man who is currently unlinked. He was detected under the enhanced community testing for individuals aged 13 and above, and was diagnosed with acute respiratory infection (ARI) at first presentation to a doctor.
The technician had not gone to work after onset of symptoms and his serological test result came back positive, which indicates likely past infection, said the ministry.

The only dorm case was detected through the authorities' bi-weekly rostered routine testing of foreign workers living in dormitories. 
"This allows us to pick up cases early, including asymptomatic ones, so that we are able to ring-fence them quickly to prevent further transmission, by aggressively containing, tracing and isolating the close contacts," said MOH.
"Overall, the number of new cases in the community has remained stable at an average of fewer than 1 case per day in the past 2 weeks. 
"The number of unlinked cases in the community has also remained stable at an average of fewer than 1 case per day in the past 2 weeks," said the ministry.

STUDENT FROM GUATEMALA AMONG IMPORTED CASES
Among the five imported cases, four are currently employed in Singapore. 
Of these, two are work permit holders, a 40-year-old woman and 27-year-old woman who arrived from the Philippines and were asymptomatic. 

Another two are work pass holders who arrived from Greece and France. The 32-year-old Greek man was asymptomatic while the 48-year-old French man had onset of symptoms on Oct 7.
The remaining imported case is a 17-year-old boy from Guatemala who is a student's pass holder.
All five cases had been placed on stay-home notices upon arrival and were tested during that period.
MOH said that epidemiological investigations are in progress. All identified close contacts of the cases have been isolated and placed on quarantine, and will be tested at the start and end of their quarantine period to detect any asymptomatic cases. 
The ministry added that it will conduct serological tests for the close contacts to determine if the cases could have been infected by them.
LOCATIONS VISITED BY COVID-19 CASES WHILE INFECTIOUS
Another four locations have been added to the list of places visited by COVID-19 cases while infectious, including Ya Kun Family Cafe at Parkway Parade and the National Museum of Singapore. 
Ya Kun Family Cafe was patronised on Oct 5 between 12.45pm to 1.25pm while the National Museum was visited on the same day from 1.55pm to 6pm. 
The other two places are Moments' cafe at 326 Serangoon Avenue 3, which was visited on Oct 5 from 7.35am to 11.25am, and Aburi-EN restaurant at NEX, which was patronised from 11.55am to 12.35pm on Oct 7. 
As a precautionary measure, anyone who had been at these locations during the specified timings should monitor their health closely for 14 days from their date of visit, said MOH. 
They should see a doctor if they develop symptoms of acute respiratory infection, as well as fever and loss of taste or smell.

The ministry added that there is no need to avoid places where confirmed cases of COVID-19 have been. 
The National Environment Agency will engage the management of affected premises to provide guidance on cleaning and disinfection, said MOH.

Nine more COVID-19 cases have been discharged from hospitals or community isolation facilities, bringing the total number of recoveries to 57,807.
There are currently 40 confirmed cases who are still in hospital. Most are stable or improving, and no one is in the intensive care unit. 
A total of 36 are isolated and cared for at community facilities. 
"These are those who have mild symptoms, or are clinically well but still test positive for COVID-19," said MOH.
Twenty-eight people have died from complications due to COVID-19 infection.

On Saturday, the tripartite advisory on managing excess manpower and responsible retrenchment was updated to provide more guidance on how employers should lay off workers, as further job cuts are expected amid the COVID-19 crisis. 

The latest advisory calls for companies to retain Singaporean workers, guidelines on how employers can break the news to their workers more sensitively, as well as to make training programmes part of the post-retrenchment package.
A checklist on how to conduct retrenchments properly was added as well.
Like many countries, Singapore's economy has been battered by the COVID-19 pandemic. The country entered a recession in the second quarter after non-essential businesses were shuttered as part of measures to contain infections during an almost two-month-long "circuit breaker" period.
On Thursday, Deputy Prime Minister Heng Swee Keat said given the scale of the COVID-19 crisis, the government may not be able to save every business and job.
The Government would however continue to support every worker, Mr Heng said, adding that both employers and job seekers have to keep an open mind and be willing to adapt and adjust.

Download our app or subscribe to our Telegram channel for the latest updates on the coronavirus outbreak: https://cna.asia/telegram