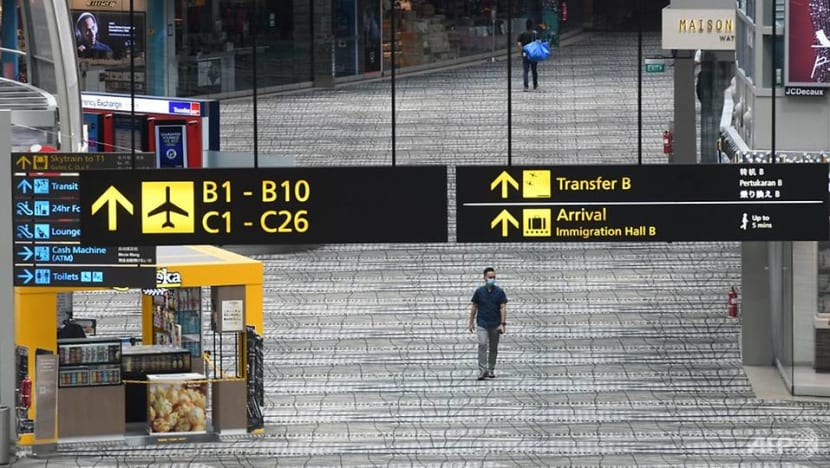 SINGAPORE: Four new COVID-19 cases were reported in Singapore on Monday (Oct 19), the Ministry of Health (MOH) said. 
All four infections were imported cases who were placed on stay-home notice upon their arrival in Singapore, and tested during this period said MOH. No locally transmitted COVID-19 cases were reported.
A 40-year-old Singaporean woman and a 39-year-old man who is a Singapore permanent resident were among the four imported cases reported on Monday.
Both had returned to Singapore from India. The woman had an onset of symptoms on Oct 18 while the man was asymptomatic. 
A 18-year-old student's pass holder from India, who was asymptomatic, was also among the imported cases.
The remaining case is a 41-year-old special pass holder from the Philippines, who had arrived in Singapore to board a ship that was docked here. The man was asymptomatic. 

The new cases bring the national total to 57,915.
MOH said that epidemiological investigations are in progress. All identified close contacts of the cases have been isolated and placed on quarantine, and will be tested at the start and end of their quarantine period to detect any asymptomatic cases. 
The ministry added that it will conduct serological tests for the close contacts to determine if the cases could have been infected by them.
"Overall, the number of new cases in the community has remained stable at 4 cases a week in the past 2 weeks. 
"The number of unlinked cases in the community has increased from none in the week before, to two cases in the past week" said MOH.
The ministry added it will continue to closely monitor these numbers, as well as the cases detected through its surveillance programme.
MOH said it has been monitoring existing clusters for any further COVID-19 transmission.
As there were no more cases linked to the cluster at Sungei Tengah Lodge at 500 Old Choa Chu Kang Road for the past two incubation periods - or 28 days - the cluster is now closed, said the ministry.

LOCATIONS VISITED BY COVID-19 CASES WHILE INFECTIOUS

Another two more locations have been added to the list of places visited by COVID-19 cases while infectious, Jurong Point shopping mall and the FairPrice Aljunied supermarket at Block 114 Aljunied Avenue 2.

Jurong Point shopping mall was visited on Oct 10 between 6.35pm to 8pm while the FairPrice supermarket at Aljunied was patronised on Oct 11 from 7.35pm to 8.05pm. 

As a precautionary measure, anyone who had been at these locations during the specified timings should monitor their health closely for 14 days from their date of visit, said MOH. 
The health ministry said individuals may access the SafeEntry Location Matching Self-Check service via the TraceTogether App, SingPass Mobile or at the SafeEntry website to check whether they were at these locations during the specified timings, based on their own SafeEntry records.
They should see a doctor if they develop symptoms of acute respiratory infection, as well as fever and loss of taste or smell.

The ministry added that there is no need to avoid places where confirmed cases of COVID-19 have been. 
The National Environment Agency will engage the management of affected premises to provide guidance on cleaning and disinfection, said MOH.
RECOVERIES
Twelve more COVID-19 cases have been discharged from hospitals or community isolation facilities, bringing the total number of recoveries to 57,819.
There are currently 34 confirmed cases who are still in hospital. Most are stable or improving, and no one is in the intensive care unit.
A total of 34 people are isolated and cared for at community facilities.
"These are those who have mild symptoms, or are clinically well but still test positive for COVID-19," said MOH.
Twenty-eight people have died from complications due to COVID-19 infection.
MORE HELP FOR EMPLOYERS WITH LOCAL WORKERS
Singapore said on Monday that more than 140,000 companies with 1.9 million local employees will receive S$5.5 billion in Jobs Support Scheme (JSS) payouts from Oct 29.
The latest payout is S$1.5 billion more than the last round of disbursement in July.
First announced by Deputy Prime Minister Heng Swee Keat in February's Budget, the JSS is a wage subsidy programme aimed to help companies retain their workers as businesses take a hit from the COVID-19 pandemic. 
With the October payouts, more than S$21.5 billion in JSS support would have been given out, said the Ministry of Finance and Inland Revenue Authority.
Download our app or subscribe to our Telegram channel for the latest updates on the coronavirus outbreak: https://cna.asia/telegram