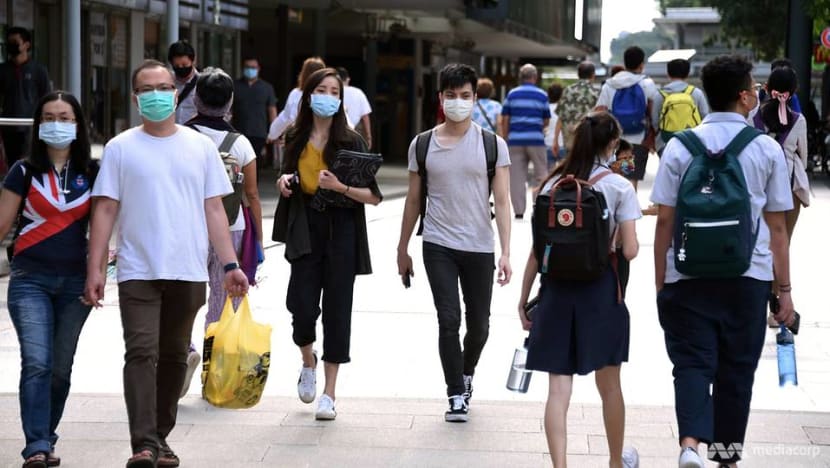 SINGAPORE: Singapore reported five new COVID-19 cases as of noon on Sunday (Oct 25), taking the national tally to 57,970.
Two of the cases are locally transmitted and involve residents at foreign worker dormitories, said the Ministry of Health (MOH).
One case was tested for COVID-19 when he developed acute respiratory infection symptoms. The other case, who is asymptomatic, was detected through bi-weekly rostered routine testing.
Another three are imported cases, all of whom were placed on stay-home notice upon arrival in Singapore.
One imported case involved a 66-year-old woman who travelled from Indonesia. The Indonesian national, a short-term visit pass holder, was allowed entry into Singapore to visit her child who is a permanent resident.
The woman is a contact of a previously confirmed case known as Case 58107, who is a 70-year-old Indonesian.
Case 58107 was confirmed as a case on Wednesday. The short-term visit pass holder was allowed entry into Singapore as he was already receiving medical care in Singapore and had returned for further treatment.
The remaining two cases on Sunday involved a 25-year-old permanent resident who travelled from the United Kingdom, and a 34-year-old Indian national who arrived from the United Arab Emirates on a dependant's pass.
MOH said that epidemiological investigations are in progress. In the meantime, all the identified close contacts of the cases have been isolated and placed on quarantine, and will be tested at the start and end of their quarantine period to detect asymptomatic cases.
In addition, MOH said that as there have been no more cases linked to the cluster at North Coast Lodge (51 North Coast Avenue) for the past two incubation periods, amounting to 28 days, the cluster has been closed.
Fourteen more cases of COVID-19 infection have been discharged from hospitals or community isolation facilities. In all, 57,858 have fully recovered from the infection and have been discharged from hospitals or community care facilities.
There are currently 51 confirmed cases still in hospital. Of these, most are stable or improving, and none are in the intensive care unit.
Thirty-three cases are isolated and cared for at community facilities. These are those who have mild symptoms, or are clinically well but still test positive for COVID-19. 
A total of 28 people in Singapore have died from complications due to COVID-19 infection.
Overall, the number of new cases in the community has decreased from five cases in the week before, to two in the past week, said MOH.
The number of unlinked cases in the community has remained stable at two cases a week in the past two weeks.
The two community cases reported on Saturday had both gone to work at Changi Airport Terminal 3 prior to testing positive for COVID-19.
One of them is a 64-year-old permanent resident who is a security officer while the other case is a 48-year-old Singaporean who is a temperature screener and swab assistant at the airport's Raffles Medical outlet.
Both community cases were detected when they were diagnosed with acute respiratory infection at first presentation to a doctor.
"While both cases work at Changi Airport Terminal 3, they had not interacted with each other, and epidemiological investigations so far have not established any link between them. 
"As a precautionary measure, all individuals working at Changi Airport Terminal 3 who may have contact with travellers will be tested for COVID-19," said MOH.
Download our app or subscribe to our Telegram channel for the latest updates on the coronavirus outbreak: https://cna.asia/telegram​​​​​​