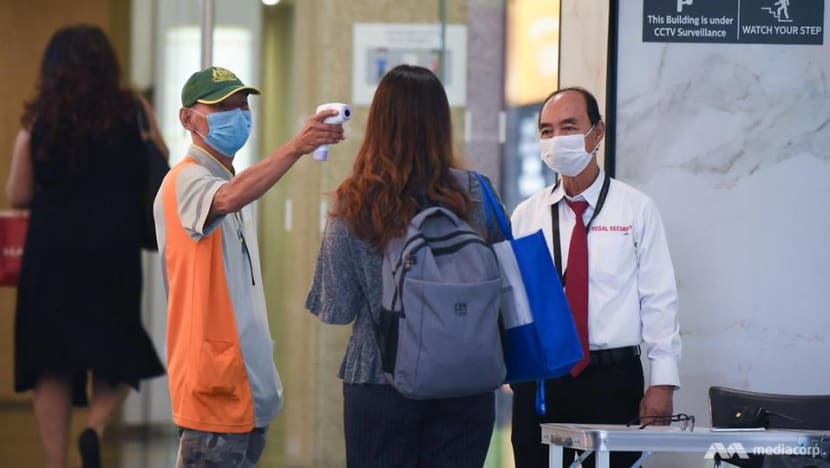 SINGAPORE: Singapore reported 202 new COVID-19 cases as of noon on Saturday (Jul 18), with seven infections in the community, said the Ministry of Health (MOH).
This brings the total number of cases in the country to 47,655. 
Among the cases in the community, four are Singaporeans, one permanent resident, one work permit holder and one student's pass holder. A 6-year-old boy is also among the community infections. 
"Of the seven cases in the community, three were picked up as a result of our proactive surveillance and screening, and one had already been placed on quarantine earlier," MOH said. 
"Four of the cases are asymptomatic, and were detected through our proactive testing."

Three of the community cases are linked to previous cases or clusters, MOH said. One of them, Case 47686, had been identified as a contact of previously confirmed cases, and had been placed on quarantine earlier. He was tested during quarantine to determine his status, even though he is asymptomatic.
A 52-year-old man, Case 47655, was asymptomatic and was identified during "periodic testing" of people working in essential services. 
Case 47632, a 64-year-old Singaporean man, was tested for COVID-19 under MOH's enhanced community testing and is a family contact of two cases announced on Friday.

The remaining four community cases are unlinked. 
Of these, two cases (Cases 47541 and 47723) had been detected as a result of the ministry's screening of workers in essential services who are living outside the dormitories. The remaining two cases (Cases 47544 and 47654) were swabbed under the enhanced community testing to test all individuals aged 13 and above who are diagnosed with acute respiratory infection at first presentation to a doctor. 
"This allows us to detect infected individuals early and to quickly contain further spread," MOH said.

Epidemiological investigations of the unlinked cases are in progress. In the meantime, all the identified close contacts of the cases have been isolated and placed on quarantine, and will be tested at the start and end of their quarantine period to detect any asymptomatic cases.

"We will also conduct serological tests for their household contacts to determine if these cases could have been infected by them," said the ministry.

Overall, the number of new cases in the community has decreased, from an average of 18 cases per day in the week before, to an average of nine per day in the past week. 
The number of unlinked cases in the community has also decreased, from an average of nine cases per day in the week before, to an average of five per day in the past week.

Several new locations have also been added to the list of places visited by COVID-19 cases in the community during their infectious period. These include shopping centres like Parklane Shopping Mall and JCube.
Other locations include Albert Centre, Lot One Shoppers' Mall, Westgate, Sheng Siong and FairPrice supermarkets.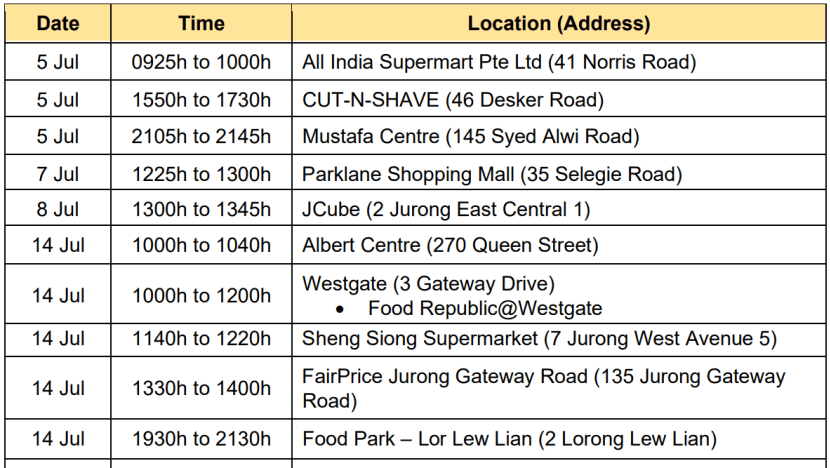 IMPORTED CASES
There are also eight imported cases, seven of whom had been placed on stay-home notices upon their arrival in Singapore and had been tested then.
Among them is one Singaporean, one permanent resident, three work pass holders, one work permit holder, one dependent's pass holder and one special pass holder.
The Singaporean had returned from Pakistan on Jul 4. The other six cases had all travelled to Singapore from India.

The remaining imported case,  involves a 40-year-old Filipino national who had arrived in Singapore from the Philippines on Thursday.
He was taken to directly to the National Centre for Infectious Diseases as he was symptomatic.
He is a sailor currently holding a special pass who will join a vessel that called in Singapore's port.

The rest of the 187 new cases reported on Saturday are work permit holders living in foreign worker dormitories, MOH said.

NEW AND CLOSED CLUSTERS, MORE DISCHARGED

There were two new clusters at dormitories identified on Saturday as well. They are at 72 Tagore Lane dormitory and at 54 Tech Park Crescent.
Two more clusters were also closed as there have been no more cases linked to them for the past 28 days. These are Changi Lodge II at 80 Tanah Merah Coast Road and Sungei Tengah Lodge at 500 Old Choa Chu Kang Road.
In total, 256 more cases of COVID-19 infection have been discharged from hospitals or community isolation facilities, MOH said.
In all, 43,833 have fully recovered from the infection and have been discharged from hospitals or community care facilities.
There are currently 169 confirmed cases who are still in hospital. Of these, most are stable or improving, and none is in the intensive care unit. 
A total of 3,626 are isolated and cared for at community facilities. These are those who have mild symptoms, or are clinically well but still test positive for COVID-19. 
On Friday, MOH said a 72-year-old COVID-19 patient died due to a brain haemorrhage.
The Singaporean woman, known as Case 47229, had a history of diabetes and was taken to hospital on Wednesday for reasons not related to the coronavirus, the ministry said. She tested positive for COVID-19 after her death.
Health Minister Gan Kim Yong said on Friday that Singapore must be prepared for a second wave of COVID-19 infections, citing the resurgence of cases in places like South Korea, Japan, Australia and Hong Kong.
Singapore's COVID-19 multi-ministry task force also announced on Friday that people entering Singapore from Monday with travel history to Australia's Victoria state, Japan and Hong Kong within the last 14 days will have to serve their stay-home notices at dedicated facilities.

All foreign workers living in dormitories, where large clusters of COVID-19 cases have been found, will be tested by mid-August, the task force said.
As of Thursday, about 232,000 of the estimated 300,000 foreign workers who live in dormitories have either recovered or have been tested to be free from the virus.

Download our app or subscribe to our Telegram channel for the latest updates on the coronavirus outbreak: https://cna.asia/telegram