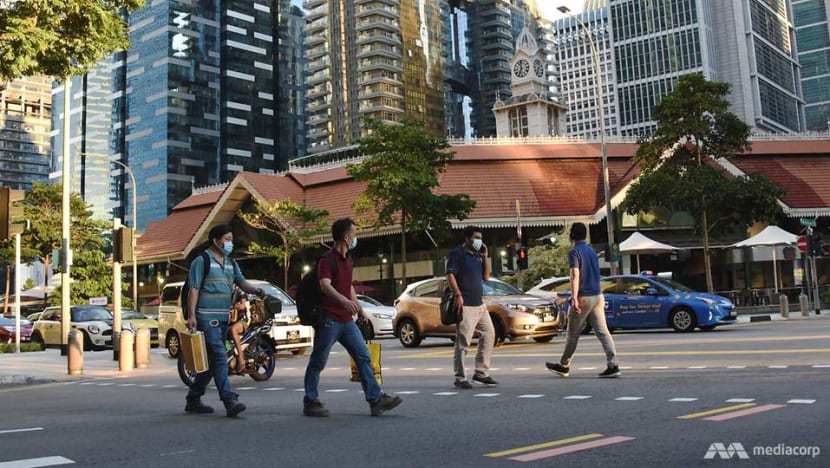 SINGAPORE: Singapore reported 50 new COVID-19 cases on Saturday (Aug 22), including two in the community and five imported infections, the Ministry of Health (MOH) said.
This brings the total number of cases in the country to 56,266.
Of the new cases reported on Saturday, 43 were people living in dormitories.
Two of the newly confirmed cases are linked to 55 previous cases to form a new cluster at Sungei Tengah Lodge dormitory, which was declared to be "fully cleared" of COVID-19 by the Ministry of Manpower (MOM) on Jul 21. 
Sungei Tengah Lodge is Singapore's biggest purpose-built dormitory, with about 16,000 workers living there.
"The inter-agency task force has completed the testing of all workers in the dormitories. There are currently about 13,700 workers who are still serving out their quarantine period," said MOH.
"These workers will be tested when their quarantine ends, and we expect the case counts to remain high in the coming days, before tapering down thereafter."
BOTH COMMUNITY CASES UNLINKED
Both of the community cases reported on Saturday are Singaporeans and are currently unlinked to previous cases, the health ministry said.
One of the cases, a 63-year-old woman, was tested after being admitted to a hospital for another medical condition.
The other community case, a 56-year-old woman, had gone to work at the Institute of Technical Education (ITE) College Central. She was detected to have the coronavirus after she was diagnosed with acute respiratory infection.
Epidemiological investigations of the cases are in progress, said MOH.
"In the meantime, all the identified close contacts of the cases have been isolated and placed on quarantine, and will be tested at the start and end of their quarantine period so that we can detect asymptomatic cases," the health ministry said.
"We will also conduct serological tests for their household contacts to determine if these cases could have been infected by them."
SCREENING OF STAFF IN PUBLIC BUS INDUSTRY COMPLETED
MOH has completed its screening and testing of all staff members in the public bus industry who work at depots and interchanges.
"This is a precautionary measure after we detected some cases at Bukit Panjang Integrated Transport Hub," the health ministry said.
In all, more than 14,800 staff and close contacts of the cases were tested using the polymerase chain reaction (PCR) tests between Jul 23 and Aug 15. All of them have tested negative, except for 10 cases which were announced earlier.  
The last of the 10 cases was reported on Aug 18, a 39-year-old man works at a bus depot in a "non-public facing" role.
On Aug 18, MOH said that serological tests were conducted to determine if the 10 cases were current or past infections. Seven came back positive, which indicate "likely past infection", said the health ministry.

Overall, the number of new cases in the community has remained stable at an average of two cases per day in the past two weeks.
The number of unlinked cases in the community has also remained stable at an average of one case per day in the past two weeks.
"We will continue to closely monitor these numbers, as well as the cases detected through our surveillance programme," said the ministry.
SINGAPOREAN AMONG IMPORTED CASES
A 50-year-old Singaporean man who returned from Iran on Aug 10 is among the five imported cases reported on Saturday.
Two cases are dependant's pass holders who arrived from India and the Netherlands on Aug 10. One case is a work permit holder currently employed in Singapore, who arrived from the Philippines on Aug 9.
The remaining imported case is a student's pass holder who arrived from India on Aug 8.
The five imported cases were placed on stay-home notices upon arrival in Singapore, and were tested while serving their notices at dedicated facilities.
269 MORE PATIENTS DISCHARGED
A total of 269 more patients were discharged from hospitals or community isolation facilities. In all, 53,920 have fully recovered from the infection and have been discharged.
There are 81 COVID-19 patients who are still in hospital. Most of these patients are stable or improving and none is in the intensive care unit.
A total of 2,238 patients are isolated and cared for at community facilities. These are people who have mild symptoms or are clinically well but still test positive for COVID-19.
Twenty-seven people have died from complications due to COVID-19.
Serangoon Gardens Country Club and a F&B outlet at Changi Airport were added to the list of public places visited by COVID-19 cases in the community during their infectious period, said MOH on Saturday.
The new locations are as follows:
On Friday, MOH said that from Sep 1, some travellers from Brunei and New Zealand will be allowed to take a COVID-19 test instead of serving a stay-home notice.
Travellers must have stayed in Brunei or New Zealand for the past 14 consecutive days. If they test negative, they will be allowed to go about their activities in Singapore.
Brunei and New Zealand were chosen because COVID-19 in those countries are under control, with an incidence rate of less than 0.1 infections per hundred thousand population, Transport Minister Ong Ye Kung said.
"For the two countries we just listed, these are very established systems already. They have shown themselves to be effective (in containing COVID-19), very low case loads ... systems that give us a lot of confidence."
MOH also announced on Friday that the 14-day stay-home notice period for travellers from "low-risk" countries and regions will be reduced to seven days. The isolation period can be served at their place of residence. 
These countries and regions are Australia (excluding Victoria state), Macau, mainland China, Taiwan, Vietnam, and Malaysia. Travellers from these places will be tested before the end of the isolation period.
Download our app or subscribe to our Telegram channel for the latest updates on the coronavirus outbreak: https://cna.asia/telegram