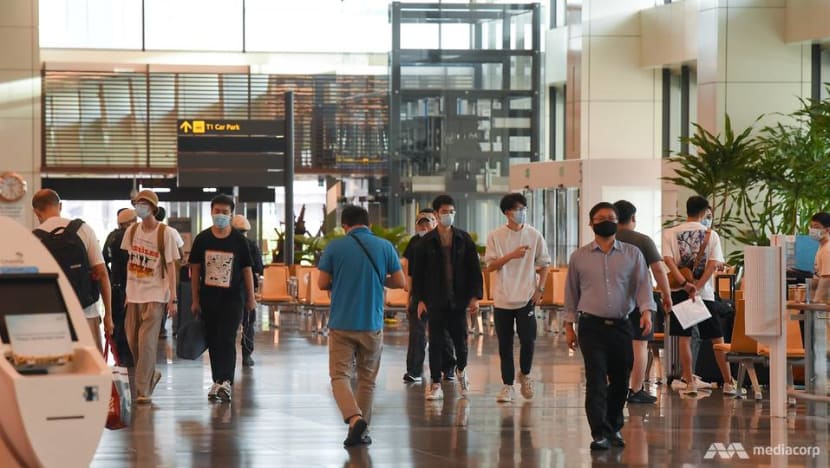 SINGAPORE: Singapore reported one new COVID-19 case as of noon on Tuesday (Feb 16), the lowest total daily increase in more than three months.
The sole infection is an imported case, who had been placed on stay-home notice upon arrival in Singapore, said the Ministry of Health (MOH).
The 34-year-old foreign domestic worker from Indonesia was placed on stay-home notice upon her arrival in Singapore on Feb 2 and tested for COVID-19 while serving her notice. She was asymptomatic. 

"Her serology test has come back positive, indicating a likely past infection. However as she did not undergo a serology test upon arrival in Singapore, we are not able to definitively conclude that she was no longer infectious when she arrived in Singapore," said MOH.
No locally transmitted cases were reported in the community or in foreign worker dormitories.
MOH also said that newly arrived work permit and S Pass holders in the construction, marine and process sectors as well as foreign domestic workers and confinement nannies who have recent travel history to higher-risk countries and regions have been progressively required to undergo mandatory on-arrival polymerase chain reaction (PCR) and serology tests since Feb 5.
"These have enabled us to quickly identify persons who have recovered from an old COVID-19 infection, and are no longer infective to others by the time they arrived in Singapore, and to exclude them from our daily case count," said MOH.

Singapore last reported one new COVID-19 case on Nov 2 last year.

MOH also announced that the Case 59280 cluster has now been closed as there have been no more infections linked to it for the past 28 days.
The cluster was formed in January after a police para-veterinarian tested positive for COVID-19.

MOH said 20 more COVID-19 cases have been discharged from hospitals or community isolation facilities. A total of 59,661 have fully recovered from the infection.
There are 30 COVID-19 patients still in hospital, most of whom are stable or improving, with one person in a critical condition in the intensive care unit.
Another 90 cases are isolated and cared for at community facilities. These are people who have mild symptoms or are clinically well but still test positive for COVID-19.
On Tuesday, Senior Minister of State for Health Koh Poh Koon said in Parliament that less than 1 per cent of total arrivals in Singapore since April last year have tested positive for COVID-19.
Most of the arrivals during this period were from Malaysia, mainland China, Indonesia and India. The proportion of imported cases out of the arrivals from each of these countries and regions was 0.04 per cent, 0.01 per cent, 1.6 per cent and 3.7 per cent respectively, said Mr Koh.
"Singapore can ill afford to close ourselves off fully from the rest of the world," he said in response to a question from Non-Constituency Member of Parliament Leong Mun Wai, who had asked why Singapore had not closed its borders to travellers from India and Indonesia, given the "disproportionately" large number of imported cases coming from these two countries.
Mr Koh noted that Singapore needs a continued inflow of migrant workers to support key economic sectors, including construction workers to build homes and critical infrastructure, and foreign domestic workers (FDWs) to support the caregiving needs of families.
Also on Tuesday, Deputy Prime Minister Heng Swee Keat announced a slew of support measures in his Budget statement.
The focus of this year's Emerging Stronger Together Budget will focus on Singapore's recovery from the COVID-19 pandemic.
Under the new Budget, the Jobs Support Scheme will be extended for sectors worst hit by the COVID-19 pandemic.
The package, part of an S$11 billion COVID-19 Resilience Package, will have three focuses: Continuing to support workers and businesses, safeguarding public health and providing targeted help to sectors that are still under stress.
This is the fourth extension of the scheme since its first introduction in the Budget 2020 statement last February, and will cost the Government another S$700 million.
The beleaguered aviation industry will also receive about S$870 million of financial aid, Mr Heng said in his Budget speech.
Families will get additional help with their expenses with a new S$900 million Household Support Package.
Singapore has reported a total of 59,810 cases as of Tuesday.
Download our app or subscribe to our Telegram channel for the latest updates on the coronavirus outbreak: https://cna.asia/telegram