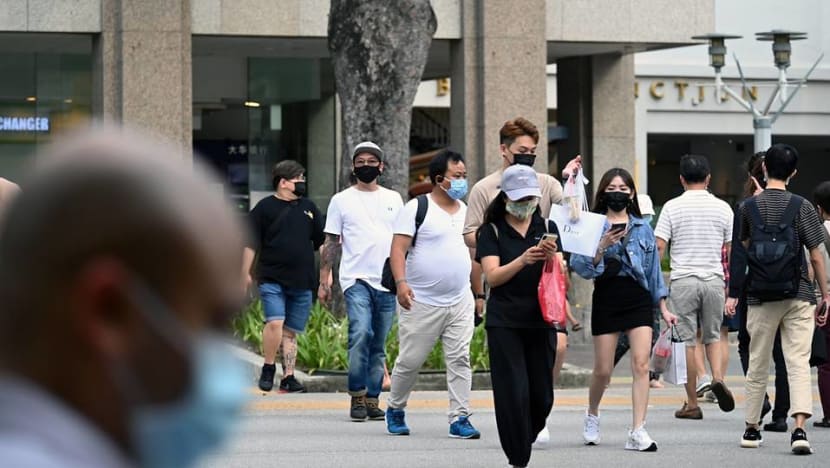 SINGAPORE: Singapore reported four new COVID-19 cases in the community on Monday (Jun 28), all of which were linked to previous cases.
All had already been placed in quarantine, said the Ministry of Health (MOH). 
One of the community COVID-19 cases is linked to the 105 Henderson Crescent cluster, which now has a total of 13 cases linked to it. 
Identified as Case 64499, the case is a 60-year-old man who works at Lam Chuan Import-Export. He was placed on quarantine on Jun 26. 
The man is asymptomatic and was detected when he was tested for COVID-19 during quarantine. His test result came back positive on Jun 27. He is fully vaccinated.

The three other linked community cases are: A 37-year-old man who is employed by Best Denki as a television installer, an 81-year-old retiree and a 56-year-old man who works as an engineer at PUB. 

All three men were placed on quarantine after they were identified as family members and household contacts of previous COVID-19 cases. 

IMPORTED CASES

There were also five new imported cases, all of which had been placed on stay-home notice or isolated upon arrival in Singapore. Of these, two are Singaporeans who returned from Pakistan. 

Two other cases arrived from Indonesia, a student's pass holder and a work permit holder. 
The remaining case entered Singapore waters from Indonesia without valid documentation. The man was arrested by the Singapore Police Force's Coast Guard and was tested for COVID-19 infection during isolation.
No new infections were reported in migrant workers' dormitories. 
In all, Singapore reported nine new COVID-19 cases on Monday. 
Monday's total is the lowest since Jun 9, when four cases were reported. The number of new community cases is also the lowest since Jun 11, when there were three.
Three clusters - JEM/Westgate in Jurong, Chevy's Bar and Bistro on Beach Road and one linked to a manager at Phoenix Entertainment Karaoke TV Music Lounge - have been closed after no more cases were linked to them for the past two incubation periods (28 days), said MOH.
A massage parlour and a food court were added to the list of places visited by COVID-19 cases during their infectious period. 
Healthy Path Spa at 84 Bedok North Street 4 and Shi Fu Food Court at Toh Guan Centre in 21 Toh Guan Road East were added to the list on Monday. ​​​​​​​

Seventeen more COVID-19 cases were discharged, bringing the number of full recoveries in Singapore to 62,212.
There were 135 cases still in hospital, most of whom were stable or improving. Three people were in critical condition in the intensive care unit. Another 170 were being isolated and cared for at community facilities.
As of Sunday, Singapore has reported a total of 62,544 COVID-19 cases and 36 deaths.

TESTING OPERATIONS
The ministry concluded COVID-19 testing at 105 Henderson Crescent on Jun 25, involving 591 residents and visitors.
Of these, 584 people were found to be negative, while seven tested positive for COVID-19, said MOH in a reply to media queries on Monday.
COVID-19 testing also concluded at 66 Eng Watt Street on Jun 27. All 145 residents and visitors tested were found to be negative for COVID-19.
BENEFITS OF MRNA COVID-19 VACCINES OUTWEIGH RISKS: COMMITTEE

The benefits of receiving the mRNA COVID-19 vaccine continue to outweigh the risks of vaccination, said Singapore's expert committee on COVID-19 vaccination on Sunday. 
The committee's comments were in response to an open letter circulating on social media that was attributed to a group of doctors, including one cardiologist, calling for a halt in the COVID-19 vaccinations of Singapore's youth, following reports of the US Centres for Diseases Control and Prevention's investigations into the death of a 13-year-old male after being vaccinated with the second dose of an mRNA vaccine.

The Government-appointed committee had earlier this month highlighted the possibility that the second dose of the mRNA vaccines may be associated with a small risk of myocarditis and pericarditis in young men.
"Data on myocarditis and pericarditis has not changed since, and the Expert Committee's assessment remains the same," the committee said on Sunday. 

As of Monday, Singapore has reported a total of 62,553 COVID-19 cases and 36 fatalities from the disease.
Download our app or subscribe to our Telegram channel for the latest updates on the coronavirus outbreak: https://cna.asia/telegram