Singapore reports 7 new COVID-19 cases, including 6 imported; 3 more eateries visited by cases while infectious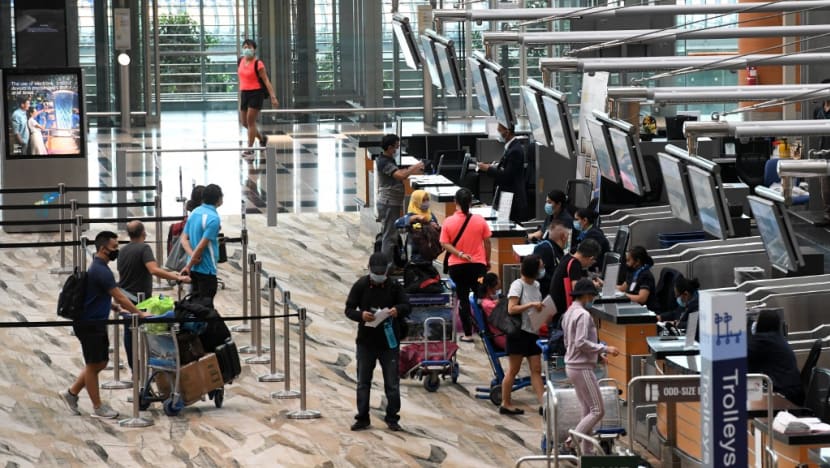 SINGAPORE: Singapore reported seven new COVID-19 infections as of noon on Tuesday (Oct 27), including six imported cases.
One case in the community was reported and none in the foreign workers' dormitories, said the Ministry of Health (MOH). 
All six imported cases were placed on stay-home notice upon their arrival in Singapore,​​​​​​ said the ministry. 
The new infections take Singapore's COVID-19 tally to 57,980. 
COMMUNITY CASE
Singapore's new community case is a 28-year-old short-term visit pass holder. She arrived from Vietnam on an Air Travel Pass.
The woman is a caregiver to her sibling, who was already receiving medical treatment in Singapore for an unrelated condition, MOH said.
She underwent a COVID-19 test upon arrival in Singapore on Oct 10, and her test result came back negative.
The woman then developed acute respiratory symptoms on Oct 23. She was tested for COVID-19 under the enhanced community testing for all individuals above the age of 13 who are diagnosed with acute respiratory infection at first presentation to a doctor.
She was confirmed as a COVID-19 case on Oct 25.
IMPORTED CASES
Of the six imported cases, one involved a 52-year-old short-term visit pass holder who travelled from Indonesia.
She was allowed entry into Singapore to visit her child, who is a permanent resident here.
The woman's date of onset of symptoms was Monday, and she was confirmed as a case on Tuesday. 
Another case involved a 47-year-old dependant's pass holder from the United Kingdom.
Her date of onset of symptoms was Oct 23, and she was confirmed as a case on Monday.
The four remaining imported cases are currently employed in Singapore. They involved two work pass holders from Japan and France, and two work permit holders from Indonesia.
They were asymptomatic except for the 48-year-old work pass holder from Japan, who experienced onset of symptoms on Oct 22 and was confirmed as a case on Monday.
3 EATERIES VISITED BY COVID-19 CASES
Three eateries were on Tuesday added to MOH's list of public places visited by COVID-19 community cases during their infectious period.
They were La Scala Ristorante at Arcade @ The Capitol Kempinski, The Coffee Academics at Raffles Shopping Centre, and Toast Box at Bugis Junction.
Details of the new locations are as follows:
Those who had been identified as close contacts of confirmed cases would already have been notified by MOH.
As a precautionary measure, people who have been at these locations during the specified timings should monitor their health closely for 14 days from their date of visit.
"They should see a doctor promptly if they develop symptoms of acute respiratory infection (such as cough, sore throat and runny nose), as well as fever and loss of taste or smell, and inform the doctor of their exposure history," said MOH.​​​​​​​
In addition, MOH announced that as there have been no more cases linked to the clusters at CDPL Tuas Dormitory (6 Tuas South Street 15) and Jurong Penjuru Dormitory 1 (58 Penjuru Place) for the past two incubation periods amounting to 28 days, these clusters have now been closed.
Four more cases of COVID-19 infection have been discharged from hospitals or community isolation facilities. In all, 57,883 have fully recovered from the infection and have been discharged from hospitals or community care facilities.
There are currently 43 confirmed cases who are still in hospital. Of these, most are stable or improving, and none are in the intensive care unit.
Twenty-six are isolated and cared for at community facilities. These are those who have mild symptoms, or are clinically well but still test positive for COVID-19.
A total of 28 people in Singapore have died from complications due to COVID-19 infection.
Overall, the number of new cases in the community has decreased from four cases in the week before, to three in the past week, said MOH.
The number of unlinked cases in the community has increased from two cases in the week before, to three in the past week.
TRACETOGETHER TOKEN COLLECTION TEMPORARILY SUSPENDED
The collection of TraceTogether tokens has been temporarily suspended for a day and will resume from Thursday, one constituency at a time.
This is to "better match demand" and prevent long queues from forming at some community centres, said the Smart Nation and Digital Government Office (SNDGO).
The new mode of distribution will start on Thursday at Marsiling Community Centre for residents in the Marsiling constituency and progressively open at more constituency community centres.
Collection will open at all community centres by the second half of December, said SNDGO.
The TraceTogether programme, which comprises both the app and the token, is aimed at improving Singapore's contract tracing efforts.
TraceTogether-only SafeEntry will be progressively implemented by the end of the year at popular venues including workplaces, schools, malls, food and beverage outlets and hotels.
CHANGES TO COVID-19 MEASURES FOR MORE TRAVELLERS
Travellers from Estonia, Fiji, Finland, Japan, Norway, South Korea, Sri Lanka, Thailand and Turkey will soon be allowed to serve their 14-day stay-home notice at their place of residence in Singapore, instead of a dedicated facility.
Applications to opt out of dedicated facilities open on Nov 2, for arrivals on or after Nov 4, MOH announced on Tuesday.
MOH also said that from Jan 1, 2021, the Government will no longer waive the costs of staying at dedicated stay-home notice facilities for Singapore citizens and permanent residents (PRs) who last left Singapore before Mar 27.
This is because the "vast majority" of Singapore citizens and permanent residents who last left the country within the past year have returned, the ministry said.
The Government will also no longer foot inpatient medical bills for citizens, PRs and long-term pass holders who left the country before Mar 27 if they develop COVID-19 symptoms within 14 days of their arrival in Singapore.
Download our app or subscribe to our Telegram channel for the latest updates on the coronavirus outbreak: https://cna.asia/telegram