COVID-19: From Jul 1, patients aged 13 and above with acute respiratory infection to undergo testing once they visit a doctor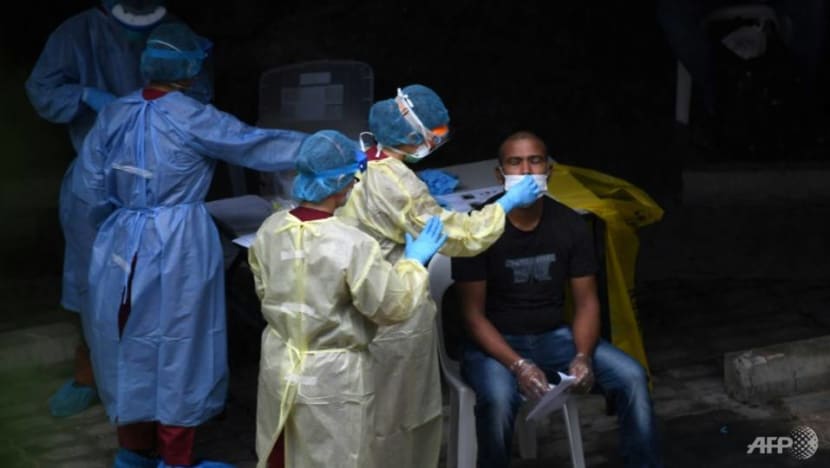 SINGAPORE: From Jul 1, all individuals aged 13 and above who present symptoms of acute respiratory infection at the first instance will be tested for COVID-19, said Health Minister Gan Kim Yong on Thursday (Jun 25). 
This is opposed to testing them after waiting for a period of time, by which time they would have had a prolonged infection, he said.
"We are going to test them the first day when they see the doctor with acute respiratory infection symptoms," he said.
Currently, testing is only conducted this way for patients aged 45 and above. 

The move is part of Singapore's strategy to quickly isolate cases and prevent large clusters of infection from forming amid an expected rise in cases, said Mr Gan. 

Singapore is in Phase 2 of its reopening, following a two-month-long "circuit breaker" period that barred residents from leaving their home except for essential activities such as buying food. 
Mr Gan acknowledged that the number of cases in the community remains low, but said the country needs to stay vigilant. 
"We have been testing more extensively among key population groups in the community," said Mr Gan during a virtual press conference held by the COVID-19 multi-ministry task force.
Another group being tested are close contacts of confirmed COVID-19 cases regardless of whether they have symptoms of the disease. These close contacts are tested at the beginning and end of the infected case's quarantine period, he added. 
"This is part of active case finding. It also means that we are able to detect cases, even (if) they have no symptoms, even if they are asymptomatic," he said. 
According to Mr Gan, incoming travellers will also be tested before the end of their stay-home notice. For surveillance purposes, those who are vulnerable or have a higher risk of exposure to COVID-19 infection are also tested, he said.
These include residents and staff of nursing homes, pre-school staff members and those returning to work in some essential services sector.
When asked if there would an reintroduction of the circuit breaker if infection numbers continue to rise, Mr Gan said that Singapore is "unlikely to return to that scenario".
"What is more likely is to have a very targeted intervention, depending on the nature of the outbreak, the nature of the infection, and whether we are able to contain it," he said. 

Mr Gan also recognised the role of Public Health Preparedness Clinics (PHPCs), saying that the health ministry will provide an "assurance grant" to support clinics if their doctors contract COVID-19 or are placed under quarantine during the course of their work. 
Eligible clinics will receive S$500 per day to "allow them to employ a locum, or to cover the cost and the loss of revenue of the clinic", he said. 
While the risk of infection is low, Mr Gan said that if doctors from the PHPCs get infected or quarantined, "the whole clinic may be impacted as many of these clinics are run on a solo-GP basis".

TRAVELLING AND GREEN LANES

Responding to questions about how the emergence of a second wave in other countries may have an impact on travel arrangements, the task force's co-chair Minister Lawrence Wong said: "Just because there is a flare up of a few cases happening doesn't mean that immediately we put a stop to the travel green lane arrangements." 
Fast or green travel lane arrangements have "their own safety protocols", he added, citing Singapore's arrangement with China as an example. 
"It's not about unrestrained travel."
In the current green lane arrangement with China, travellers must take a COVID-19 test within 48 hours before departure and upon arrival. They must adhere to a controlled itinerary for 14 days and remain isolated for one to two days while waiting for their test results.

"Yes, there are new cases but they are still able to do effective contact tracing to contain the cases and to prevent further spread," said Mr Wong.
"It's not something that will stop us from continuing with the green or fast lane arrangements that we have worked out with these countries."
Watch the full news conference and Q&A session: