COVID-19 patients who still test positive but clinically well by day 21 of illness can be discharged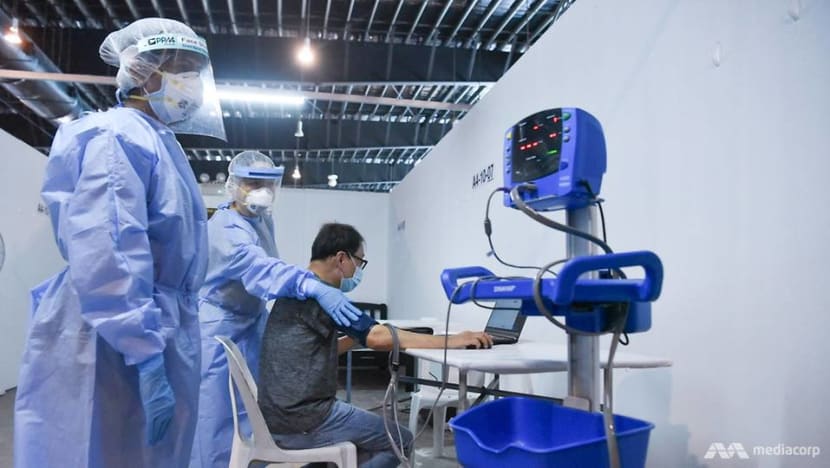 SINGAPORE: COVID-19 patients in Singapore who are assessed to be clinically well by day 21 of the onset of illness can be discharged without further tests, Health Minister Gan Kim Yong announced on Thursday (May 28).
The new policy takes effect immediately, and comes under a new time-based discharge criteria adopted by the Ministry of Health (MOH) after taking into consideration clinical and scientific evidence locally and internationally.
Previously, patients needed to test negative twice consecutively, 24 hours apart, in order to be discharged.
COVID-19 patients who are discharged under the new criteria will have to remain at home or at dormitories for another seven days before they can return to work after day 28 of their illness, said Mr Gan at a press conference by the multi-ministry task force on COVID-19.
Explaining the decision, Mr Gan pointed to a position paper by physicians from the National Centre for Infectious Diseases (NCID), which showed that COVID-19 patients are no longer infectious by day 21, despite still testing positive for the coronavirus.
He added that the World Health Organization (WHO) also published its recommendation on Wednesday to shift from transmission-based discharge to time-based discharge for patients who are clinically well.
"Patients who are clinically well can now be discharged from after 10 days from the onset of illness, plus at least three days without respiratory symptoms or fever," Mr Gan said of the WHO recommendations.
"As we know more about COVID-19, as a result of both global research, as well as research done locally, we will adjust our medical plan for COVID-19 patients."
According to NCID executive director Professor Leo Yee Sin, who was also at the press conference, a local study of 18 patients showed that virus shedding was the highest during the early onset of the illness.
In another study of more than 700 patients, about 30 per cent of them cleared the polymerase chain reaction (PCR) tests by the time they reached day 15 of their illness.
By the 21st day, 68 per cent of them cleared the PCR test. By day 33, 95 per cent of patients were able to clear the test, she said.
In yet another study, researchers followed 73 individuals on a regular basis, testing them with the PCR, and sending their respiratory samples to be cultured.
Beyond a particular point, the researchers were not able culture the respiratory sample, said Prof Leo.
"By such time, most of the patients would reach beyond day 10, day 11 of their clinical illness," she said.
"If we were to take all this scientific information together, we are confident to say that by the time they reach day 11, and by the time they reach two weeks of their clinical illness, we can no longer have any viable virus."
While the data shows consistently that COVID-19 patients are no longer infectious around the day 10 or 11 mark, Singapore is exercising an "abundance of caution", said Associate Professor Kenneth Mak, director of medical services at MOH.
"This is because of our commitment to the community to make sure that as we return COVID-19 infected patients back into the community, we want it to be a safe process, such that there should not be any concern for further spread of infection from these individuals to other members in the community," he said.
In a separate release on Thursday, MOH said that the revised discharge criteria will not apply to patients who have a history of being immunocompromised.
Such patients will still require two negative PCR tests before discharge, as they may still continue to shed viable virus for a prolonged period because of their impaired immunity.
Watch the full press conference: