Watch: PM Lee addresses Parliament on Singapore's response to COVID-19, post-pandemic challenges, jobs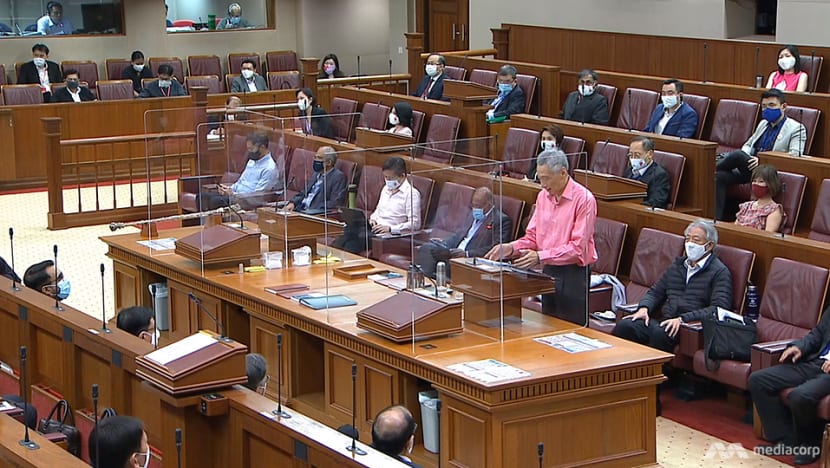 SINGAPORE: Prime Minister Lee Hsien Loong spoke in Parliament on Wednesday (Sep 2) on Singapore's response to COVID-19 and life beyond the pandemic. 
In his speech, Mr Lee spoke about Singapore's fight against COVID-19, the challenges ahead for the city post-pandemic, job concerns amid a battered economy and the Government's approach to the discussion of policies and major issues facing the country.
Mr Lee said Singapore has done well and stabilised the situation in its fight against the novel coronavirus, but said it must learn from its errors and do better next time.
"Judging by the health outcomes, we have done well, so far," Mr Lee said, noting that Singapore's fatality rate from COVID-19 is one of the lowest in the world, with new infections down to "just a handful" per day and fewer than 100 patients remaining in hospital.

But Singapore's COVID-19 response "was not without shortcomings", said Mr Lee, adding that the pandemic has severely tested every government in the world and that no country has been perfect.

He touched on issues including asymptomatic cases, quarantining Singaporeans returning from overseas earlier and how the Government would have recommended everyone to wear face masks sooner than it did.
CHALLENGES POST-COVID-19
Mr Lee also noted greater challenges lay ahead for Singapore in the post COVID-19 world, and there was a need to keep an open mind in order to build and improve on the system of social safety nets already in place.
Speaking on Singapore's response to COVID-19 and life beyond the pandemic, Mr Lee said that such measures "are there to protect the vulnerable in our society, and ensure that everyone has full access to opportunities to improve our lives".
"We must identify pragmatic solutions which will make a real and sustainable difference, and give people justified assurance that when they need help, they will get the help that is relevant to them," he added. 
"And it must not create new problems in the process, for example by eroding our spirit of self-reliance."
Mr Lee pointed out that one "permanent imperative" would be to keep programmes fiscally sustainable. 
Singapore's social safety nets should be paid for out of current revenues "as a matter of principle", he said.
"We should not draw down on what we have inherited, nor should we mortgage the future of our children."

GOVERNMENT WILL BE "ON THE SIDE OF SINGAPOREANS"
The Prime Minister added the Government will "always be on the side of Singaporeans", while acknowledging the anxiety Singaporeans are feeling about their jobs and the "palpable" sense of competition with foreigners. 
These feelings are "completely understandable" given the economic downturn, he said.
However, he also emphasised that ultimately, the Government was on the side of Singaporeans and wanted to create good jobs for them.

Mr Lee also touched on the role of the opposition, and said that the People's Action Party government will take an "open and constructive" approach to opposition in Parliament and take in all constructive views and perspectives.
On Tuesday, Singapore reported 40 new COVID-19 cases, including seven imported infections and one in the community, bringing the total number of cases in the country to 56,852.

The number of new cases in the community has increased, said the health ministry, from an average of two cases per day in the week before to an average of three per day in the past week.
The number of unlinked cases in the community has remained stable at an average of one case per day in the past two weeks, MOH said.

Download our app or subscribe to our Telegram channel for the latest updates on the coronavirus outbreak: https://cna.asia/telegram