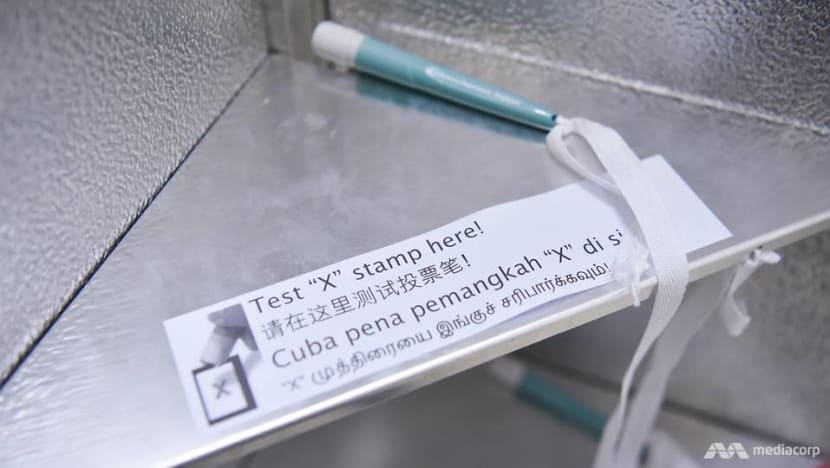 SINGAPORE: The Elections Department (ELD) has issued contingency plans on how the next General Election (GE) will be held amid the COVID-19 outbreak.
Safety measures include dedicated time-bands for seniors to vote, setting up more polling stations and having voters wear gloves before entering polling booths.
About 2.65 million Singaporeans are expected to head to the polls on Jul 10, and all 93 parliamentary seats are contested in this election.
Here's what you need to know to vote safely:
BEFORE LEAVING YOUR HOUSE
 - Check the recommended time for voting allotted to you. Voters will be given a recommended two-hour voting time-band, which will be indicated on the poll card and e-Poll card on the SingPass mobile app. This is to spread out voters across polling hours.
- Senior voters aged 65 and above will be allotted recommended voting time-bands from 8am to noon. Senior voters who require assistance may be accompanied by one household member. Senior voters who are unable to vote during their allotted time-bands in the morning can still do so at other times of the day when they will be able to join priority queues.
- Can't make your slot? While voters are encouraged to stick to their allotted time-bands, they may vote at any time the polling stations are open. Younger voters who show up in the morning may have to wait longer, says ELD. 
- For about 400 polling stations with fewer senior voters, younger voters have been assigned morning hours (from 10am to 12pm), after seniors vote in the early morning.
- The number of polling stations will increase - from 880 to 1,100. This will cut the average number of voters per polling station from 3,000 to 2,400.
- Use http://VoteQ.gowhere.gov.sg to check the queue situation before setting off to vote. Voters should not bring non-voters, such as children, to polling stations.
REGISTERING TO VOTE
- Bring your original valid NRIC/passport as well as the Poll Card or ePoll Card to facilitate checks by election officials.
- All voters will be screened for fever and respiratory symptoms at the start of the queue. 
- Those with a fever of 37.5 degrees Celsius or above have to vote during a special voting hour of 7pm to 8pm. Those on stay-home notices at home also have to vote at this time. 
- Other voters are advised to avoid this hour, but will be allowed to vote if they turn up then.
- e-Registration means machines, not humans, will verify voters against the electoral roll at polling stations. This eliminates contact with election officials. 
- Voters must wear face masks and should lower them only when election officials need to verify their identity.
- Unlike polling agents and candidates, voters need not use the SafeEntry app to check in and check out. The e-Registration system records when voters register at the polling station and can be used for contact tracing if necessary.
AT THE POLLING STATION AND VOTING 
- Voters are to stay 1m away from others while waiting to enter polling stations and within polling stations.
- They need to sanitise their hands and wear disposable gloves before receiving a ballot paper. After voting, they are to dispose of their gloves at the exit.
- This will minimise the risk of contaminating the self-inking "X" pen, which will be used by other voters or ballot papers, which will be handled by counting assistants.
- Voters may also bring their own pens to mark the ballot papers.
- Cleaners will be deployed to clean common touch-points, such as polling booths and self-inking "X" pens, within the polling area at least once every half hour. After polls close, cleaners will thoroughly disinfect the polling stations.
- Five minutes - the amount of time a voter should spend at a polling station. This includes registration, hand sanitisation, wearing of gloves and voting, ELD says.
- Polling hours are from 8am to 8pm.
SPECIAL VOTING HOUR
- Those found to have a fever and on stay-home notices at home can only vote between 7pm to 8pm.
- There will be no temperature screening, since voters with fever are allowed to vote during the special voting hour.
- A smaller team of election officials at every polling station will don full personal protective equipment.
- Cleaners will sanitise the polling equipment after each voter's use.
OTHER MEASURES
- COVID-19 patients and those in quarantine will not be allowed to vote.
- Voters on stay-home notices at designated facilities will vote at special polling stations away from other voters.
- Five special polling stations have been gazetted at Marina Bay Sands (four) and Marriott South Beach (one). Any additional ones will be published on Jul 7.
- All such voters will remain in their room, and a mobile polling team will go to them.
- ELD urged voters who are unwell not to vote. After the election, they can apply to be restored to the register of electors without paying a S$50 penalty. 
- Overseas voting at the 10 overseas polling stations will proceed subject to the approval of the overseas authorities and the prevailing COVID-19 situation in those cities.
- The cities are Beijing, Canberra, Dubai, Hong Kong, London, New York, San Francisco, Shanghai, Tokyo and Washington. They will implement similar safety measures to polling stations in Singapore.
WHERE CAN YOU FIND INFORMATION?
- To check your constituency, polling station and allotted time, you can look at the Poll Card, ePoll Card or go to the ELD website. 
- ELD will be airing videos on how to vote safely on TV in four languages and four dialects.
- A shorter version of the video will also be played online.
- There will be posters at HDB notice boards and community clubs as well as print ads in newspapers.
- VeLDA, a web assistant, can address voters' queries in Malay, Mandarin, Tamil, Cantonese, Hakka, Hainanese, Hokkien and Teochew.
OTHER REMINDERS TO VOTERS
- Mark your choice of vote in demarcated area on ballot paper. Marks made outside demarcated area will be disregarded.
- Do not take photographs or videos in the voting area - this is to safeguard voting secrecy.
- Smoking is not allowed within the polling station.
- Avoid bringing big bags which will require security checks and cause delays.
- There will be no parking of vehicles within/near polling stations, but drop-offs and pick-ups are allowed for those with mobility issues.
This story was first published on Jun 8 and updated on Jul 1 to reflect the latest announcements from the Elections Department.
Download our app or subscribe to our Telegram channel for the latest updates: https://cna.asia/telegram