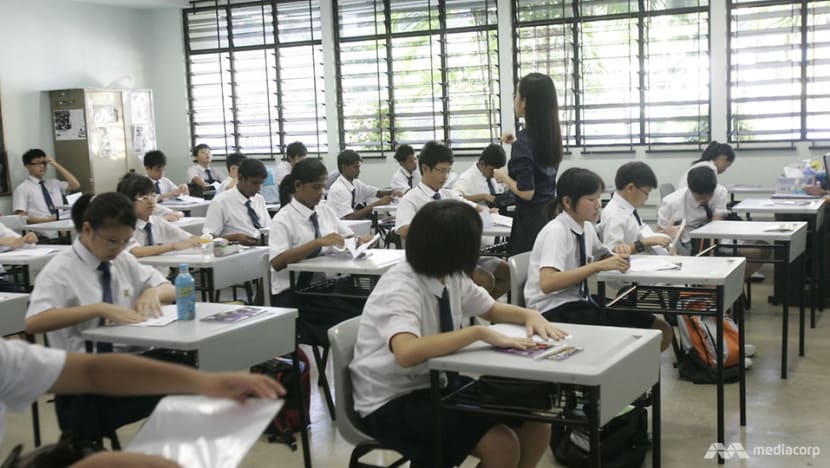 SINGAPORE: From April, students in primary and secondary schools as well as junior colleges and centralised institutes will have one day of home-based learning a week, said the Ministry of Education (MOE) on Friday (Mar 27).
The move comes amid an increase in the number of imported COVID-19 cases in Singapore and enhanced measures to stem the spread of the outbreak.
Schools will stagger dismissal times to "reduce the transient congestion of students" on days when they are not on home-based learning, said MOE.
Education Minister Ong Ye Kung said that the new system will allow Singaporeans to "get used" to idea of home-based learning, and allow the ministry to expand the new system to more days, if neccessary. 
"Schools are not closing," Mr Ong told reporters.
"But what we have been working on is to prepare for some introduction of home-based learning.
"As the crisis develops, you will find that you have more arsenal, more measures to respond to as opposed to a sudden drastic change that will get everyone panicked, which is what we always want to avoid," he added.
Primary schools will carry out home-based learning on Wednesdays, secondary schools on Thursdays, while junior colleges and centralised institutes will conduct them on Friday, said MOE.
There will be about four to five hours of home-based learning, and about two hours of screen time.
MOE Kindergartens will not be affected by the arrangement.
"The recent spike in imported cases signals a new phase in our nation's fight against COVID-19", said MOE.
"To support further safe distancing, schools will progressively transit to a blended learning model, starting with one day of home-based learning a week," the ministry said.
SCHOOLS TO ASSIST STUDENTS WITH NO ACCESS TO DIGITAL DEVICES
The ministry added that schools will provide instructions to students and parents on accessing home-based learning materials from Monday.
"When this requires use of digital devices, schools will assist students who do not have access," said MOE, adding that the ministry's headquarters will provide schools with sufficient resources.
The Singapore Student Learning Space will also be accessible to students during this period, it said.
"While digital technologies will play a key part in home-based learning, all our students can rely upon the ongoing support of their teachers and other school personnel," said MOE.
Students in Special Education (SPED) Schools and their parents will also receive home-based learning support for the customised curriculum from SPED teacher through regular contact.
WILL THERE BE SCHOOL CLOSURES?
While Mr Ong said that he hopes the situation "won't come to that", the ministry is not ruling out the option that it may have to close schools. 
"The virus situation is changing all the time. I wish we can avoid that because the disruption to lives is tremendous," he said.
On how long parents can expect the once-a-week home-based learning to last for, Mr Ong said that it "depends how long the virus lasts".
He also addressed concerns for students sitting for examinations, noting that he is "quite determined" for learning to continue.
"Even if schools go into more days of home-based learning, or even all days home-based learning, if the situation is so bad, learning must continue, and we must be able to support students learning from home. That's why next week is important to start this. And if learning can continue, we don't have to stop exams," he said.
While the ministry will try its best to continue with major examinations such as the Primary School Leaving Examination, and GSCE O-Level, N-Level and A-Level, there is scope for some adjustment.
"If really curriculum time is squeezed, certain topics for example can be taken out of the exam. And in the grading of the exam, if certain questions involve those topics, you can also take into account that this topic was not taught. 
"These are some of the adjustments we can still make so that exams can continue and continue to be fair to all students," said Mr Ong.
STUDENT CARE PRIORITY GIVEN TO PARENTS WITH JOBS IN ESSENTIAL SERVICES
Schools will remain open for "a small group of students" whose parents are not able to secure alternative childcare arrangement, said MOE, adding that priority will be given to parents in essential services such as healthcare.
Twenty per cent of teachers will be in school to supervise these students, as well as support students at home who may have any enquires, said Mr Ong.
However, schools will be selective with those they allow to come to school and school-based student care centres.
Schools will allow only about 10 per cent of those currently enrolled in school-based student care centres to return to school during home-based learning days.
Additionally, all centre-based learning including at MOE Language Centres will continue to be conducted in a home-based learning format until the end Term 2.
"For graduating students in Secondary 4 and 5, and JC2, the mode of learning can take the form of video-conferencing in their respective schools or at home, so that 'live' lessons can still be conducted without them having to travel to the centres and mingle across schools," said MOE.
Meanwhile, co-curricular activities as well as external activities and those that involve the mingling of students across schools - such as Learning Journeys, activities at Outdoor Adventure Learning Centres and the National School Games - will also remain suspended for the rest of the term.
The Singapore Youth Festival Arts Presentation will also be cancelled.
"Home-based learning will not be able to fully replace the depth and variety of learning experiences that out students derive from being physically present in school", said MOE.
"We are also conscious that moving to home-based learning will have impact on many parents and families, especially those without good home support. Hence, we want to progressively introduce home-based learning, so as to allow both our students and parents to be better prepared should the situation call for more days of home-based learning," said the ministry.
It added that it will put in place additional measures to help students with higher needs or those who require more support for this arrangement.
Parents who face challenges with home-based learning may approach schools for support, said Mr Ong.
"Twenty per cent (of teachers) will still come to school and parents with challenges during home-based learning, they can still bring their children to school and the teachers will supervise them," he said, adding that children of healthcare workers and children from more vulnerable families will be given priority.
He said that he expects there to be teething issues with the new system and called for parents and their employers to be understanding.
"I really seek the understanding of parents that we need to do this. Parents have been very understanding, very accommodative, but now I seek your further understanding that one day a week, the child will be at home doing study," he said.
"I know it can affect parents' work ... Employers, please be as understanding as possible, support the parents, to do it one day a week," he added.
CHILDREN AT "MORE RISK" IF SCHOOLS CLOSE: PM LEE
The introduction of home-based learning comes amid concern among parents following a cluster of COVID-19 cases at PAP Community Foundation (PCF) Sparkletots centre in Fengshan​​​​​​​, as well as at Dover Court International School. 
Last month, a 12-year-old student from Raffles Institution was infected with COVID-19. 
Singapore on Thursday reported 52 new cases of COVID-19, bringing its total number of cases to 683.​​​​​​​
Earlier on Friday, Prime Minister Lee Hsien Loong had said that children may be at "more risk" of contracting COVID-19 if schools were closed and parents are not at home to take care of their children. 
School is a "controlled environment" and not all parents can look after children at home if schools are shut, he said.
Mr Lee also highlighted that children would be at a disadvantage if enrichment stopped and if teachers were unable to socialise with their students and guide them. 
Children who "bear the burden more" are the ones from lower income families, he added. 
Download our app or subscribe to our Telegram channel for the latest updates on the coronavirus outbreak: https://cna.asia/telegram