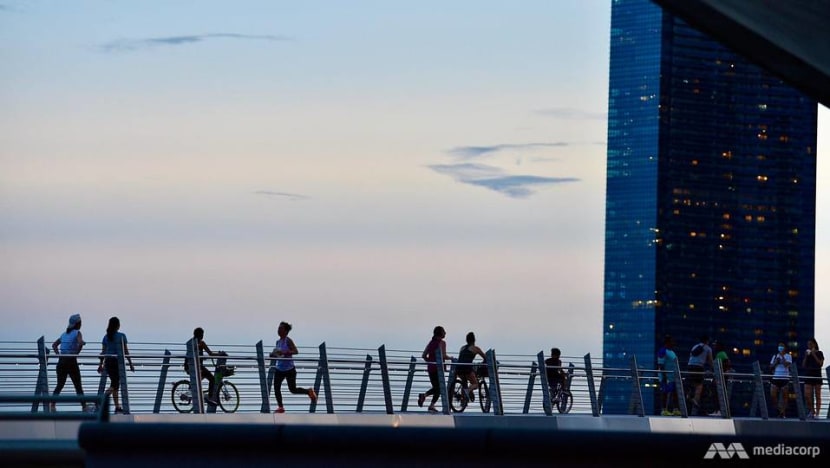 SINGAPORE: Singapore reported 383 new COVID-19 infections as of noon on Sunday (Jun 7), including 14 cases in the community.
The 14 cases involve nine Singaporeans, one permanent resident, one student pass holder, one work pass holder and two work permit holders, said the Ministry of Health (MOH).

Of the 14 community cases, 11 were picked up as part of MOH's proactive screening and surveillance to identify cases early and isolate them.
Separately, two new infections are linked to the cases at Veerasamy Road. The two Indian nationals were already in a government quarantine facility when they tested positive.
PROACTIVE SCREENING
Among the cases detected through proactive screening, five are students aged between 13 and 17. 
One is a school employee - a 34-year-old Singaporean woman who reported the onset of symptoms on Jun 3. 

Another three cases, all elderly Singaporeans, were tested because they had prolonged acute respiratory infection from the time they first saw a doctor for illness. 
In addition, two men - a Singaporean and a Bangadeshi - were tested as part of the screening of workers in essential services. 
Overall, the number of new community cases has increased, from an average of four cases per day in the week before to an average of eight in the past week. 
"The number of unlinked cases in the community has remained stable at an average of four per day in the past two weeks," MOH added.
More details on the community cases can be found on MOH's website.

Singapore's tally of COVID-19 infections now stands at 37,910.
The vast majority of the new cases, 369, are work permit holders residing in dormitories. 
Authorities also identified one new cluster - a dormitory at 6 Tuas South Street 2.
In its daily update, MOH said 327 more cases have been discharged, bringing the total number of those who have fully recovered and discharged from hospitals or community care facilities to 24,886.
There are currently 295 cases still in hospital, most of whom are stable or improving. Three are in critical condition in the intensive care unit, said MOH. 
A total of 12,704 cases are isolated and cared for at community facilities. These are patients who have mild symptoms, or are clinically well but still test positive for COVID-19.

CASES INVOLVING SCHOOL STAFF AND STUDENTS
Earlier on Sunday, the Ministry of Education announced that four students and one non-teaching school staff member were confirmed to have contracted COVID-19, after they were tested as part of the extended surveillance testing. 
They are from five different schools - Anglican High School, CHIJ Katong Convent, CHIJ St Theresa's Convent, Geylang Methodist Secondary School and Hwa Chong Institution.

MOH later confirmed a sixth case, a 16-year-old Chinese national, from Ascensia International School.

The cases were picked up as a result of surveillance testing, conducted since Jun 2, on all school employees and students above the age of 12 who were diagnosed with acute respiratory infection when they first saw a doctor for illness.

"The epidemiological evidence suggests that these cases were likely to have been infected during the circuit breaker period, and not after school reopening," MOH said. 

Twenty-five people have died from complications related to COVID-19.
The latest fatality, announced on Saturday, was a 41-year-old Chinese national, who died more than two weeks after being discharged. 
As Singapore gradually reopens its economy, Prime Minister Lee Hsien Loong addressed the nation on Sunday evening on the country's future in a post-COVID-19 world. 
The next few years will be disruptive and difficult, but Singapore will emerge stronger and better from the crisis, said Mr Lee, adding that the country has economic strengths, a trusted international reputation and support programmes in place to cope with the challenges.

The Prime Minister also urged Singaporeans to be united and resilient to face a "crisis of a generation".

Mr Lee's speech is the first in a series of national broadcasts from Jun 7 to Jun 20, when Cabinet ministers will lay out plans to lead the country out of the economic crisis.
Download our app or subscribe to our Telegram channel for the latest updates on the coronavirus outbreak: https://cna.asia/telegram