51 new COVID-19 cases in Singapore; new cluster found at dormitory that was previously cleared of the disease
SINGAPORE: Singapore reported 51 new COVID-19 cases on Monday (Aug 24), including one in the community and seven imported cases.
This takes the total number of cases in the country to 56,404. 
The sole community case was a 65-year-old Singaporean woman, who was a contact of a previous case, said the Ministry of Health (MOH). She was placed in quarantine earlier and was tested to determine her status, said the ministry. 
NEW CLUSTER FOUND AT CLEARED DORMITORY
Of the new cases reported on Monday, 43 were living in dormitories. 
A new cluster was reported at Tuas View Dormitory, after it was declared to be "cleared" of COVID-19 on Aug 4 by MOH. One of the newly confirmed cases is linked to five previous cases to form the new cluster there.
Tuas View Dormitory was gazetted an isolation area on Apr 17 under the Infectious Diseases Act. That notification was revoked on Aug 4. 
More than 1,500 cases had been linked to the cluster at Tuas View Dormitory before it was declared to be cleared of COVID-19.  
Of the 43 cases in dormitories, 26 were identified earlier as contacts of previous cases and were quarantined to prevent further transmission. They were tested during quarantine to determine their status, said MOH. 
The remaining 17 cases were detected through surveillance testing, such as MOH's biweekly Rostered Routine Testing of workers living in dormitories and testing of those with acute respiratory infection symptoms. 
"This allows us to pick up cases early, including asymptomatic ones, so that we are able to ring-fence them quickly to prevent further transmission, by aggressively containing, tracing and isolating the close contacts," said MOH. 
Besides the polymerase chain reaction (PCR) test, serological tests were conducted to determine if some of these cases were current or past infections. 
Serological test results for 11 cases have come back positive, which "indicate likely past infections", said the ministry.  
JEWEL MUSIC BOX KTV TESTING COMPLETED
Screening and testing of all individuals who visited Jewel Music Box KTV at HomeTeamNS Khatib on Aug 1 and Aug 2 have been completed, said MOH.
"The KTV was not operational during the visits and there were no singing activities held," said the health ministry.
"This is a precautionary measure following the detection of three cases who had visited the KTV during the affected dates, even though the risk of infection for visitors is assessed to be low."
A total of 322 individuals were tested and all results came back negative, said MOH. 
5 CHILDREN AMONG THE IMPORTED CASES
All seven imported cases were placed on stay-home notices upon arrival in Singapore.
A 15-year-old permanent resident who arrived from India on Aug 14 was among the imported cases. 
Three dependant's pass holders - two 2-year-old boys from India and a 14-year-old girl from the Netherlands - and one long-term visit pass holder, a 3-year-old boy from India, arrived in Singapore on Aug 9 and Aug 10.
The two other cases were work permit holders currently employed in Singapore. They arrived from India and Indonesia on Aug 12. 
All the imported cases were tested while serving their stay-home notices at dedicated isolation facilities, said MOH. 
423 MORE COVID-19 CASES DISCHARGED
MOH reported that 423 more COVID-19 patients were discharged from hospitals or community isolation facilities. In all, 54,587 have fully recovered.
There were 84 COVID-19 patients still in hospital. Of these, most are stable or improving, and none is in the intensive care unit.
A total of 1,706 were isolated and cared for at community facilities. These are people who have mild symptoms, or are clinically well but still test positive for COVID-19. 
Twenty-seven people have died from complications due to COVID-19.
JEM shopping mall and two markets in Jurong were added to the list of public places visited by COVID-19 cases in the community during their infectious period, said MOH on Monday.
The new locations are as follows: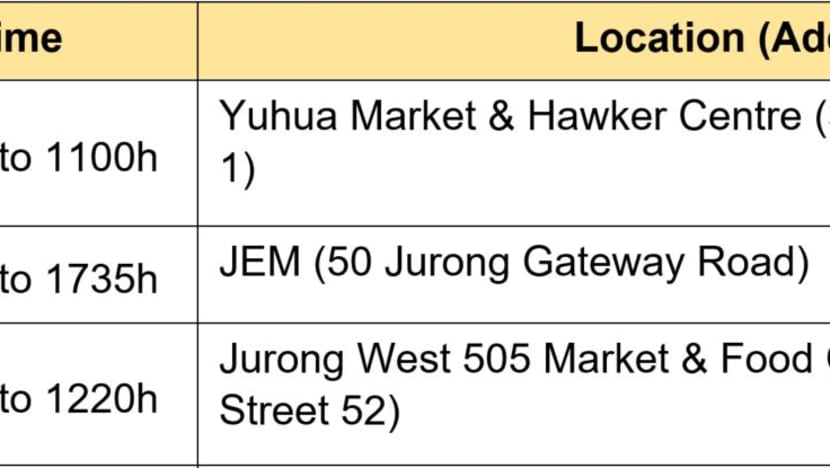 PRESIDENT ADDRESSES OPENING OF PARLIAMENT
Singapore must be able to adjust its COVID-19 strategies as the situation continues to unfold, and be more resilient and nimble than others in responding to change, said President Halimah Yacob on Monday in her address at the opening of the 14th Parliament.
The new term of Government is starting "under the shadow of COVID-19", Madam Halimah said, noting that while Singapore has brought new infections under control, the number of cases has risen in other parts of the world.
"The situations globally and domestically have changed and there is no going back to the status quo ante," the President said.
Singapore is facing its worst recession since independence, she added. While the Government is injecting about S$100 billion into economy, the situation will "remain grave" for some time, she said.
Jobs will remain the Government's priority for the next few years, said Mdm Halimah, adding that COVID-19 has "amplified the pressures" caused by a slowing global economy, especially on lower-wage workers, mature workers and mid-career Singaporeans.
"We recognise the fears and anxieties about jobs that Singaporeans have today," she said, adding that Singapore will work to further strengthen its social safety nets.
"We are entering an era of volatility, uncertainty and disruption in people's lives. Individuals will need greater social support than before," she said.
"We will have to consider carefully how to strengthen our safety nets, to give Singaporeans more assurance coping with life's uncertainties. And we will have to be careful to do so in a way that is financially sustainable for future generations."
This was the first time that the opening of Parliament was held in more than one location, in light of COVID-19 safe distancing measures.
Download our app or subscribe to our Telegram channel for the latest updates on the coronavirus outbreak: https://cna.asia/telegram