Singapore-Hong Kong air travel bubble launch deferred for 2 weeks after COVID-19 cases spike in Hong Kong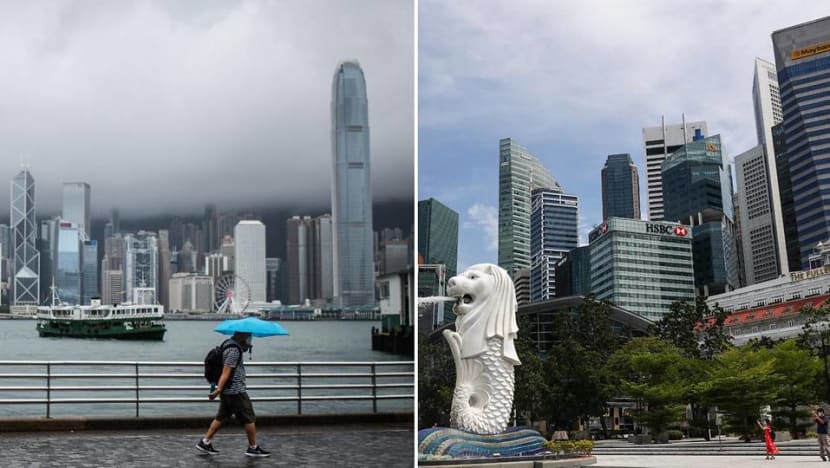 SINGAPORE: The launch of an air travel bubble between Singapore and Hong Kong has been deferred for two weeks, Singapore's Transport Minister Ong Ye Kung said on Saturday afternoon (Nov 21).
This comes after a spike in COVID-19 cases in Hong Kong. The air travel bubble was supposed to start on Sunday.
In a Facebook post on Saturday, Mr Ong said he has held discussions with Hong Kong's Secretary for Commerce and Economic Development Edward Yau about the travel bubble.

"Given the evolving situation in Hong Kong, (Mr) Yau and I discussed further this afternoon and decided that it would be better to defer the launch of the air travel bubble by two weeks," Mr Ong said.

"We will review within two weeks on the new launch date and update again.
"I can fully understand the disappointment and frustration of travellers who have planned their trips. But we think it is better to defer from a public health standpoint." 
The airlines will be contacting travellers individually, the transport minister added.

On Saturday, Hong Kong reported 43 new COVID-19 cases, of which 36 were locally transmitted. Thirteen of Saturday's cases were from unknown transmission sources.
The city had reported 26 new COVID-19 infections on Friday. 

"In the light of the recent surge of local cases, we have decided, together with the Singapore government, to defer the air travel bubble's launch by two weeks," Mr Yau said, adding that the city will continue to review the situation with the Singapore Government.

A spokesperson for Hong Kong's Food and Health Bureau added: "The number of confirmed local cases with unknown sources of infection has been on a rising trend recently, indicating the existence of silent transmission chains in the community."

On Saturday, Singapore reported five new COVID-19 cases – all imported and placed on stay-home notice upon arrival. It was the 11th consecutive day without any locally transmitted infections in Singapore.
TRAVELLERS MAY TAKE NON TRAVEL BUBBLE FLIGHTS

Under the air travel bubble, travellers would have to take dedicated flights operated by Singapore Airlines and Cathay Pacific.
The Civil Aviation Authority of Singapore (CAAS) said on Saturday that travellers may still continue their journey on non-designated air travel bubble flights.

"However, such travellers will be subject to the prevailing border control and health requirements of both cities," said CAAS in a media release. 
For example, Singapore residents returning from Hong Kong will be subject to a seven day stay-home notice upon entry into Singapore.

Singapore Airlines said customers who no longer wish to fly between Singapore and Hong Kong after the deferment announcement can request for a full refund for the unused portion of their tickets, and have cancellation fees waived.
In response to CNA's queries, Cathay Pacific said that its inaugural air travel bubble flight (CX759) on Sunday has been cancelled. Passengers can change their booking, request a full refund or exchange their ticket for airline credits without charge.

For passengers booked on Cathay Pacific air travel bubble flights between Nov 24 and Dec 5, they have automatically been placed on new, non-air travel bubble flights departing at the same date and time as their original booking.
"Normal quarantine rules will apply" for these flights, the airline said. Passengers can also change or cancel their booking without charge.
SITUATION IN HONG KONG "WILL REMAIN SEVERE IN THE NEAR FUTURE"
On Saturday morning, Mr Ong said there was a "high chance" of the air travel bubble between Singapore and Hong Kong being suspended if the COVID-19 situation in Hong Kong continued on its current trajectory.
Under the terms of the travel bubble, the arrangement would be suspended if the seven-day moving average of unlinked cases exceeds five per day in either city.
Hong Kong has seen a spike in the number of COVID-19 cases, a situation the city's Secretary for Food and Health Sophia Chan described on Friday as "severe". 

Following Saturday's announcement, the Hong Kong government said it is expected that the epidemic situation in the city "will still remain severe in the near future".
"If the air travel bubble is to be launched as scheduled (on Sunday), chances of making immediate adjustment are high," it said in a statement on its website.
"The deferral of the inaugural flights is a suitable and responsible arrangement to minimise the inconvenience caused to the air travel bubble travellers and reduce the uncertainty in their itineraries."
Mr Ong said: "This is a sober reminder that the COVID-19 virus is still with us, and even as we fight to regain our normal lives, the journey will be full of ups and downs. But we will press on and look forward to when we can safely launch the air travel bubble."

Download our app or subscribe to our Telegram channel for the latest updates on the coronavirus outbreak: https://cna.asia/telegram