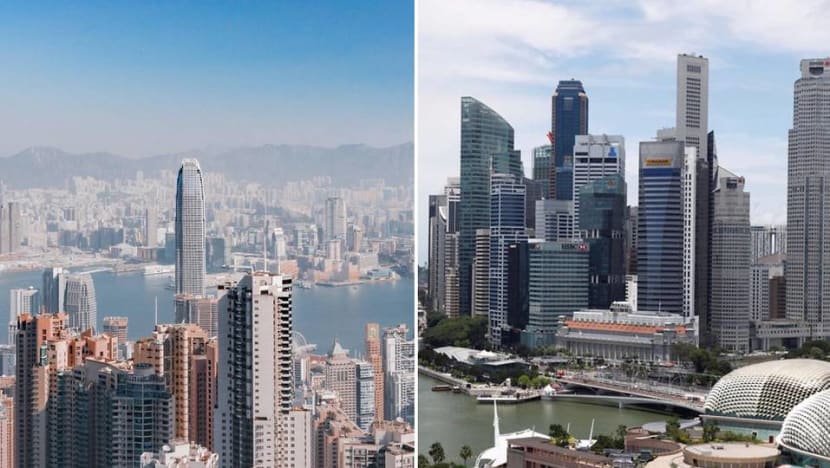 SINGAPORE: Singapore and Hong Kong have agreed to set May 26 as the launch date of their travel bubble, both cities announced on Monday (Apr 26).

Stricter conditions will be introduced for the travel bubble's resumption. This includes travellers having to remain in Singapore or Hong Kong in the last 14 days prior to departure, excluding any time spent in quarantine or stay-home notice.
Hong Kong also requires its residents to be fully vaccinated against COVID-19 before departing on the flights, with some exceptions made for children and those not suitable for vaccination on medical grounds.

Travellers from Singapore will have to download and install Hong Kong's LeaveHomeSafe app before departing.

The travel bubble will be suspended if the seven-day moving average of unlinked community cases in either city increases to above five. It can only resume when the COVID-19 situation has stabilised, said the Civil Aviation Authority of Singapore (CAAS).
The travel bubble was originally scheduled to begin in November last year, but was deferred due to a spike in COVID-19 cases in Hong Kong. 

Under the travel bubble, there are no restrictions on the purpose of travel and no requirements for a controlled itinerary or sponsorship. Visitors have to take pre-departure and on-arrival COVID-19 swab tests and travel on designated flights operated by Singapore Airlines and Cathay Pacific.

"The COVID-19 situation in Hong Kong has improved, with very few local unlinked COVID-19 cases over the past few weeks. Community cases in Singapore remained very low throughout the time," said Singapore's Ministry of Transport (MOT).
"The risk profiles of both cities are therefore now similar."
Both cities will closely monitor the COVID-19 situation from now to May 26, and will proceed with the launch "if the situation continues to be steady and under control in both cities", the ministry said.
TRAVEL BUBBLE TO BEGIN "CAUTIOUSLY"
The Singapore-Hong Kong travel bubble will begin "cautiously", with one flight a day in each direction, said MOT. 
Each flight will have a cap of 200 passengers, with the numbers reviewed after the first two weeks.
Singapore's Transport Minister Ong Ye Kung said the travel bubble is a significant move between two aviation and financial services hubs in Asia.
"I am happy that Hong Kong got the COVID-19 situation under control," he said.

"It has been a long few months, but the conditions are now ripe again to re-launch the ATB (air travel bubble). Both sides will need to stay very vigilant in the next one month, so that we can launch the first flights smoothly."

Hong Kong's Secretary for Commerce and Economic Development Edward Yau said the goal is to strike a balance between public health and travel convenience. 
"The re-launch of ATB not only meets the aspirations of the people and business communities on cross-border travel, but also signifies that gradual resumption of cross-border travel is achievable through mutual collaborations among different places," said Mr Yau.

CAN'T BE CERTAIN "EVERYTHING WILL BE SMOOTH SAILING": ONG
The relaunch of the travel bubble was set on May 26 for a number of reasons, Mr Ong told reporters on Monday. 
Hong Kong requested enough time for its residents to get vaccinated before travelling. The lead time also gives the industry and travellers more time to prepare, he said. 
Singapore will ensure that COVID-19 infections remain at a "very, very low level", Mr Ong said. 

"You can't say for sure that everything will be smooth sailing," he said when asked about whether a recent spate of COVID-19 transmissions in Singapore might result in another round of delays for the bubble.

"Stop-start situations" have become the norm for such travel arrangements, he noted. 

One of the factors that would lead to the suspension of the travel bubble is if the seven-day moving average of unlinked community cases in either city increases to more than five. 

For Singapore, this number excludes cases in migrant worker dormitories, where more than 90 per cent of Singapore's coronavirus cases emerged last year.

When asked why this was the case, Mr Ong replied that the risk of an unlinked COVID-19 case in the community was much higher than that in the dormitories. 

"In the dorm, it's a different environment. You can lock down the dorm. In the community, you can't lock down a town. You can't lock down Toa Payoh, you can't lock down Ang Mo Kio," he said. 

The dormitories are under "very robust surveillance", he noted, pointing to the movement restrictions still in place on migrant workers as well as regular testing against COVID-19. 

Though Hong Kong requires that its residents be vaccinated against COVID-19 before travelling to Singapore under the bubble, there is no similar requirement for visitors from Singapore. 

Mr Ong said Hong Kong's vaccination requirement is an "extra incentive" for its residents to get vaccinated, and that Singapore's vaccination rates have been good so far. 

Rather, the top priority for reopening travel is that the destinations that Singapore partners with are "safe", he said.

Places where Singapore has already unilaterally opened its borders to – such as Australia, Brunei, China, New Zealand and Taiwan – are "natural partners" for future travel bubbles, said Mr Ong.

He noted the Taiwanese authorities are now studying proposals from Singapore for such a bubble, as well as for the mutual recognition of vaccination certificates. 

Download our app or subscribe to our Telegram channel for the latest updates on the coronavirus outbreak: https://cna.asia/telegram