42 new COVID-19 cases in Singapore, lowest since Mar 30; 800 workers 'newly quarantined' after case at cleared dorm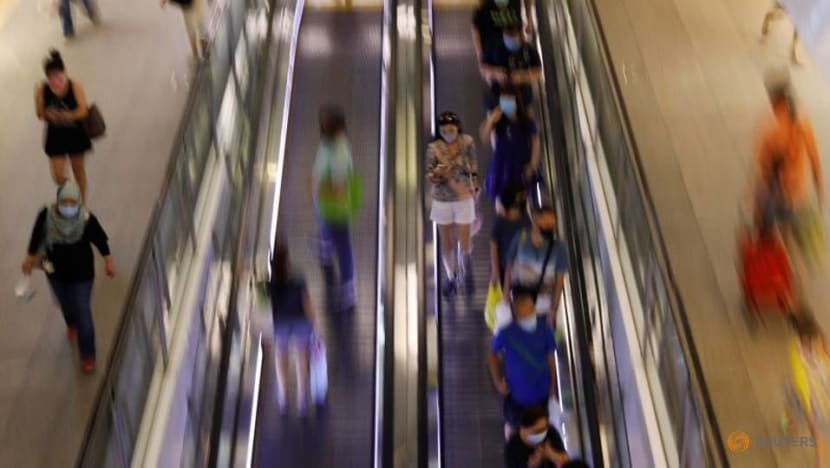 SINGAPORE: Singapore reported 42 new COVID-19 cases as of noon on Wednesday (Aug 12), the lowest daily count since Mar 30.
This brings Singapore's total number of COVID-19 cases to 55,395. The death toll remains at 27.
The sole community infection reported on Wednesday was a 58-year-old Singaporean man who had been identified as a contact of a previously confirmed case, said the Ministry of Health (MOH). He had been placed on quarantine earlier and was tested during quarantine.
IMPORTED CASES
There were also 11 imported infections, including two Singaporeans - an 8-year-old child who returned from India on Jul 3 and a 37-year-old man who returned from Indonesia on Jul 30.
The 8-year-old boy had served his stay-home notice (SHN) with his parent and siblings in the same room at a dedicated facility, said MOH.
"(He) was subsequently placed on quarantine when his SHN contacts tested positive for COVID-19. He was tested during quarantine to verify his status," MOH said.
Four of the imported cases are dependant's pass holders who arrived from India on Jul 28 and Jul 31. Among them is a 9-year-old boy.
Another four cases are work pass/work permit holders currently employed in Singapore who arrived from the Philippines on Jul 29 and from India on Jul 31.
"All of them had been placed on 14-day SHN upon arrival in Singapore, and were serving their SHN at dedicated facilities. They had been tested while serving their SHN or quarantine," MOH said.
The remaining case is a seaman currently holding a special pass who arrived in Singapore from India on Aug 8. He reported symptoms and was swabbed while on the vessel and remained there until his test came back positive for COVID-19. He was then taken to hospital.
MOH said on Wednesday that the number of new cases in the community has remained stable at an average of two cases per day in the past two weeks. 
The number of unlinked cases in the community has also remained stable at an average of one case per day in the past two weeks. 
"We will continue to closely monitor these numbers, as well as the cases detected through our surveillance programme." 
It also added several locations to its list of places visited by COVID-19 cases in the community during their infectious period, including the HomeTeamNS Khatib clubhouse and Warren Golf and Country Club.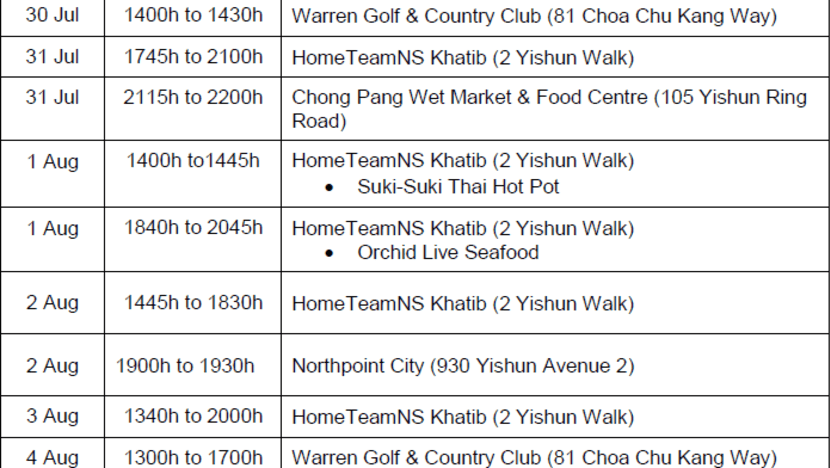 800 WORKERS "NEWLY QUARANTINED"
The remainder of Wednesday's reported cases are linked to foreign worker dormitories.
The authorities have completed the testing of all workers in the dormitories, although about 22,800 workers are still serving out their quarantine period, said MOH.
This includes 800 migrant workers who were "newly quarantined" after a COVID-19 case was discovered among them in a cleared dormitory, said MOH.
"These workers will be tested when their quarantine ends, and we expect the case counts to remain high in the coming days, before tapering down thereafter."
CNA has contacted MOH for more details on the cleared dormitory as well as the workers who have been newly quarantined.
On Tuesday, Singapore authorities said they were monitoring migrant worker dormitories to manage the risk of new outbreaks after fresh COVID-19 cases were reported.
Setting out several measures to minimise the risk of infections, the authorities said workers are required to report their temperature and if they have any symptoms of acute respiratory illness through the FWMOMCare app twice a day.
The number of migrant workers who report sick at the medical posts will also be monitored, as an early indication of any possible infections.
In addition, workers in higher risk settings will be put through regular routine testing. These include workers in the construction, marine and process sectors, who are required to go for a swab test every 14 days.
CNA has contacted the Ministry of Manpower for details on the dormitories with new COVID-19 cases.​​​​​​​
2 DORM CLUSTERS CLOSED, MORE DISCHARGED
Two more COVID-19 clusters in dormitories at 33 Senoko Way and 23 Sungei Kadut Street 2 have been cleared and are now closed, the ministry added.
A total of 392 more cases of COVID-19 infection have been discharged from hospitals or community isolation facilities. 
In all, 50,520 have fully recovered from the infection and have been discharged from hospitals or community care facilities.
There are currently 92 confirmed cases who are still in hospital, the lowest since Mar 12.
Of these, most are stable or improving, and none is in the intensive care unit. 
A total of 4,756 are isolated and cared for at community facilities. 
"These are those who have mild symptoms, or are clinically well but still test positive for COVID-19," the ministry said. 
Download our app or subscribe to our Telegram channel for the latest updates on the coronavirus outbreak: https://cna.asia/telegram