Singapore reports 19 new COVID-19 infections after two community cases removed following further tests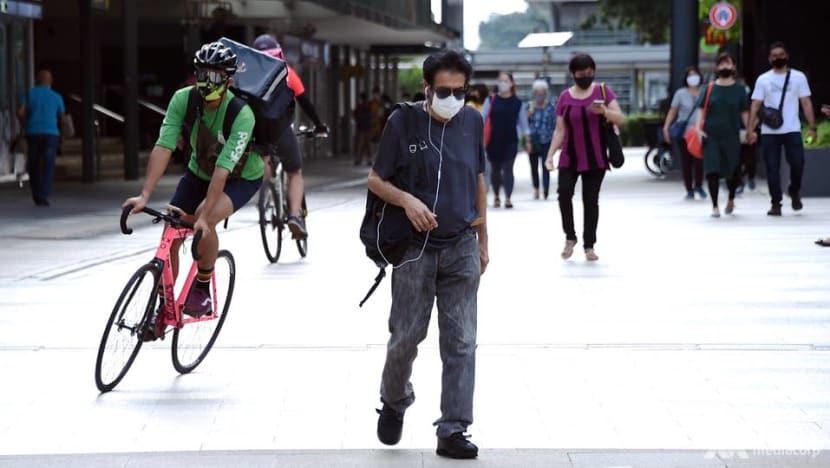 SINGAPORE: Singapore reported 19 new COVID-19 cases on Thursday (Oct 1) evening, two fewer than what was reported in the Ministry of Health's (MOH) preliminary update. 
Of the three community cases reported earlier on Thursday, two were removed after further tests confirmed they were not infected. Initial test results for cases 57,918 and 57,919 had been borderline-positive, said MOH. 
Of the new cases, 15 are imported. The rest are cases residing in dormitories. 
Fourteen of the cases are asymptomatic and were detected through proactive screening and surveillance. 
The sole community case, a 54-year-old Singapore permanent resident, had been identified as a contact of previously confirmed imported cases and placed on quarantine.  
Singapore's tally of COVID-19 cases now stands at 57,784.
IMPORTED CASES
Fifteen imported cases were reported on Thursday, all of whom were placed on stay-home notice upon their arrival in Singapore. 
This is the highest number of daily imported cases since Aug 15, when 16 imported infections were reported. 
Among the imported cases, three are Singaporeans and two are Singapore permanent residents who returned to Singapore from Indonesia on Sep 19, and India on Sep 17 and Sep 19. 
Three are work pass/work permit holders who arrived from the Philippines on Sep 18, India on Sep 19 and France on Sep 20.  
Two cases are students' pass holders who arrived from India on Sep 19. 
Another case is a short-term visit pass holder who arrived from India on Sep 28. He was allowed entry into Singapore as he was already receiving medical care in Singapore and had returned for further treatment.

The remaining four cases are special pass holders who are crew members of a ship. They arrived in Singapore from Malaysia on Sep 23 but did not disembark. The four subsequently reported symptoms and were swabbed while on the ship, where they  remained until their test results came back positive for COVID-19. They were then taken by ambulance to the hospital.

Among the three cases residing in dormitories, one had been identified earlier as a contact of previous cases and had already been quarantined to prevent further transmission. He was tested during quarantine to determine his status. The other two were detected through surveillance testing. 

DISCHARGED CASES
Twenty-four more cases of COVID-19 infection have been discharged from hospitals or community isolation facilities. In all, 57,512 have fully recovered from the infection and have been discharged from hospitals or community care facilities.

There are currently 44 confirmed cases who are still in hospital. Of these, most are stable or improving, and none are in the intensive care unit. A total of 201 cases have been isolated and are being cared for at community facilities. These are those who have mild symptoms or are clinically well but still test positive for COVID-19. 
Singapore's death toll from COVID-19 stands at 27.

Junction Nine mall in Yishun was added to the list of public places visited by COVID-19 community cases during their infectious period. 

Ah Ye Kopi and Toast at Junction Nine appeared twice on the list, on Sep 22 and Sep 23. The mall was listed again on Sep 24.
Those who have been identified as close contacts of confirmed cases would already have been notified by MOH.
As a precautionary measure, individuals who were at those locations during the specified timings should monitor their health closely for 14 days from their date of visit, said MOH.
"They should see a doctor promptly if they develop symptoms of acute respiratory infection (such as cough, sore throat and runny nose), as well as fever and loss of taste or smell, and inform the doctor of their exposure history," it added.

The Ministry of Manpower (MOM) announced earlier on Thursday that 342 workers living at Space@Tuas dormitory have been moved to a government quarantine facility after a new COVID-19 case was detected on Monday. 
Safe living measures were "not strictly enforced" in the affected block where the case lived, said MOM, as it urged all dormitory operators, employers and workers to comply with the rules in dormitories.

In a video address to a high-level event at the United Nations General Assembly on Wednesday, Deputy Prime Minister Heng Swee Keat spoke about Singapore's support for "vaccine multilateralism".
"Every country is doing its best to contain the spread of the virus, and to cushion the impact of the pandemic on businesses, workers and households. But no place can truly be safe, until every place is safe," said Mr Heng.
"Countries must therefore work together to fight this pandemic. This is our only way to overcome the crisis," he added.
EASING OF BORDER RESTRICTIONS FOR SOME VISITORS
Also on Wednesday, the Civil Aviation Authority of Singapore (CAAS) said Singapore will lift border restrictions for some visitors from Australia, excluding Victoria state, and Vietnam from Oct 8, after doing so for Brunei and New Zealand earlier this month.
The two countries have successfully controlled the spread of the COVID-19 pandemic and the risk of importation is low, the authority said.
From Thursday, foreigners who are short-term visitors travelling from Vietnam and Australia, excluding Victoria state, may apply for an Air Travel Pass to seek entry into Singapore. Travel will be allowed from Oct 8.
At the same time, Singapore will also update its travel advisory to allow travel to Australia (excluding Victoria State) and Vietnam, said CAAS. 
Download our app or subscribe to our Telegram channel for the latest updates on the coronavirus outbreak: https://cna.asia/telegram