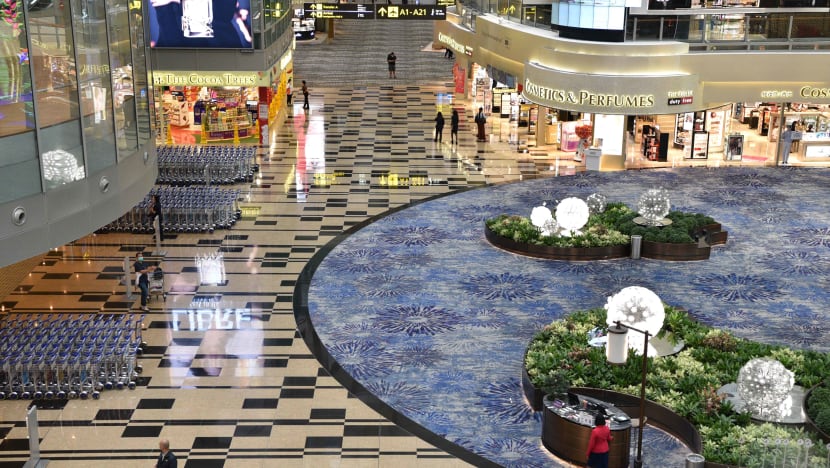 SINGAPORE: Three new COVID-19 cases were reported in Singapore as of noon on Thursday (Oct 15), with one dormitory infection and two imported cases. 

All three cases reported on Thursday were asymptomatic and were detected through screening and surveillance, said the Ministry of Health (MOH).

The new infections take Singapore's total number of COVID-19 cases to 57,892.

SOLE DORM INFECTION
The single dorm infection reported on Thursday was detected through the bi-weekly rostered routine testing of workers living in dormitories.
"This allows us to pick up cases early, including asymptomatic ones, so that we are able to ring-fence them quickly to prevent further transmission, by aggressively containing, tracing and isolating the close contacts," the ministry said.

TWO IMPORTED CASES
Of the two imported cases, one of them is 68-year-old Singaporean woman who returned from the US.
The other is a 41-year-old Indonesian work permit holder currently employed in Singapore who arrived from her home country.
Both cases were placed on stay-home notices upon their arrival in Singapore and they were confirmed to have the disease on Wednesday, said MOH.

COMMUNITY UPDATES
There were no community cases reported on Thursday.
However, the ministry added one location to its list of public places visited by cases in the community during their infectious period - Mohammadi Restaurant at 7 Lembu Road that was patronised on Oct 10 between 1pm and 2pm.
Overall, the number of new cases in the community has decreased from an average of one case per day in the week before, to an average of fewer than one per day in the past week, the ministry said. 
"The number of unlinked cases in the community has also decreased from an average of fewer than one case per day in the week before, to none in the past week. 
"We will continue to closely monitor these numbers, as well as the cases detected through our surveillance programme."

In addition, MOH added the cluster at SCM Tuas Lodge (80 Tuas South Boulevard) is now closed as there had been no more cases linked to the cluster for the past two incubation periods, or 28 days.

Twelve more cases of COVID-19 infection have been discharged from hospitals or community isolation facilities, said MOH. 
In all, 57,764 have fully recovered from the disease and have been discharged from hospitals or community care facilities.
There are currently 36 confirmed cases who are still in hospital. 
"Of these, most are stable or improving, and none is in the intensive care unit," the ministry said. 
A total of 64 cases are isolated and cared for at community facilities. These are those who have mild symptoms, or are clinically well but still test positive for COVID-19. 
Twenty-eight people have died from complications due to COVID-19 infection.



​​​​​​​
HONG KONG, SINGAPORE AIR TRAVEL BUBBLE
Earlier on Thursday, the Transport Ministry announced that Singapore and Hong Kong have reached an in-principle agreement to establish a bilateral air travel bubble.

This means that those travelling under the bubble will have no restrictions on their travel purpose and will not need to have a controlled itinerary. Travellers will also not be subject to quarantine or stay-home notice requirements.​​​​​​​
However, travellers will need to test negative on mutually recognised COVID-19 polymerase chain reaction (PCR) tests. They will also be required to go on flights dedicated for those travelling under the bubble. 
DORM CASES IN SINGAPORE
Before Thursday's figures were released, Singapore reported no new COVID-19 case in dormitories for the first time in more than six months on Tuesday.
Infections in dormitories, which house foreign workers, form the bulk of Singapore's cases with more than 54,000 cases. At its peak, more than 1,000 new cases a day were discovered in the dormitories.

SINGAPORE'S ECONOMY FOLLOWING CIRCUIT BREAKER
On Wednesday, advance estimates from the Ministry of Trade and Industry showed that Singapore's economy shrank 7 per cent year-on-year in the third quarter compared with a contraction of 13.3 per cent in the previous quarter.
The improvement came after Singapore reopened its economy in phases following a "circuit breaker" period between Apr 7 and Jun 1.

Singapore entered a technical recession in the second quarter after logging two consecutive quarter-on-quarter contractions. Official forecasts estimate that the economy may shrink between 5 and 7 per cent for the whole of 2020.

Download our app or subscribe to our Telegram channel for the latest updates on the coronavirus outbreak: https://cna.asia/telegram