3 new COVID-19 cases in Singapore, including SAF serviceman linked to Grace Assembly of God cluster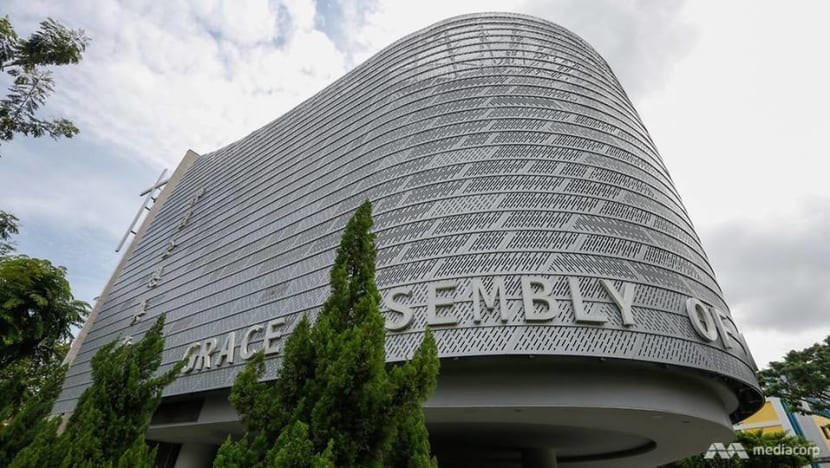 SINGAPORE: The Ministry of Health (MOH) on Sunday (Feb 16) confirmed three new COVID-19 cases, including a Singapore Armed Forces (SAF) regular serviceman linked to a cluster at the Grace Assembly of God church.
The serviceman was one of two new cases linked to the church. The third case is a family member of another patient.

All the new cases have no recent travel history to China. This brings the total number of cases in Singapore to 75.

TWO NEW CASES LINKED TO CLUSTER
Case 73 is a 43-year-old regular in the Singapore Armed Forces. He works at Building 613 of Tengah Air Base, but has not been at work since Feb 6, said the Ministry of Defence (MINDEF).

According to the health ministry, he reported the onset of symptoms on Feb 9 and sought treatment at a GP clinic a day later.

He was identified as a close contact of Case 51, who works at Grace Assembly of God branches in Tanglin and Bukit Batok, and was served a home quarantine order on Feb 13. 
A day later, he was taken to the National Centre for Infectious Diseases (NCID), and tested positive for the coronavirus on Feb 15.

Prior to being admitted, he attended the Tanglin branch of the church. He lives at Lorong 8 Toa Payoh.

As a precautionary measure, SAF carried out "immediate and thorough disinfection" of the premises the serviceman had been in, said MINDEF. 

Case 74, who is also linked to the Grace Assembly of God cluster, is a 29-year-old Singaporean man who reported the onset of symptoms on Feb 12. 
He sought treatment at Alexandra Hospital on the same day, and again on Feb 15, when he was admitted. He tested positive for the infection on the same afternoon.

Prior to hospital admission, he went to work at Hi-Yew Technology at 3031A Ubi Road. He stays at Mei Ling Street.

There are now 18 confirmed cases linked to the church.

FAMILY MEMBER OF PREVIOUS CASE
Case 75 is a family member of Case 41 and has been under quarantine since Feb 7.
The 71-year-old Singaporean woman was confirmed to have the infection on Feb 16 morning and is currently warded at NCID.
No more information about her movements was given.
Case 41 is a 71-year-old Singaporean man with no recent travel history to China. He was tested positive for the infection on Feb 8.
MOH also provided updates to Cases 68, 69, 70, 71 and 72, which were announced on Saturday.
One other patient – a 51-year-old Singaporean man who was at the Grand Hyatt business meeting where several other attendees were also infected – was discharged from the NCID on Sunday. 
To date, 19 cases have fully recovered from the infection and have been discharged from hospital. Of the 56 still warded, most are "stable or improving", the health ministry said.

Five are in critical condition in the intensive care unit.
As of noon on Sunday, MOH has identified 2,179 close contacts of the cases. Of the 2,045 who are still in Singapore, 1,781 have been contacted and are being quarantined or isolated.

"Efforts are ongoing to contact the remaining 264 close contacts," the ministry said.
A total of 871 suspected cases have tested negative for the infection, and test results are pending for 119 cases.

Deputy Prime Minister Heng Swee Keat on Sunday said a package to help households with the cost of living will be introduced as part of this year's Budget as he sought to reassure Singaporeans that the Government is mobilising its full resources to tackle the COVID-19 outbreak.

"While dealing with the immediate challenges, I want to assure Singaporeans that we are doing our best, mobilising our full resources across Government and society, to fight the outbreak and to better protect you," he said.
Singapore raised its Disease Outbreak Response System Condition (DORSCON) level to Orange on Feb 7, prompting additional precautionary measures.

COVID-19 has killed more than 1,660 and infected more than 68,000, mostly in mainland China. It has spread to more than 25 countries, including Singapore, Japan and Thailand. 
Download our app or subscribe to our Telegram channel for the latest updates on the novel coronavirus outbreak: https://cna.asia/telegram