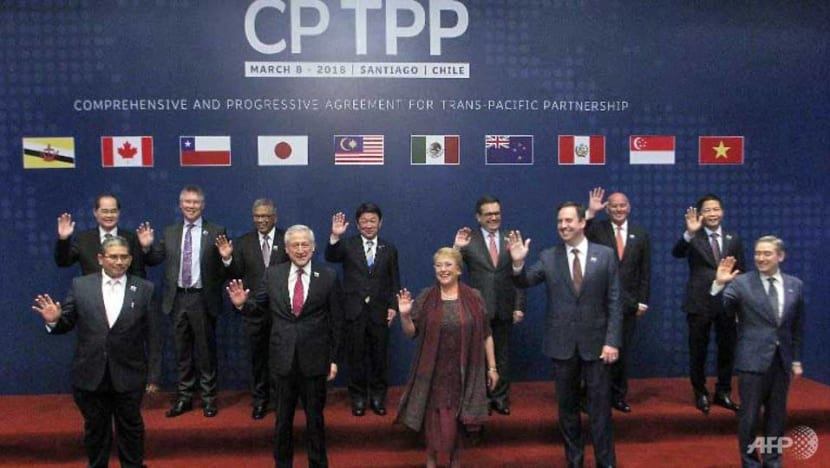 SINGAPORE: Singapore companies can look forward to reduced tariffs and greater market access after the Comprehensive and Progressive Agreement for Trans-Pacific Partnership (CPTPP) comes into force on Dec 30 this year.
The deal will create "new trade and investment opportunities" for Singapore companies in the Asia-Pacific region, the Ministry of Trade and Industry (MTI) said in a press release on Tuesday (Nov 20).
It also establishes Singapore's first preferential trade agreement with Canada and Mexico.
Negotiated and signed on Mar 8, the CPTPP - which is a revived version of the Trans-Pacific Partnership following the United States' withdrawal - brings together 11 economies from both sides of the Pacific, representing 14 per cent of the global economy.
These 11 member nations are: Australia, Brunei, Canada, Chile, Japan, Malaysia, Mexico, New Zealand, Peru, Singapore and Vietnam.
Vietnam last month became the seventh country to ratify the deal, joining Singapore, Mexico, Japan, New Zealand, Canada and Australia.
Under the deal, "companies will be able to export to CPTPP markets substantially tariff-free" and gain access to CPTPP goods and services markets, including government procurement opportunities, said MTI.
Updated rules in technical standards, sanitary and phytosanitary measures and services and investment address non-tariff barriers to trade, it added.
Once the deal enters into force, 94 per cent of Singapore's trade with CPTPP countries will be tariff-free, said MTI, with the remainder being phased out over a longer timeframe.
Meanwhile, Canada and Mexico will eliminate tariffs on 99 per cent and 88 per cent of Singapore's trade with these countries respectively.
The deal will also provide enhanced market access for service providers, professionals and investors with countries adopting a "negative-list" approach, where markets are fully open to foreign service suppliers unless exceptions have been taken.
There will also be strengthened investment rules, including a principle of non-discrimination so that CPTPP investors will not be treated less favourably than local or third country investors.
The deal will also see improved access to government procurement opportunities, measures to promote the growth of the digital economy and also address business intellectual property concerns, according to MTI.
"The deal will benefit companies of all sizes from a diverse range of sectors in Singapore," said Minister for Trade and Industry Chan Chun Sing. 
"In particular, e-commerce and intellectual property disciplines will promote the growth of the digital economy, innovation and the creation of new industries."
He said Singapore looked forward to the "swift ratification" of the CPTPP by all parties. 
Companies interested in business and investment opportunities in CPTPP markets can contact Enterprise Singapore at enquiry [at] enterprisesg.gov.sg or refer to the MTI website.