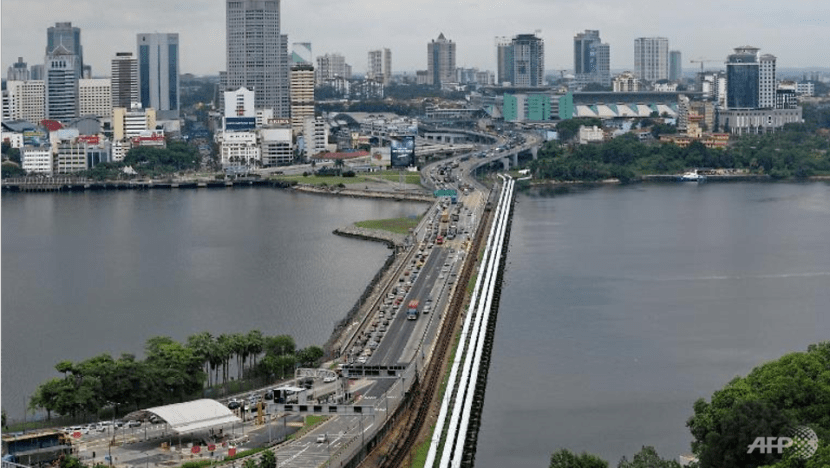 SINGAPORE: Singapore has not received "any official proposal or communications" from Malaysia on the construction of a so-called "crooked bridge" linking Johor and Singapore, the Ministry of Foreign Affairs (MFA) said on Thursday (Oct 18).
The ministry issued a response to media queries on comments made by Johor Chief Minister Osman Sapian on Tuesday about his upcoming discussions in Singapore.
Mr Osman reportedly suggested that talks to revive the project - first mooted by Malaysian Prime Minister Mahathir Mohamad during his first stint as prime minister - may be revived.

He said that the issue would be discussed during a meeting between the Singapore Government and the Johor state government to be held either on Oct 27 or 28 in Singapore, the Star Online reported.
The chief minister also said that issues such as "water price, bilateral development and investments" and the third bridge project would be discussed, the report added.
However, MFA's statement on Thursday said: "The Joint Ministerial Committee for Iskandar Malaysia, which will meet later this year, does not have the mandate to discuss issues related to the 1962 Water Agreement. 
"Singapore has also not received any official proposal or communications from Malaysia related to the construction of a crooked bridge or any other new link between Singapore and Malaysia."
The original concept of the crooked bridge involved a six-lane highway that would curve in a way that would allow vessels to pass under it.
However, the project was dropped by Dr Mahathir's successor Abdullah Ahmad Badawi when he became prime minister.