Singaporean cyclist quit his frontliner job, sets record for biking 7,400km across Europe
After two years of being a COVID-19 frontline healthcare worker, avid cyclist Lawrence Loh took to the road again. This time, he lost 5kg and gained a Singapore record.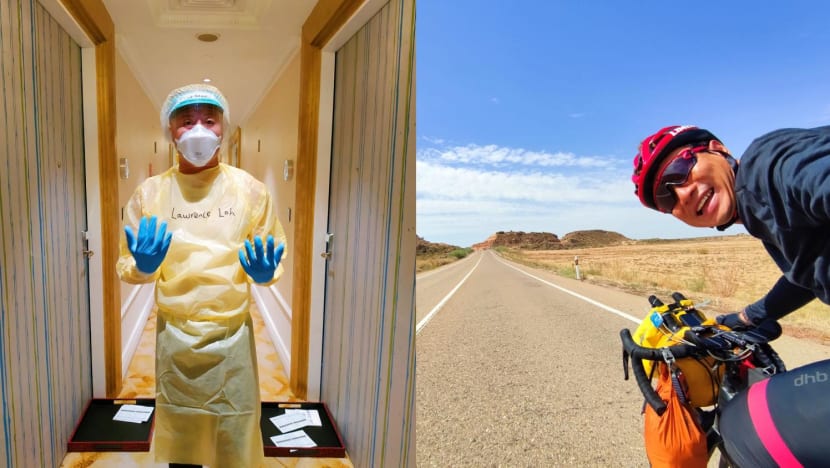 SINGAPORE: After completing multiple long-distance cycling trips and triathlons around the world, Mr Lawrence Loh found himself sweating for another reason altogether – the COVID-19 pandemic.
Years of being a sportsman and retailer merchandiser went out of the window when global travel restrictions kicked in.
Instead of putting on his bike helmet, Mr Loh began strapping on an N95 mask for his new job as a swabber. He also swapped his cycling jersey and tights for a full-body protective gown, two layers of gloves and a face shield.
The protective gear made him sweat from his head all the way to his feet, the 37-year-old said during an interview with CNA earlier this month.
But two years of being at the frontline of the pandemic was more than enough for the avid outdoorsman. When the land borders to Malaysia reopened in April, Mr Loh decided to quit his job and return to cycling under the open skies.
A few months later, his adventures landed him in the Singapore Book of Records.
He is now the record-holder of the longest solo unsupported bicycle ride across Europe completed by a Singaporean. He was also the only Asian among 20 cyclists to finish the 7,400-km North Cape-Tarifa bicycle race – the longest one in the world.
There is no time limit or prize money for the race, which begins from the northernmost tip of Europe – North Cape in Norway – and ends at the southernmost point, the town of Tarifa in Spain.
What participants get is a vast sense of achievement and bragging rights.
Mr Loh himself took about three months from Jun 20 to Sep 29 to complete the ride, crossing 15 countries on a 25kg bike that he built himself with the help of a friend.
But before heading to Europe, he had to get used to cycling extremely long distances again after not doing so for two years.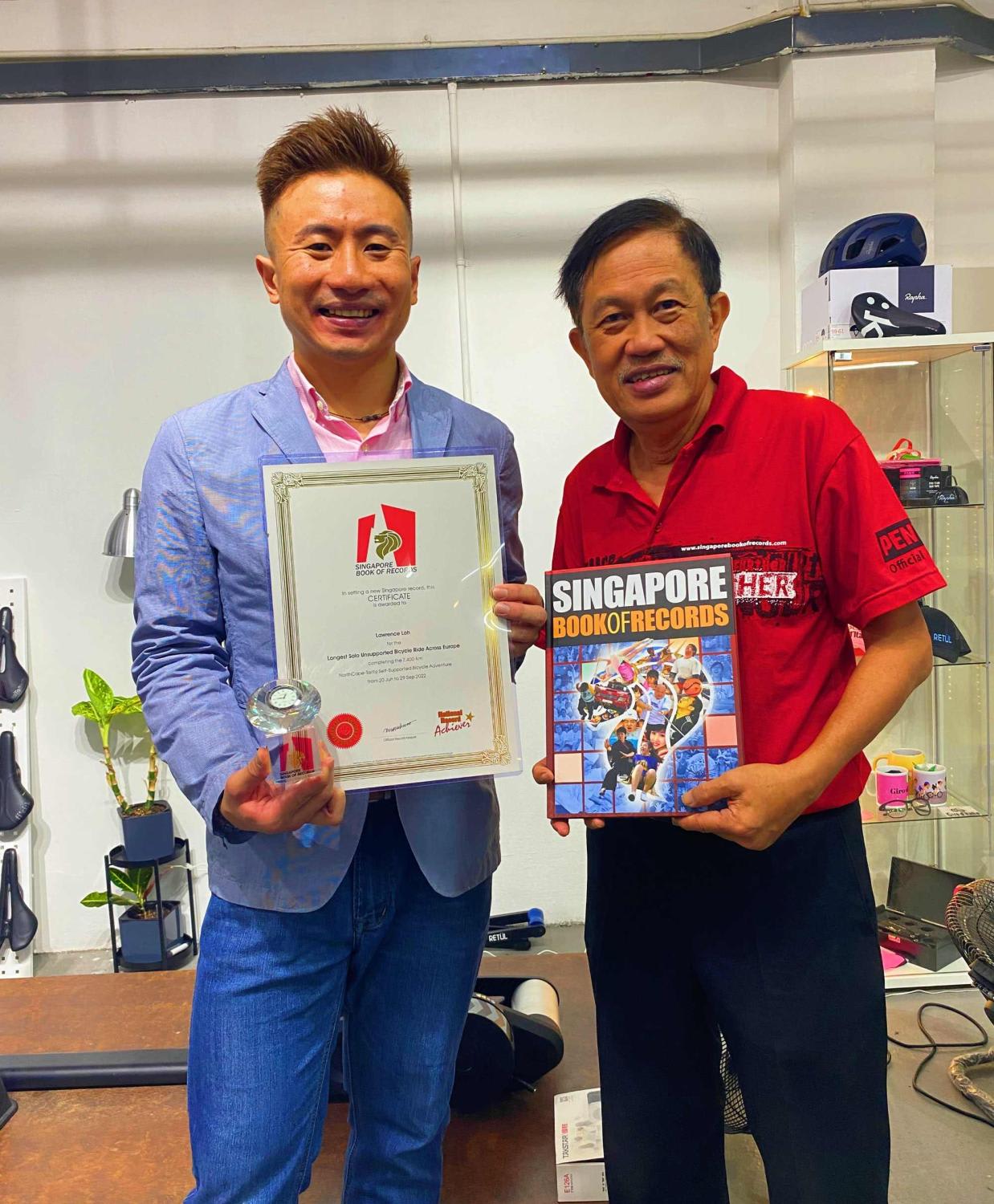 BUILT UP STRENGTH, EXPERIENCE
Mr Loh started out in the sport around 15 years ago, sticking to park connector networks in Singapore. He initially found it difficult to even complete a round of 100km to 140km around Singapore.
"At first, I had to do it alone because my friends were too fast and I found it very hard to keep up. Even riding 100km was tough for me," he said somewhat sheepishly.
With time and experience, Mr Loh's stamina improved and he took up mountain biking. He then participated in his first Ironman triathlon held in Langkawi, Malaysia in 2008.
Two years later, he cycled from Singapore all the way to Hong Kong. His initial destination was Russia, but he confessed to being too tired to go further.
Over the next decade, Mr Loh made it a point to participate in at least one long-distance ride or race annually. He was happiest with the wind blowing in his helmet-covered hair and being on two wheels, he said.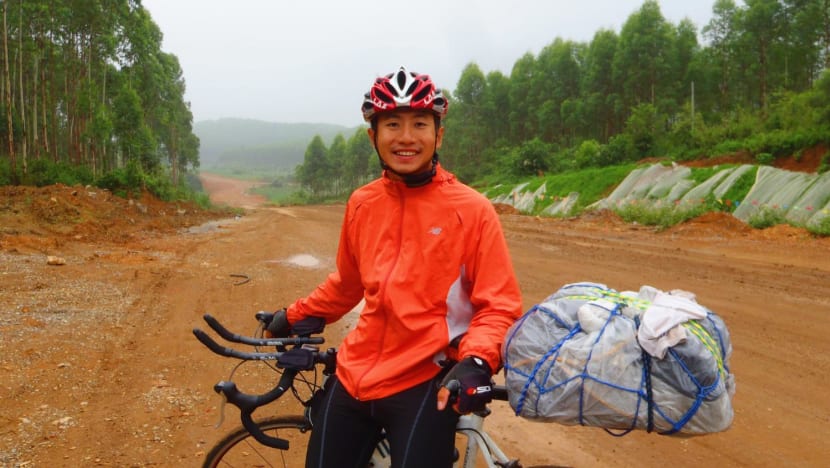 Usually, he would not tell his loved ones what he was doing until he was set to leave Singapore at Changi Airport. This was a premeditated move to avoid demeaning remarks from loved ones.
Just before his Singapore-Hong Kong trip, he quit his job as a lifeguard. When his parents and some friends heard about this, they asked him things like why he quit his job to cycle and why he did not want to have a stable income.
He told CNA: "I don't want to have any negative thoughts. I don't know why in Singapore, people will give a lot of negative comments like, 'Huh, you do these stupid things again?'
"Then when it comes to parents, 'Why do you do such things? Why you don't get a girlfriend, get married?'"
WHEN THE PANDEMIC HIT
He held onto this mentality until 2020 when the coronavirus began wreaking havoc throughout the world. He was working in retail merchandising at this point – a sector that was badly hit by the fall in tourism.
This prompted him to switch industries. He had seen a Ministry of Health advertisement seeking COVID-19 swabbers and wanted to do his part for the nation.
He was first stationed at foreign worker dormitories, where COVID-19 cases hit 10,000 a day at their peak. He then moved to swabbing travellers at hotels, before going to hospitals to perform regular checks on doctors and nurses there.
The personal protection equipment that he donned on a daily basis, as well as his surroundings, "became depressing". "I grew sick of my job and tired of my life," he lamented.
In April, he decided to throw caution to the wind once more and quit his job. He had been looking for long-distance rides and came across the North Cape-Tarifa race, which was more challenging than anything he had ever done.
That sealed the deal for him.
After signing up for it, he began training in earnest. He rode from his Woodlands home to Malacca and back, and trained for steep climbs at places like Mount Faber.
"But no matter how much you prepare, things will still go wrong," he said in a somber tone. "You'll still fall sick and run into problems you didn't anticipate."
UNEXPECTED CUISINE, WEATHER
Ultimately, it was not the long distance that bothered him, he said. It was the 80,000m elevation climb, along with the initial lack of decent food options and erratic weather.
During the first month, Mr Loh traversed mostly rural areas in Norway, Finland and Estonia – among other countries – where he rarely saw other people, let alone eateries or restaurants. He subsisted mostly on bread and other carbohydrate-heavy foods like pizza.
After three weeks of this, he vomited and fell ill. He was not used to the food and was burning a lot of energy cycling at least 100km a day.
"I couldn't get rice at all!" he lamented. "For Europeans, it wasn't an issue, but it was something I never expected."
It was only when he got to the Czech Republic, almost halfway through the ride, that he managed to find rice and noodles. He ended up losing 5kg.
It was also difficult to find shower facilities and he once went four days without taking a shower. In Finland, he developed a skin infection stemming from insect bites because he usually slept outdoors overnight, such as at gardens or even cemeteries.
On occasions like this, he would find a hotel room to wash up and clean his inflatable bed and pillow. Aside from that, he carried just two sets of clothes and medication along with his water bottles.
While camping outside a condominium complex in France one evening, he woke up only to discover his clothes had been stolen. He managed to secure new ones at a familiar retailer – a Decathlon outlet.
His bicycle tyres also sustained punctures several times, forcing him to head to bicycle shops and get his trusty companion fixed with the help of Google Translate.
The extreme changes in weather also caused some issues. Over the duration of his trip, the temperatures ranged from single digits to a whopping 45 degrees Celsius during an unprecedented heatwave in Europe.
On a single day in Poland, he experienced temperatures between 15 degrees Celsius and more than 30 degrees Celsius. When it got too cold, he knocked on strangers' doors or sometimes received invitations from others to stay at their homes.
Participants are tracked through a satellite GPS system. Members of the public, usually other cyclists, could see where they were on the race website.
When asked what the scariest part of the race was, Mr Loh immediately pointed to Pico de Veleta, the third highest peak in mainland Spain. It is also the highest paved road in Europe at nearly 3,400m above sea level.
The 2,600m elevation gain was the steepest climb that Mr Loh completed. To make matters worse, the weather forecast was initially fair, but he was soon plunged into almost-zero visibility and temperatures as low as 1 degree Celsius.
A hailstorm also struck as he ascended the mountain, leaving him unable to locate the checkpoint.
"I nearly died there," he added. "What kept me going was the will to just go on. Giving up the race or being disqualified was never in my options."
His efforts paid off when he eventually found the checkpoint and hightailed it back down the mountain. About a day later, he finally made it to the coastal town of Tarifa, cementing his spot in the Singapore Book of Records.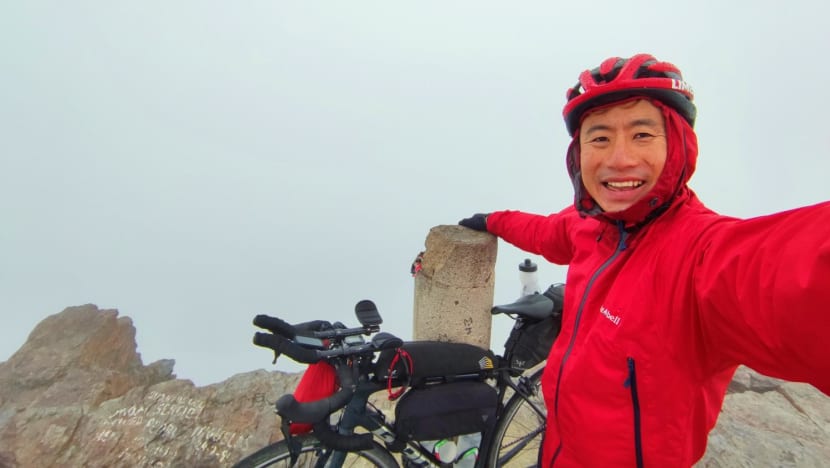 Despite the challenges, Mr Loh said that he did not regret his decision at all. Among the highlights of his trip, he got to see "the most beautiful sight" – the Swiss Alps – and made many new friends with whom he keeps in contact through social media.
"If anything happened to me, it was my choice. I'm glad I climbed that mountain. In this ride, I've seen a lot of things, experienced a lot of things that other people never experienced before."
As for his next big endeavour, he wants to ride around the world and hopes to set another Singapore record. He also plans to return to healthcare.
But one thing is for sure: He will continue ignoring naysayers on his quest to cycle everywhere.