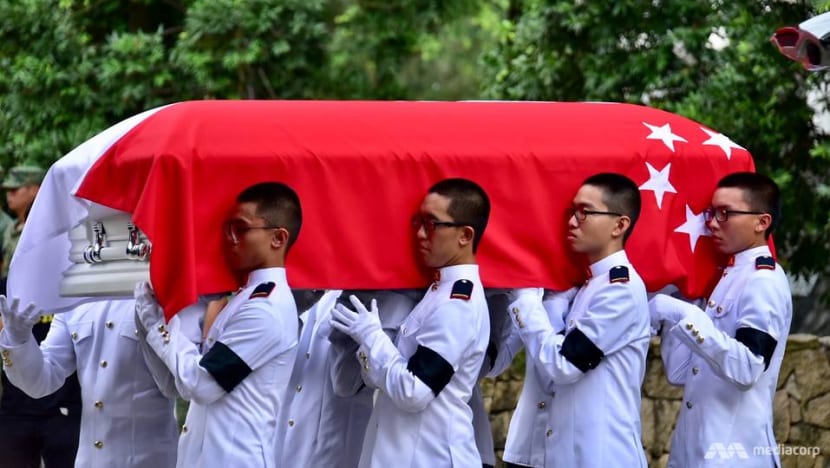 SINGAPORE: A Singapore Armed Forces (SAF) officer has been charged in criminal court over the death of full-time national serviceman (NSF) Dave Lee Han Xuan, the police said.
Corporal First Class (CFC) Lee died on Apr 30, nearly two weeks after suffering a heat stroke following the completion of an 8km fast march at Bedok Camp.

Captain (CPT) Tan Baoshu, 30, was charged on Wednesday (Oct 31) with causing death by a rash act, an offence punishable with up to five years' jail and a fine.

The police said they have also referred six other SAF servicemen who were involved in the incident to the Ministry of Defence (MINDEF) for investigations.
The ministry said in a statement that two of the six servicemen are regulars, while the rest are National Servicemen (NSmen).

It said it will defer internal proceedings until after criminal proceedings against CPT Tan have concluded, "to prevent any prejudice arising from parallel proceedings".
"If MINDEF's internal investigations find that these six servicemen have committed military offences, they will be liable for punishments under the SAF Act," it said.
"Punishments could range from a fine to detention and/or reduction in rank as well as administrative penalties."
SAF personnel who conduct unauthorised activities, or who wilfully or negligently fail to comply with training safety regulations, will be severely dealt with under military or criminal law, the ministry said in its statement.
"MINDEF/SAF takes the safety of our servicemen seriously," it added.

In August, Defence Minister Ng Eng Hen told Parliament that the Committee of Inquiry investigating CFC Lee's death found inadequate on-site casualty management and delayed evacuation as "likely reasons" for him succumbing to heat stroke.
Dr Ng also said that MINDEF would prosecute those responsible for lapses in military court if no criminal charges were filed.

There have been recent cases involving SAF servicemen who were charged either in criminal or military court in relation to NSF training deaths.

In 2015, former Master Sergeant Lee Kong Kean was jailed for six months for a rash act endangering human life and attempting to pervert the course of justice.
Lee, who was conducting an exercise in 2012, appointed a serviceman to drive a military jeep even though he knew that the serviceman did not have a driving licence. The serviceman lost control of the jeep on a downhill slope, causing it to overturn. One passenger died.
In 2013, two SAF officers were fined and had their promotions delayed under military law for breaching safety regulations in connection to the case of Private Dominique Lee, who died in 2012 due to an allergic reaction to smoke grenades.
In this case, no servicemen were charged in criminal court based on findings from a Coroner's Inquiry, Dr Ng told Parliament in 2016.
"Because of these findings and conclusions, the Attorney-General's Chambers decided not to prosecute anyone as the cause of death was an unforeseen allergic reaction that was unlikely to have been predicted," he said.
Dr Ng had also stressed that when training incidents occur, MINDEF and the SAF must "rely on our judicial system to determine the facts and mete out the appropriate punishment where required".
"It would be wrong and unfair to punish SAF servicemen beyond the level of offence committed which has been determined by independent and impartial judicial processes," he stated.