Death of NSF Liu Kai: Bionix that mounted Land Rover was reversing from 'simulated enemy fire'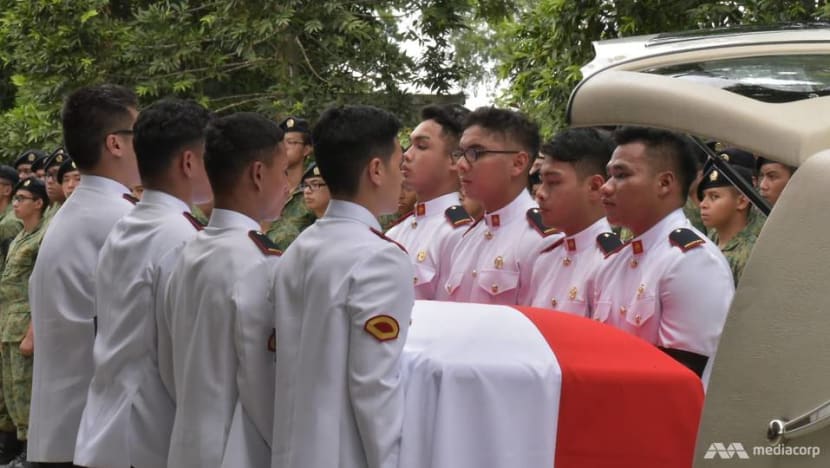 SINGAPORE: The Bionix vehicle that reversed into the Land Rover driven by full-time national serviceman Liu Kai was moving away from simulated enemy fire, Defence Minister Ng Eng Hen said in a written answer to Parliament on Monday (Nov 19).
Dr Ng was responding to questions by Members of Parliament regarding the training incident involving Corporal First Class (CFC) Liu, 22, who died on Nov 3.
"CFC Liu was driving the Land Rover carrying a trainer that was involved in an Armour exercise at the Jalan Murai training area," Dr Ng said.

"The Land Rover was stationary behind a Bionix Armoured Fighting Vehicle which was part of the exercise. The Bionix responded to a simulated enemy encounter to reverse away from simulated enemy fire.
"The Bionix reversed into the Land Rover and partially mounted the Land Rover. The trainer was unhurt but CFC Liu sustained injuries. Training was immediately halted and the on-site medic attended to CFC Liu."
The Singapore Armed Forces (SAF) Emergency Ambulance Service, unit medical officer and Singapore Civil Defence Force were activated and "arrived soon after" to attend to CFC Liu, Dr Ng added, noting that CFC Liu eventually succumbed to his injuries.
Dr Ng said he was providing these preliminary findings without prejudicing official investigations, which include police investigations and potentially a Coroner's Inquiry.
"There are obviously a number of questions that need to be answered in determining the cause of this incident," he added.
"They include: Were safety protocols followed by the crew of the Land Rover and the Bionix vehicle during this phase of the exercise? Were the vehicle commander, driver and crew of the Bionix aware of the Land Rover behind them and did they conduct their reversal safely?
"What was the physical state of exercise participants and did it have an effect on their attention to safety protocols? Was there any mechanical malfunction of vehicles or platforms? Did Safety Officers and Vehicle Commanders perform their responsibilities?

"The COI (Committee of Inquiry) and police investigations will fully examine these and other related questions into the death of CFC Liu."



An independent COI, chaired by a civil servant, has also started work to "determine the facts and will make specific recommendations to rectify any systemic or human lapses found".
Members include a consultant doctor from the public sector, a member from the External Review Panel on SAF safety, a senior-ranked national serviceman and a member of the Workplace Safety and Health Council.



In response to the incident, the SAF will also convene an External Review Panel on Combat Vehicle Safety comprising external experts to look at current policies and measures related to combat vehicle training safety, Dr Ng said.
"Over the past three years, the Army has been deploying more regulars to supervise and conduct the training of our full-time national servicemen," he added.
"The Army is now reviewing the experience level and roles of supervising, conducting and safety officers to further strengthen training and safety outcomes.
"MINDEF (Ministry of Defence) and the SAF will also undertake further reviews to curtail human lapses and mitigate risks associated with training."



Dr Ng said the SAF will continue to reinforce a strong safety culture to achieve zero training fatalities, emphasising the need for servicemen to have an "ingrained concern for the well-being of himself and his fellow soldiers".
"MINDEF and the SAF await the conclusion and recommendations of the investigative processes for the death of CFC Liu and will implement the necessary changes thereafter," he added.


This is the second training-related vehicular incident in the last three years that resulted in death, Dr Ng said.
The other, which also involved a Bionix, took place last September during a training exercise in Australia. Third Sergeant Gavin Chan died after being ejected from the Bionix he was commanding.

"Apart from these two cases, there were no other combat vehicular incidents which resulted in serious injury," Dr Ng stated.