Defence produces email that disputes assertion AHTC breached town council rules
On day six of the landmark trial, AHTC's defence lawyer showed that documents the audit firm had requested for had in fact been sent in an email to a PwC staff member. The staff member is no longer with the firm.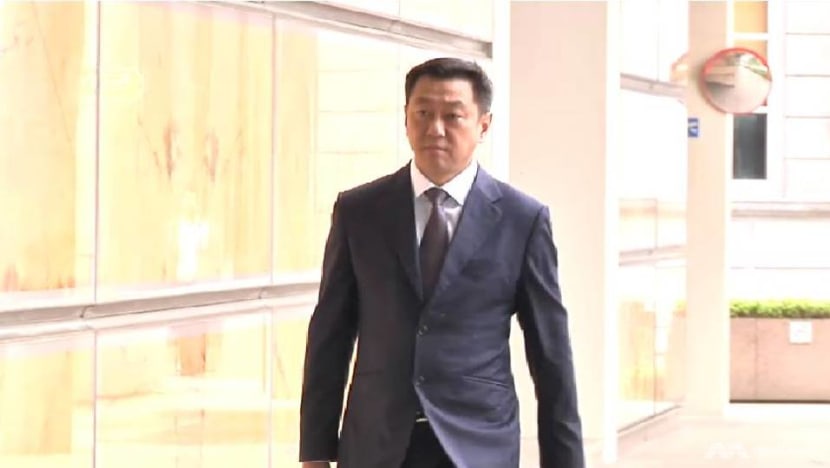 SINGAPORE: The defence in the Aljunied-Hougang Town Council (AHTC) trial on Friday (Oct 12) produced pieces of evidence - ranging from emails to post-it notes - that they claimed were not considered in an audit report that the lawsuit is based on.

Senior Counsel Chelva Retnam Rajah, representing the three Workers' Party (WP) Members of Parliament (MPs) in the trial, also took aim at audit firm PricewaterhouseCoopers (PwC) for an "incorrect calculation" in its findings.

On day six of the landmark trial, Mr Rajah showed that documents the audit firm had requested for had in fact been sent in an email to a PwC staff member.
After being prompted by Mr Rajah to check for the email, PwC partner Goh Thien Phong told the court: "The person (with the email) has left us so there is no way for us to see the email. But if Mr Rajah is able to produce it, we can look at the email. We will accept that there is such an email."
According to Mr Goh, AHTC breached the Town Councils Financial Rules (TCFR) as it did not disclose its reasons for accepting a tender bid which was not the lowest. 
The email in question, sent by AHTC to PwC, contained minutes of a meeting by AHTC's tender and contracts committee, which explained why it awarded contracts to pest control firm Rentokil over the lower-priced Pest-Pro.
Mr Rajah, who also acts for AHTC town councillors Chua Zhi Hon and Kenneth Foo, said the reasons were: Rentokil was able to offer assurance that AHTC would get subsidies from the National Environment Agency (NEA) for its rodent control programme while Pest-Pro could not; its team was found to be better qualified; and Rentokil had more projects rated "good" by the Building and Construction Authority.
PwC had accused AHTC of not providing adequate documentation for its auditing process. It was appointed by the Pasir Ris-Punggol Town Council (PRPTC) to establish whether any payments made by Aljunied-Hougang Punggol East Town Council (AHPETC) were improper and ought to be recovered.
AHTC was known as AHPETC between 2013 and 2015 while Punggol East was under its purview.
According to PwC's report, PRPTC wrote to AHTC in April 2016 with a detailed list of documents and information PwC needed.
"Despite various repeated requests and reminders from PRPTC and PwC, AHTC did not grant PwC access to the necessary documents and information until Oct 31, 2016," PwC said. It added that it had to make two applications to the Court of Appeal before PwC was granted access to the necessary documents and information.
PwC's auditing report, along with KPMG's, forms part of the basis on which two lawsuits have been brought against eight defendants: WP MPs Sylvia Lim, Low Thia Khiang and Pritam Singh; AHTC councillors Chua Zhi Hon and Kenneth Foo; AHTC's former managing agent FM Solutions and Services (FMSS); and FMSS employees How Weng Fan and Danny Loh.
They are being sued for allegedly breaching their fiduciary duties and allowing more than S$33 million in "improper" payments to FMSS and other contractors. The AHTC members are also accused of control failures in the town council's governance.
The contract AHTC awarded to Rentokil was one of several that PwC had taken issue with.
AHTC NOT EXTENDING EXISTING CONTRACT COST TOWN COUNCIL: PWC
Another disputed contract was one entered with Titan Facilities Management for provision of conservancy and cleaning works for Punggol East.
The company already had a contract with the town council and according to PwC, AHPETC could have saved more than S$420,000 if it had extended it for another year, instead of entering into a new deal with Titan. 
But Mr Rajah said part of PwC's calculations was incorrect as it had not taken into account the number of car park lots in Punggol East, which were a factor in the old contracts but not the new ones. 
Mr Goh said that he had based his calculations on "whatever documents he had", maintaining that the figures in the new contract would still have been "much higher" than in the old deal even if he had included the number of car park lots. 

"DOCUMENTATION" FOR THIRD CONTRACT WAS ON POST-IT NOTE: DEFENCE
A third contract in the spotlight on Friday was one AHTC awarded to Red-Power Electrical Engineering, which provides the maintenance of transfer and booster pumps, automatic refuse chute flushing system and roller shutters, over its competitor Tong Lee Engineering Works.
PwC's took issue with this contract because Red-Power was the existing contractor and the only bidder, and AHTC had not called for a new tender or quotation.
Mr Rajah explained that AHTC had not engaged Tong Lee because it said it was unable to extend its coverage to include Punggol East when asked by AHTC to do so.
To this, Mr Goh said this was not "recorded anywhere in writing" in the documents PwC asked AHTC for. It was also not in the Tender Evaluation Report, which should have included these reasons.
Mr Rajah referred him to an undated post-it note stuck onto a copy of an email, which said AHTC had verbally contacted Tong Lee, which "declined to take over due to insufficient resources".
Mr Goh responded that "this wasn't given to us when we were doing our work".
"We requested for all this supporting documentary evidence ... but there weren't any documents given to us," he said.
Mr Rajah completed his questioning of Mr Goh on Friday. The trial continues on Monday with another defence lawyer Leslie Netto cross-examining Mr Goh. After this, WP's Low Thia Khiang is expected to take the stand.