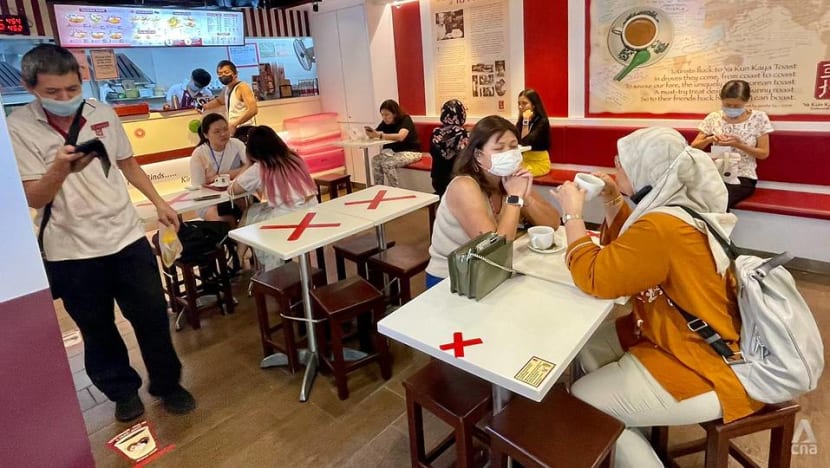 SINGAPORE: Groups of up to five can dine out together from next Monday (Jul 12), in line with the social gathering group size currently allowed.
Social gatherings at the workplace can also resume – subject to the five-person limit – but working from home will remain as the default, said the Ministry of Health (MOH) on Wednesday (Jul 7).

"Effectively, we are going up to five persons across the board, and that will apply on Jul 12," said Mr Lawrence Wong, co-chair of the COVID-19 multi-ministerial task force. 

The easing of measures comes as the number of new COVID-19 community cases decreased from 86 the week before to 28 in the past week as of Jul 5.

The number of unlinked cases in the community also fell from 14 to four in the past week, according to MOH data.

On Jun 21, dining out at F&B outlets and restaurants resumed for groups of up to two people instead of five as initially planned, following a spike in unlinked cases and new COVID-19 clusters. 
The Health Ministry said at the time that it would review these measures in mid-July. 

On Wednesday, MOH said dining out is still a higher-risk activity because many people are unmasked and in close proximity. 
Live entertainment, the playing of music and videos or shows on TV will still be prohibited at F&B outlets. This is to "reduce the expulsion of droplets" from people talking louder over the entertainment, the ministry said in its press release. 
Working from home will remain as the default arrangement so as to reduce overall interaction within workplaces and on public transport, MOH said.
For employees that need to be in the workplace, companies should continue to stagger their start times and implement flexible working hours. 

Gyms and fitness studios can conduct indoor high-intensity or mask-off sports and exercise activities in groups of up to five next Monday.
Sports and exercise classes can have up to 50 people including the instructor, or the venue's capacity limit, whichever is lower. Participants should be separated into groups of up to five. 
SportSG will release more details on this, said the Health Ministry.
Wedding receptions can also resume, with no more than 250 people if pre-event testing is in place, said Mr Wong. 

For wedding receptions with 50 people or fewer, only the wedding party will need to undergo pre-event testing, he added. 
Wedding receptions are also higher-risk activities where attendees tend to "socialise more" and over a longer time, MOH noted in its press release. It urged attendees to adhere to safe-management measures to reduce the risk of transmission. 

The Ministry of Culture, Community and Youth on Wednesday night said it had updated an advisory on religious organisations and places of worship. 
From Jul 12, up to 10 people who are involved in the conduct of the worship service may unmask at any given time, of which up to five people - up from two currently - can be unmasked for singing or playing of wind/brass instruments.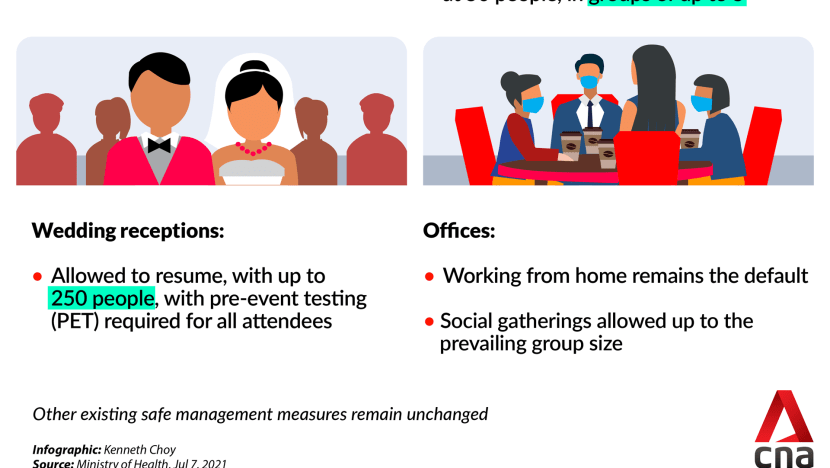 FULLY VACCINATED PEOPLE MAY BE ALLOWED TO GATHER IN LARGER GROUPS
People who are fully vaccinated may be allowed to gather in groups of up to eight, as Singapore considers differentiated measures for those who have received their jabs under the national vaccination programme, said Health Minister Ong Ye Kung on Wednesday. 
These measures may be implemented when 50 per cent of Singapore's population is fully vaccinated – which is expected to happen around end-July. 
For those who are not fully vaccinated, the five-person cap on group sizes will continue to apply.

MOH said it is "mindful" about those who are unvaccinated or medically not eligible for the vaccines, such as children below 12 years old. 
"We are considering separate provisions for this group, e.g. allow them to qualify based on a pre-event test, or allow children to qualify, but up to a limit," it said in its press release.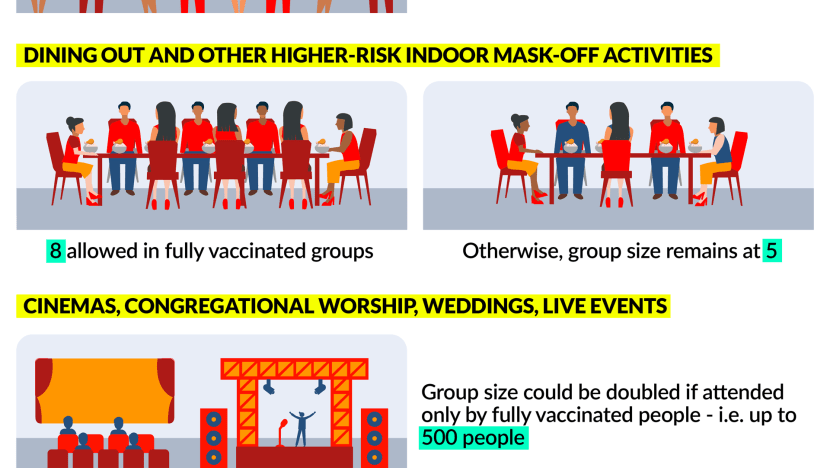 Watch the full conference and the following Q&A session with journalists: