SINGAPORE: A Dream Cruises ship returned to Singapore a few hours ahead of time on Wednesday morning (Jul 14) after a passenger tested positive for COVID-19 on board. 
The World Dream ship arrived at Marina Bay Cruise Centre at around 6.30am. It had been scheduled to return at 9am. 
The COVID-19 case, a 40-year-old passenger, was identified on Tuesday as a close contact of another case on land. The passenger was then isolated and a polymerase chain reaction test on board came back positive, said the Singapore Tourism Board (STB).
Further tests at the National University Hospital confirmed the infection. 
The passenger has received both doses of a COVID-19 vaccine, and tested negative in an antigen rapid test on the day of departure, Dream Cruises said in a statement.
It was revealed on Wednesday afternoon that the passenger is linked to a recently emerged KTV lounge cluster, which currently has 53 cases. 
The ship, which was carrying 1,646 passengers and 1,249 crew members, left Singapore last Sunday for a four-day "cruise to nowhere". 
About 10 hours after returning to Singapore, passengers were allowed to start disembarking in batches from 8.30pm, according to an update from Dream Cruises. 
Close contacts of the COVID-19 case will be issued quarantine orders. 
All passengers must take an antigen rapid test (ART) before they can leave Marina Bay Cruise Centre, said STB. They were not required to wait for the ART results before returning home, according to an announcement made on the ship at about 8.40pm.
They must monitor their health for 14 days from the date they disembark the ship and will also be required to take a swab test at a designated government swabbing facility at the end of the monitoring period.
The ship's crew undergo regular routine testing every seven days and will also undergo the ART, said STB.
The tourism board had earlier said that disembarkation will start once contact tracing has been completed.
"As part of onboard health protocols, the passenger's three travelling companions were identified and isolated. They have tested negative for COVID-19 and further contact tracing is ongoing," said STB's director of cruise Annie Chang.
Close contacts of the suspected COVID-19 were identified within an hour, said Dream Cruises in a media statement, adding that the ship drew on information from "passengers' wearable devices, keycards and CCTV footage".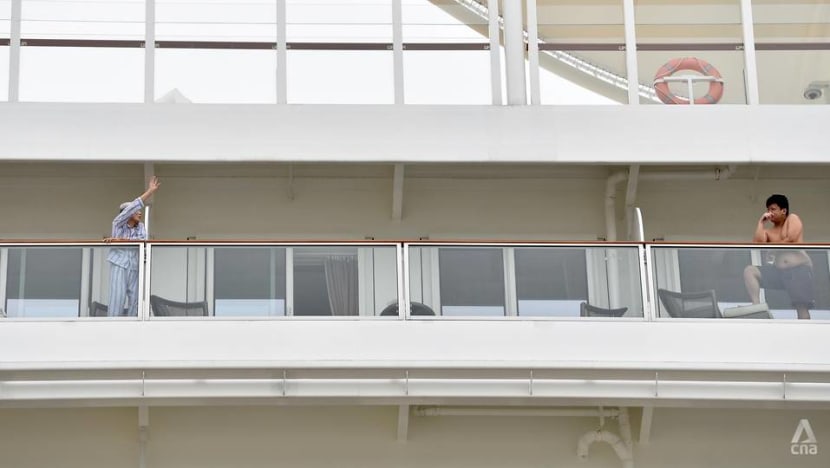 A passenger on the ship told CNA that an announcement was made at about 1am that a guest had tested positive for COVID-19. Passengers were asked to return to their cabins and all activities on board were halted.
"Everyone is staying on board. The case and close contacts will leave the ship first," the passenger told CNA. 
An ambulance was seen at the Marina Bay Cruise Centre. The suspected COVID-19 case disembarked the ship at 9.20am, the captain said in an update at 10.15am. 
The COVID-19 case left the ship via a "dedicated route" and gangway, said Dream Cruises.
"The reported guest's travelling companions and individuals who have been identified as close contacts of the reported guest will disembark subsequently, via a different route and gangway from all remaining guests," the company added.
Passengers were also seen waiting at the balconies of their rooms to disembark.
Ms Chang said passengers have been asked to remain in their cabins until the confirmatory test results are out and contact tracing is complete. Regular updates were being provided and meals sent directly to their cabins, she added.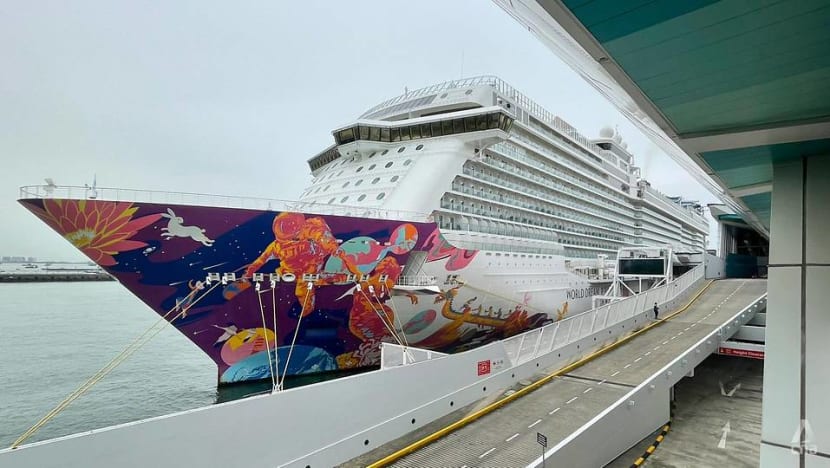 World Dream is undergoing a full cleaning and disinfection, including all areas and venues previously visited by the reported guest, said Dream Cruises. 
Only essential service crew members with personal protective equipment are allowed "limited movement" within the ship, including delivery of meals and necessities to guests. All on board activities have been halted.
As a precautionary measure, a three-day Super Seacation cruise originally scheduled to depart at 9pm on Wednesday has been cancelled.
"As safety is paramount, we thank you in advance for your kind understanding on this necessary cancellation in view of the situation," the company said.