Eight years of stubbornness to give birth to their roti-maker
The Singapore inventors behind the Rotimatic, the world's first automated flatbread maker, tell CNA Insider why they never gave up, despite the challenges and almost going broke.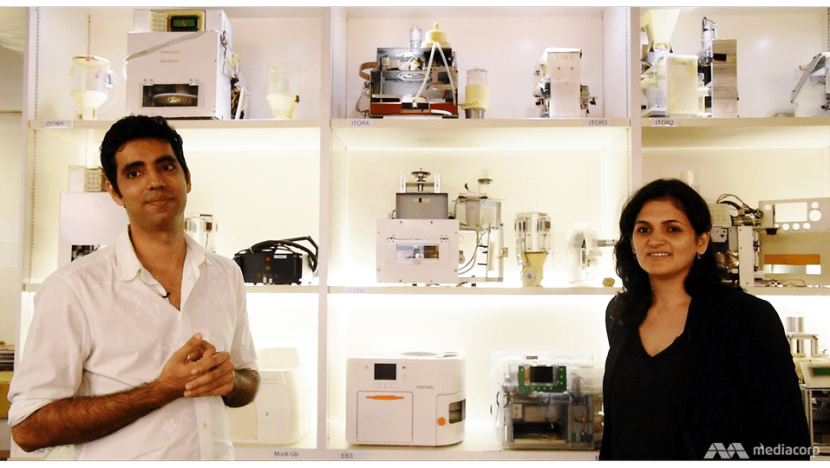 SINGAPORE: Two years after quitting her job to focus on inventing a machine she hoped would change the lives of flatbread lovers everywhere, Ms Pranoti Nagarkar Israni and her husband, then in their 20s, were nearly broke.
"We were almost going negative in our bank accounts," she said. That was in 2010.
It would take the couple eight years in total of dogged development, 15 iterations of their prototype and a massive amount of sheer self-belief - all the while juggling a new baby and investors' expectations - before they saw the fulfilment of a dream that started in the kitchen.
The Rotimatic, as they call their automated roti or Indian flatbread maker, finally shipped out to its first batch of customers this year, on the way to fulfilling 8,000 pre-orders that were lodged in 2014. There is a global waiting list of 350,000 more.
"I always knew that it was going to be possible, and that's how we kept going," said Ms Pranoti, 34, a mechanical engineering graduate from the National University of Singapore (NUS).
"I think it was the stubbornness as a young engineer who, as a child, always wanted to be an inventor," she told CNA Insider.
WATCH: How the Rotimatic was developed
The invented-in-Singapore Rotimatic earned a mention by Prime Minister Lee Hsien Loong in his latest National Day Rally, as an example of what has been successfully incubated at the buzzing start-up hub Block 71, located at Ayer Rajah Crescent.
But it was definitely no overnight success. For one, coming up with a working roti-making robot that would do away with the tedious, time-consuming process of making it by hand required inventing many new processes from scratch - in fact, Ms Pranoti and her husband Rishi Israni, 34, took out 35 patents in all.
The 15 incarnations of the Rotimatic that were patiently developed and fine-tuned over eight years are proudly displayed in their current office at Commonwealth Lane.
The first prototype in 2009 was technologically a far cry from the final US$999 (S$1,351) version on the market. The couple took the approach of solving the technical and design challenges "one step at a time", which is why there were so many iterations, explained Ms Pranoti.
But beyond the technical hurdles were also others, both financial and personal.
OF ANGELS, ROCKSTARS AND HEARTBREAK
After quitting her job in 2008 with limited funds to set up the company Zimplistic on her own - Mr Rishi was still working full time - Ms Pranoti got her first confidence boost when the prototype won S$40,000 in funding at the 2009 Start-Up @Singapore Business Plan Competition.
"That gave us some encouragement and credibility," said Ms Pranoti, who had codenamed the product ITOR - roti spelt backwards - out of paranoia that someone else would steal the idea ("It was very naive of me to think like that," she now chuckles.)
But a year later, their funds ran critically low. By a stroke of fortune, a software start-up Mr Rishi - a computer science graduate - was funding got acquired, and he injected some much-needed cash. "That's where Rishi saved us," she said. He also joined her officially on her quest to build Rotimatic.
That same year, with version 4.0 of their machine - or ITOR 4 as they call it - they received US$400,000 in seed funding from an angel investor, even though their proof-of-concept had yet to be completed.
Knowing they needed far more expertise on board than the couple themselves had, the duo built a strong team of "rockstars", as Mr Rishi proudly calls them, to help in other aspects of the invention, such as the machine's electronics.
In 2012, major issues cropped up when they turned their attention to the packaging and design of the Rotimatic.

Said Mr Rishi: "I think this was when we had our first heartbreak. We had gotten a known designer to do the look of the product … it looked very big and clunky and not what we wanted. It was very far away from our mock-up.
"And then I remember Pranoti went into a 'dungeon', almost working non-stop for a few days, and she revamped that."
Ms Pranoti added: "There was a meeting at which we had to present to our investors how the Rotimatic was going to look, and we had two to three days left, so there was no choice.
"We got together and we had the good fortune of having a good design sense, so we put it together."
"THE BABY CAME TO OFFICE"
That same year, the couple received fresh private funding of US$3 million, as well as a new personal challenge - their baby was due in June 2013.
"Even up until eight and half months, I actually drove all the way to Malaysia to make sure that the manufacturing guy had done all the corrections in time," said Ms Pranoti. "The US$3 million was all on me because it was all about the mechanical design."
Mr Rishi said that when their child was born, Ms Pranoti did not go home. "The baby came to office. First the baby was in her tummy and then we saw her running around with the baby carrier."
By 2014, production began on the final iteration of the Rotimatic and the team was making 10,000 rotis every day for 24 hours in their lab for their qualification process, ticking off their safety and technical checklist.
In June this year, they shipped the first batch of Rotimatics - which can produce 20 cooked rotis in under 30 minutes - to customers in Singapore.
Said Mr Rishi: "I feel that the greatest feeling happened when our first customers who had waited for two years for the product got the machines."
The company has gotten another US$11.5 million in funding. Looking back, the couple admitted that the fear of failure had never really hit them.
Mr Rishi said: "Many times when there was a problem and it didn't work out, or if I was proved wrong, for that brief moment it felt like, 'Damn it, what am I doing?'
"But I think every time that happened, the realisation that the problem we were trying to solve was so much bigger made it all seem worth it."
Ms Pranoti, whose eight-year journey began with her dropping everything to pursue that dream, has this advice: "Focus on the intention more than the outcome. If you have put your mind on something, take it all the way."