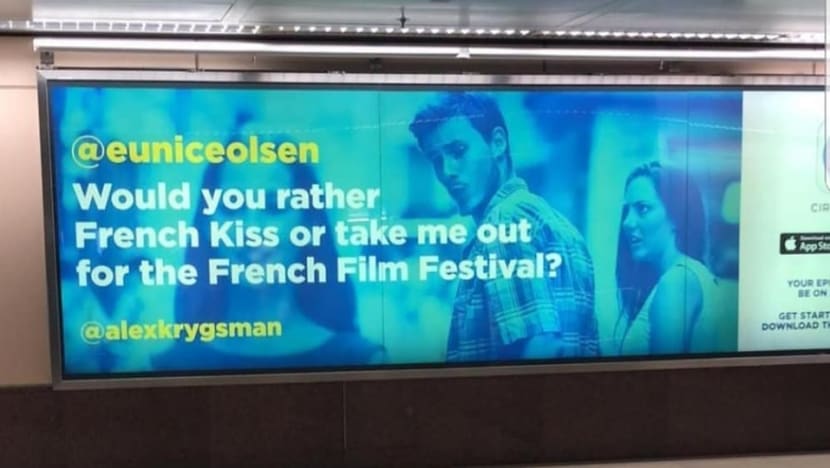 SINGAPORE: Telco Circles.Life has removed an advertisement that former Nominated Member of Parliament Eunice Olsen called "sexist and derogatory".
Ms Olsen first called attention on Thursday (Nov 29) to the advertisement, which was located at Raffles Place MRT. It featured a post by Instagram user @alexkrygsman, which was directed at Ms Olsen.
The same day, Ms Olsen said she had officially lodged a police report against the advertisement, calling it "sexist, derogatory, disrespectful, distasteful" and a "cheap shot at a publicity stunt".
In a separate post on Friday, she thanked the public for their support, and said she is hoping to meet with Circles.Life to see what they can do together, as well as work with different industry players to "mature in our conversation around how women are portrayed in advertising".
The advertisement was put up as part of telco Circles.Life's #EpicInvite promotion, which encouraged Instagram users to "choose an event and invite your celebrity crush/friend" through their newly launched Discover function on the Circles.Life app. Selected submissions would then be put up in public as part of the promotion.
"In regard to the Epic Invite campaign billboard that featured a submission by @alexkrygsman, we never intended to make Ms Eunice feel uncomfortable and we apologise for that," said Circles.Life in a statement on Friday.
"We are taking down the ad immediately. We will learn from this experience and appreciate the feedback."
Circles.Life has been behind several controversial marketing stunts, such as the #3DollarBaller cash vending machine, and a collaboration with social media influencer duo youtiao666 where they "vandalised" a Circles.Life advertisement at Bugis and Raffles Place MRT stations.