Fewer exams, assessments in schools to reduce emphasis on academic results: MOE
The changes, which will take effect starting next year, will see the removal of weighted assessments and exams for Primary 1 and 2, as well as the removal of mid-year exams for several other levels.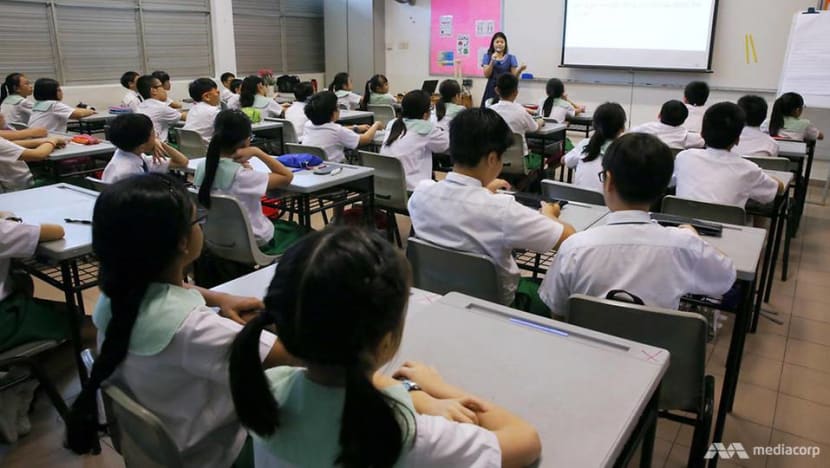 SINGAPORE: Primary and secondary schools will reduce the number of examinations and assessments students are required to sit from next year, as part of efforts to reduce the emphasis on academic results.
The move, announced by the Ministry of Education (MOE) on Friday (Sep 28), will provide students with more time to adjust during "key transition stages". Older students will also get more time to adjust to new subjects and higher content rigour, the ministry said.
The changes will be implemented in stages, beginning with the removal of all weighted assessments and exams for Primary 1 and 2 students from next year. Weighted assessments, said MOE, can take various modes such as class tests, presentations or group projects.
Currently, Primary 1 students do not have exams, but weighted assessments are conducted throughout the year. Primary 2 students now have weighted assessments throughout the year, as well as a year-end exam.
Secondary 1 students will also no longer have a mid-year examination from next year. From 2020 and 2021, this will also be removed for Primary 3, Primary 5 and Secondary 3 students.
Explaining the change, MOE said these are "transition years", during which students will be exposed to new subjects and higher content rigour. "We want to provide them with adequate time and space to adjust to the increased curriculum demands," said MOE.
The removal of the mid-year exams will free up about three weeks of curriculum time for each two-year block, such as Primary 3 and 4, Primary 5 and 6, Secondary 1 and 2, and Secondary 3 and 4. "Schools will use this time to pace out teaching and learning, and leverage engaging pedagogies to deepen understanding, and develop 21st century competencies in students," said MOE.
Besides this, schools will conduct no more than one weighted assessment per subject, per school term, for all levels from Primary 3.
From next year, report books will also no longer show certain academic indicators such as the level and class positions of the students, MOE said.
SCHOOLS HAVE DONE THIS WITHOUT AFFECTING RESULTS: ONG YE KUNG
Education Minister Ong Ye Kung described the changes as a step forward in improving the balance between the joy of learning and the rigour of education.
"It will send a strong signal that we are at a strong position of rigour, and can afford to unwind a bit without undermining the performance outcomes," he said at a press conference on Friday.
This will also encourage teachers to explore more optimal ways of teaching, he said. For example, with an additional three weeks of curriculum time every two years, there could be more hands-on learning or investigative lessons. 
"On the ground, teachers are on a high-speed train. Rushing, getting curriculum taught, and then do assessments, drills, and preparing the students for exams which is deemed as high-stakes," he said. "I think it's time to take a pause."
He added that even before Friday's announcement, some schools have already removed some examinations of their own accord.
"Judging from the schools that have already tried this, it hasn't affected their PSLE, O-Level results or posting," he said. "So I am confident that when implemented across the system, it should have a similar outcome."
He also reiterated his stand on whether the Primary School Leaving Examination (PSLE) would be removed. In a wide-ranging speech in Parliament in June, Mr Ong said that the "sacred cow" of PSLE has survived for some "very valid reasons".
"I've stated our position in Parliament," he said, in response to questions from reporters. He added that the PSLE is an important system to take stock of a child in their first six years of education.
"Doing away with it will not help."
EDUSAVE ACADEMIC AWARDS CRITERIA TO BE REVISED
With the removal of all weighted assessments at Primary 1 and 2 next year, MOE will also adjust the academic criteria for awarding the Edusave Merit Bursary to these students, as well as the Edusave Good Progress Award to Primary 2 and 3 students.
The selection of both awards at these levels will no longer be based on academic scores, said MOE. Instead, the eligibility criteria will be adjusted to recognise "positive learning orientations" such as diligence, curiosity, collaboration and enthusiasm in daily lessons and learning activities.
Currently, the Edusave Merit Bursary is awarded to Singaporean students who are in the top 25 per cent of academic performance of their level and course, and whose household income does not exceed the prescribed income criteria. The value of the bursary ranges from S$200 to S$500, depending on the students' level.
The Edusave Good Progress Award is meant for Singaporean students who are not recipients of any Edusave Scholarship or the Edusave Merit Bursary, if they are within the top 10 per cent of their level and course in terms of improvement in academic performance.