Failure of two components in power-generating units caused last month's power outage: Koh Poh Koon
With the power-generating units being maintained properly, authorities are working with the generation companies and their original equipment manufacturers to establish the cause of the equipment failures, says Dr Koh Poh Koon.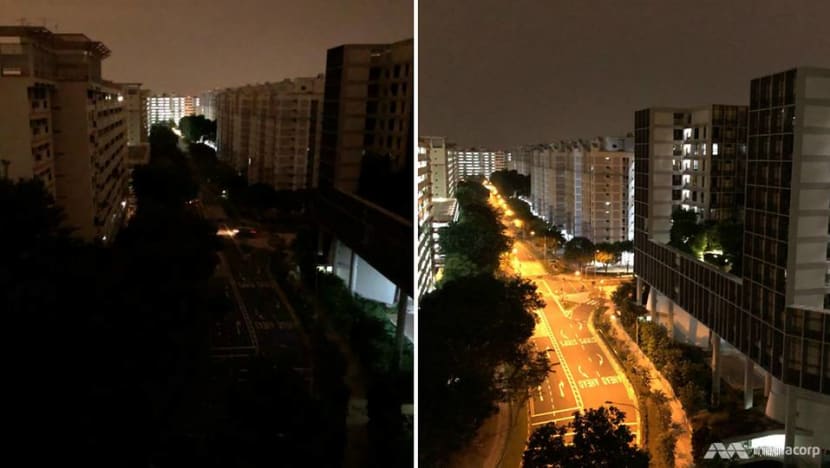 SINGAPORE: The power outage that hit multiple parts of Singapore last month was triggered by the failure of two equipment components within the power-generating units at Sembcorp Cogen and Senoko Energy, said Senior Minister of State for Trade and Industry Koh Poh Koon on Monday (Oct 1).
Dr Koh was responding to parliamentary questions tabled by four Members of Parliament, who asked about the cause of the electricity disruption on Sep 18, measures that will be put in place and whether there are any safeguards to insulate critical services like hospitals, lifts and traffic lights from such incidents. 
In recounting the timeline of events, Dr Koh said the tripping of the first power-generating unit occurred at Sembcorp Cogen at 1.17am and it was likely due to an "equipment fault" based on the Energy Market Authority's (EMA) preliminary investigations. 
This was followed by the tripping of Senoko Energy's power-generating unit a few seconds later due to "failure of a different equipment component". 
When Sembcorp Cogen's generating unit tripped, it triggered an automatic response in the other 15 units that were in operation that night to increase supply. 
Dr Koh added that "this is usually not a problem" as each of the remaining units only had to increase their supply by about 5 per cent. However, the tripping at Senoko Energy led to a "further shortfall in supply". 
"(This) caused the protection devices in the power system to kick in as designed and automatically disconnected electricity to about 146,500 consumers to rebalance the system," explained Dr Koh. 
To restore electricity supply, EMA immediately instructed other generating units on standby, including unaffected units from Senoko and YTL PowerSeraya, to provide additional power supply. 
Supply was progressively restored once these additional units came online after about 15 minutes, with power being fully restored within 38 minutes, said Dr Koh.
Nevertheless, some consumers remained without power as the electrical equipment within their premises had to be manually reset, he added. 
The power disruption on Sep 18 affected 146,500 consumers, with 130,535 being households.
Dr Koh stressed that for critical services and infrastructure, contingency plans are in place to deal with power outages on the national grid. 
In the event of disruptions from the main power source, backup power systems including diesel generators and Uninterrupted Power Supplies (UPS) systems, will kick in automatically to support all critical equipment and critical facilities. 
Public hospitals, for instance, are provided with dual supply sources, with each being able to provide backup if the other one fails. Regular maintenance is also carried out to make sure electrical installations and backup power systems at these hospitals are in good working condition. 
During last month's power outage, Dr Koh said hospitals in the affected areas activated their backup power supply immediately. This prevented disruptions to their operations and patient care, as well as telecommunication exchanges. 
For other critical services such as passenger lifts, the automatic rescue device installed will park the lift at the nearest floor and open its doors during a power failure. A standby generator will also provide emergency power to resume at least one lift's operations in high-rise residential buildings or those serving both residential and non-residential uses. 
As for traffic signals, the Land Transport Authority (LTA) will work with the Traffic Police to quickly deploy resources where needed during a power outage. Backup generators can also be deployed on-site to provide temporary power supply to mitigate any impact to traffic signal operations, said Dr Koh. 
WHAT'S BEING DONE 
Since the power outage, EMA has been working closely with the two generation companies and their original equipment manufacturers to establish the root cause of their respective equipment failures, said Dr Koh.
The failures had occurred despite the units being maintained in accordance with the manufacturers' recommendations, he added.
"This is important because the generation technology is used in other generating units in Singapore as well as globally, and what happened here could occur elsewhere." 
This will, however, "take some time" as the parts have to be sent for testing overseas. "But we believe a thorough investigation is important." 
Responding to a supplementary question from Holland-Bukit Timah GRC MP Liang Eng Hwa, Dr Koh said the Government will not hesitate to take regulatory action against Sembcorp Cogen and Senoko Energy if they are found to be at fault.
This includes imposing a fine of up to 10 per cent of the company's annual turnover or S$1 million, whichever is higher.
EMA is also working with the industry to review its processes, while the Government is reviewing its system to ensure it has sufficient capacity and contingency measures to handle similar incidents in the future. 
"We will ensure that we incorporate all the lessons from this incident to ensure continued high standards of reliability for our power system," he said. 
Dr Koh added: "I would like to reassure the House that we do have enough spare capacity in our system, as evidenced by the quick progressive restoration of power within 15 minutes of the incident." 
The current system design has served the country well so far, with Singapore having one of the most reliable and affordable electricity systems in the world. 
"From FY13 to FY17, the average disruption per consumer annually in Singapore ranged from 12 to 45 seconds," he said.
This compares to major cities, such as Tokyo, New York, Hong Kong and London, which has experienced an average disruption per consumer of between 4 and 34 minutes in 2015. 
Dr Koh also stressed that the liberalisation of the power market has not affected supply reliability here. 
The opening up of the local retail power market has been a progressive one that started in 2001 with larger businesses. The final phase is set to be rolled out from November, allowing about 1.4 million consumers in Singapore to go shopping for electricity. 
"Our electricity sector relies on both regulatory powers and market incentives to keep generation companies on their toes. Generation companies that do not maintain their sets will lose market share and face regulatory action by EMA," said Dr Koh. 
"In addition to the generation companies, EMA also regulates the infrastructure planning and maintenance regime of SP PowerGrid, the national grid operator, to improve system reliability and minimise disruptions."