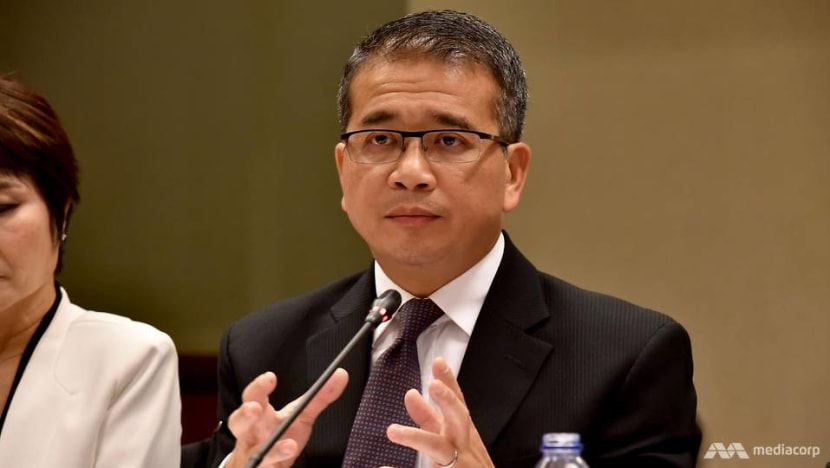 LONDON: As the world grapples with the problem of fake news, it is timely that tech companies "take some responsibility" for the spread of disinformation, said Senior Minister of State for Law and Health Edwin Tong on Monday (Nov 26).
Mr Tong was speaking to Channel NewsAsia in London where he is attending an international hearing on fake news and disinformation.
When asked what he would like to see tech companies do to address the issue, Mr Tong said content regulation, among other things, was important.
"What steps can be taken to go up the value chain in terms of looking at the kind of advertisements that are taken out, who is advertising; looking at accounts, whether they are real accounts or inauthentic accounts, whether they are accounts controlled by trolls and bots? All of that comes into the mix," he said.
Mr Tong also added that effective policing of fake news required certain actions from the tech companies.
"I think one has to be mindful that you don't just go downstream in terms of stopping and stemming the tide, but to go upstream and to also look at the content that goes on, and the kind of users, whether they're authentic or inauthentic," he said.
He acknowledged that tech companies have begun to realise that they play a bigger part in tackling disinformation.
"They're part of the problem but I think they equally realise they need to be a part of the solution as well. So working with the regulators, with governments is something that might have taken some time to come round to, but I think they have come round to it.
"So I think the one takeaway we can have is the level of cooperation that we might expect to see from tech companies and also the advent or the use of regulations to ensure that there is compliance at the end of the day."
"DIFFERENT PERSPECTIVES"
Mr Tong, along with two other representatives from Singapore - Senior Parliamentary Secretary to the Ministry of National Development and the Ministry of Home Affairs Sun Xueling and MP for Aljunied GRC Pritam Singh, are set to hear from several witnesses at the International Grand Committee Hearing on Fake News and Disinformation on Tuesday.
The trio, who have also been members of Singapore's Select Committee on Deliberate Online Falsehoods, are expected to be joined by parliamentarians from the United Kingdom, Canada, Ireland, Argentina, Brazil, Latvia and Australia. 
"The committee has brought together members from different jurisdictions from countries facing the same kind of issues, same problems with fake news that we've had, and grappling with it from different perspectives and having different ideas as to how to deal with it. So to that extent, it's very useful for Singapore to be part of it and to be involved and engaged in discussion with the rest of the members of the committee," Mr Tong added.
Noting the absence of Facebook's Mark Zuckerberg who turned down invitations from the committee, Mr Tong described it as "unfortunate". The social media giant will instead be represented by its vice-president of policy solutions Richard Allen.
"So we've lost the perspective of someone who is obviously in the thick of dealing with these issues almost on a daily basis. That's unfortunate but it's useful to see what Richard can say to this," said Mr Tong.
"Certainly the questions that he'll be dealing with concerning what tech companies can do, how they can ensure that the content is better regulated and ensure that information is properly curated, dealt with and put on their platforms will be useful."
When asked about what Singapore can bring to the table during the meeting, Mr Tong said: "We've just completed our Select Committee hearings and we've issued a report ... we can offer our views as to how we did from our jurisdiction and we've also had the benefit of Facebook giving evidence before us in the Select Committee so we can also bring that to the table."