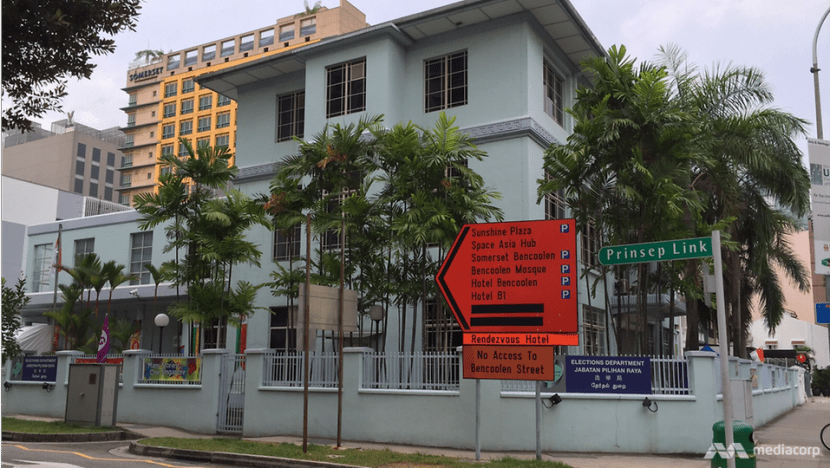 SINGAPORE: Counting machines will be used to tally votes at the next General Election, with results expected an hour earlier, the Elections Department (ELD) announced on Thursday (Nov 22) at a media briefing. 
The battery-operated machines - which come with an LED display - are similar to those used to count bank notes, and will "speed up the counting process and improve efficiency", the ELD said.
The time taken for processing and counting 4,000 ballot papers will be reduced from three hours to up to 130 minutes. 
The current counting process involves mixing, unfolding and sorting the ballot papers into different stacks for each candidate based on voters' choices. Officials then separate the ballot papers individually by hand while counting out loud.

"Ballot papers for which the choice of voters is unclear will be adjudicated by the assistant returning officer," ELD said.
"Election candidates and their appointed counting agents have the right to be present throughout the counting process."

NOT ELECTRONIC VOTING MACHINES
With the counting machines, a counting assistant will take a pile of sorted ballot papers and use the machines to count 100 ballot papers before passing the pile to another counting assistant for verification using another machine. 
"Each counting assistant will need to independently achieve one count of 100 before the ballot count is confirmed and ballot papers are bundled," ELD said.
With the machines, officials will take about 65 seconds to count and confirm 100 ballot papers. The current process takes about 200 seconds.
The counting machines are not electronic voting machines and are not connected to the Internet, ELD clarified, adding that hard copy paper-based ballot papers will continue to be used.
The machines will also be designed to be loaded from the top to prevent paper jams, ELD said. Crumpled papers will be removed during sorting and counted manually.
"The integrity of the election process remains a topmost priority for ELD even as we implement new processes and use new equipment," ELD stated. 
"Accuracy checks of the counting machines will be conducted before the commencement of count at counting centres. 
"Candidates and their appointed counting agents present at the counting centres will be invited to witness the conduct of these accuracy checks."
ELD has not decided on the final design of the counting machines and is still consulting its logistics vendor before deciding whether to call for a tender. ELD will equip the 170 counting centres with 18 machines each.
E-REGISTRATION OF VOTERS
Meanwhile, voters will also be going through a different registration process at the next election. They will have to scan their NRICs at polling stations, similar to the process at polyclinics and hospitals.
This will reduce the time taken for voters to register by four times, ELD said.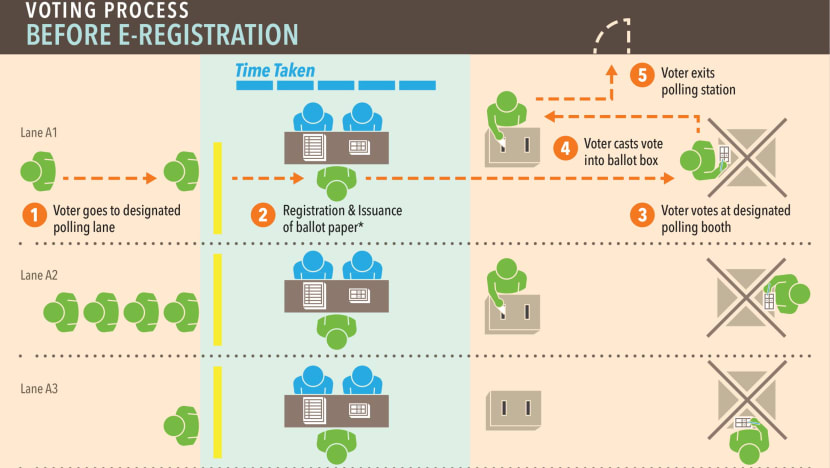 Currently, voters are required to queue at a specific lane depending on their name, which could cause a bunch-up in certain lanes.
At the registration table, officials then have to search for the voter's name in a multi-page register containing 1,000 names and NRICs in small font before striking it off, a process which can take as long as 10 seconds, said ELD.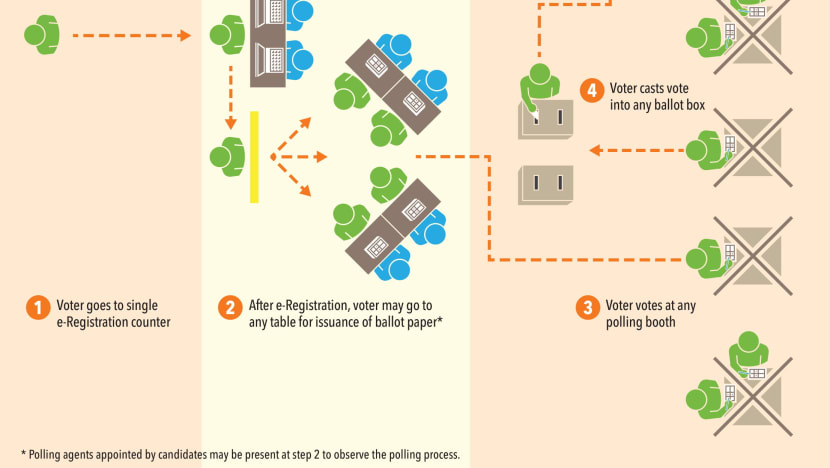 With the new e-registration system, voters queue at a single counter with two machines to scan their NRICs. These machines, which can detect if a voter is ineligible or has already voted, will strike off the voter's name in its internal database almost instantaneously.
To prevent the e-registration system from being hacked, ELD said these standalone machines will not be connected to an external network and will be loaded with voters' registers using encrypted thumbdrives.
"To assure voters of the integrity and secrecy of the voting process, the new process allows registered voters to approach any available counter within the polling station to receive a ballot paper and to deposit their marked ballot papers into any available ballot box of their choice," ELD added.

"The polling station layout will be re-designed to separate the voters' registration and ballot papers issuance processes."

While each polling station will have only two e-registration machines, ELD said that based on trials, it does not expect long registration queues, adding that it would conduct roadshows to educate voters on the new system.
Like the counting machines, the design of the e-registration machines has not been finalised. ELD will call for a tender by the end of this month, with a contract expected to be awarded by the first quarter of next year.

Training on both machines will start once they are ready, with ELD saying it would engage political parties by the third quarter of next year to demonstrate how the machines work.

OTHER PROCUREMENTS
In the coming months, ELD will also be procuring the supply of buses to ferry election officials, electoral documents and paraphernalia, and infrastructure to support election operational requirements, like the setting up of an election enquiry centre.

ELD said the new machines are part of efforts to "continuously enhance the voter experience, not only in registration but also in waiting for the results to come out".