National framework to build information and media literacy to be launched in 2019: S Iswaran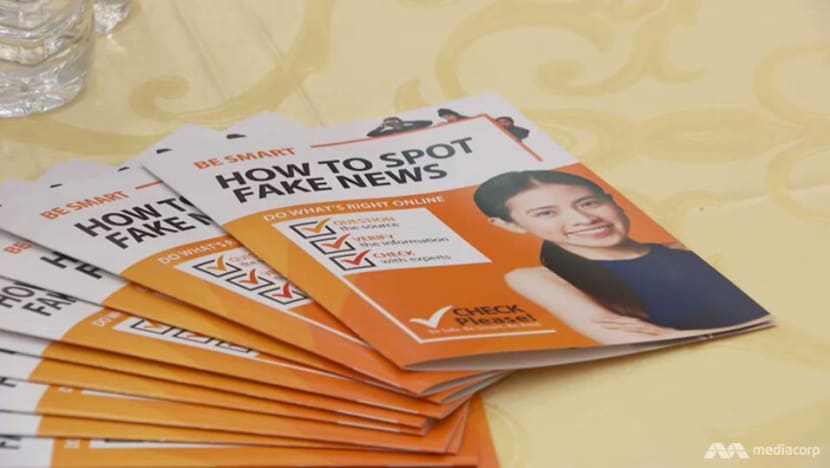 SINGAPORE: The Government will bring all efforts to build information and media literacy for Singaporeans into a national framework, which will be launched by June 2019, Minister for Communications and Information S Iswaran revealed on Friday (Nov 2).

The framework, said Mr Iswaran, aims to enhance the digital literacy of all citizens, so "everyone can use digital technology and social media responsibly and safely". 
Apart from the Ministry of Communications and Information (MCI), the National Library Board (NLB), Infocomm Media Development Authority (IMDA) and the Cyber Security Agency of Singapore (CSA) are also involved.
The framework is among the non-legislative measures being rolled out to combat deliberate online falsehoods.
It was one of the recommendations made by the Select Committee which looked into the issue.
The committee, which released its report on Sep 20, had noted that public education on media literacy, as well as critical thinking, have an essential role to play in strengthening "individual defences against deliberate online falsehoods". 

Speaking at the Institute of Technical Education's Service Learning Day, Mr Iswaran said the framework specifically seeks to align and strengthen public education efforts by providing a set of "content guidelines" to public agencies and other groups running digital literacy programmes.

Speaking to the media on the sidelines of the event, he said that so far, different agencies respond to the challenge of deliberate online falsehoods "in their own ways", as they have particular target audiences. For example, the NLB has a large base of library users, while IMDA focuses on the infocomm technology industry, and CSA on cybersecurity.
"All of these are different aspects of the different overarching need to be resilient against the spread of deliberate online falsehoods, so we want to bring them together and ensure that we have some common reference points, even though the efforts may be focused on different aspects of our society," he said.
Mr Iswaran also said that the Government is working with various community organisations such as the Media Literacy Council (MLC). The MLC's fifth mini-campaign of the year as part of its overall Better Internet Campaign was also launched at the event.
The mini-campaign, which focuses on discernment of false information, includes an online video and tip sheets which give more in-depth information to understand the nuances of different types of fake news.
GOVERNMENT STUDYING WHAT A FACT-CHECKING ENTITY COULD LOOK LIKE IN SINGAPORE
In his speech, Mr Iswaran also said that the Government is "studying closely" the precise form a fact-checking entity could take in Singapore. The development of trusted fact-checking initiatives is another recommendation made by the Select Committee.
"MCI and IMDA have already begun consultations with various stakeholders, and will continue to gather feedback and ideas," he said.
Mr Iswaran added that the Government is studying various models around the world. While he said it is "too early to say" what the model and form an entity in Singapore would take, he said the Government would likely take a "broader approach".
"It's not just about the Government doing this, but it's also about finding other reliable sources of information ... as part of this social responsibility that we have," he said.
"When we talk about parks or playgrounds ... we recognise that it's our joint responsibility to keep it clean, use it responsibly and make sure it's safe," he added. "The Internet and social media are no different."
"That's why we want all hands on deck, and we want to find different ways to deal with it." ​​​​​​​
PUBLIC EDUCATION AN "IMPORTANT ANCHOR"

In his speech, Mr Iswaran also stressed the importance of public education, describing it as an "important anchor in our strategy against deliberate online falsehoods". He said that while legislation is one part of the solution, it is "not sufficient".

"You and I remain Singapore's first and most important line of defence against deliberate online falsehoods," he said. 
"If each and every citizen understands that not all online information is authentic, and has the capacity and confidence to discern fact from falsehoods, then, and only then, would Singapore truly be able to withstand this global threat."

To nurture students who are responsible and ethical users of the Internet, Mr Iswaran also revealed that the Ministry of Education will be rolling out a New Media Literacies toolkit to all primary and secondary schools, as well as junior colleges.

This teaching resource will include lesson ideas, presentation slides and assessment items, to support teachers' efforts to infuse New Media Literacies in their lessons. It will also include real-life case studies, such as Facebook posts containing falsehoods that have gone viral.

It will be rolled out from the middle of November.

Mr Iswaran explained that different segments of society have different needs and preferences, adding that MCI will continue to enhance its programmes.

For example, NLB's Source. Understand. Research. Evaluate. (SURE) programme raises awareness of the dangers of fake news, and how to identify it. The programme, which was launched in 2013, was recently upgraded to comprise three main thrusts: SURE for Life, SURE for Work and SURE for School. 

SURE for Life educates the general public on the threats deliberate online falsehoods pose to the peace and stability of society, and the losses resulting from scams, he said. SURE for Work helps adults pick up trusted techniques to sieve out reliable sources of information at work, and SURE for School imparts information literacy and critical thinking skills through programmes for students and teaching resources for educators.