Singapore will not cut fuel duties or provide road tax rebates: Lawrence Wong
Doing so amounts to a subsidy on private transport and will have counter-productive effects, says the Finance Minister.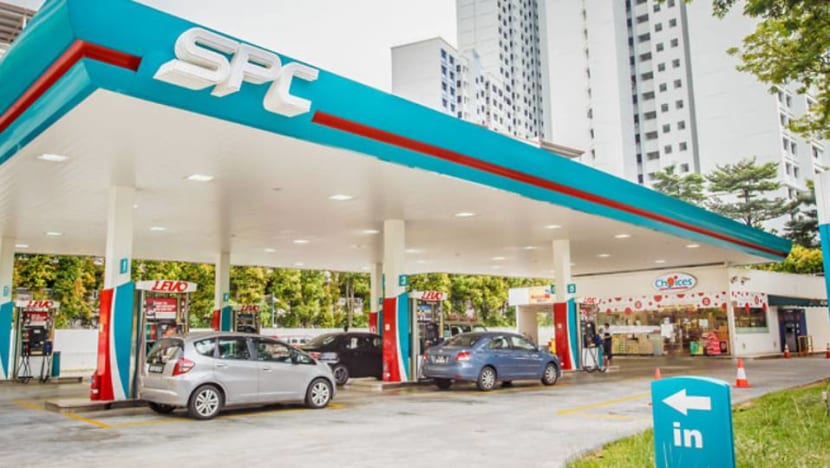 SINGAPORE: Singapore will not reduce or suspend fuel duties or provide road tax rebates despite the recent increase in pump prices, Finance Minister Lawrence Wong said on Monday (Apr 4), adding that these measures effectively amount to a subsidy on private transport and will have "counter-productive effects".
"Fewer than four in 10 households in Singapore own cars, and amongst the lowest quintile, only about one in 10 do ... Such subsidies on private transport would therefore benefit a relatively small but generally better-off group," Mr Wong told Parliament in a ministerial statement on inflation and business costs.
"Cutting fuel duties also means that some of the subsidies will flow back in part to producers and suppliers themselves, not just to consumers, as the pump price may not fall as much as the reduction in duty.
"More importantly, such subsidies will reduce the incentive to switch to more energy-efficient modes of transport, which is a critical element in our plans for sustainable living."
On the last point, Mr Wong likened fuel duties to a "carbon tax", pointing out that Singapore does not impose such a tax on fuel.
"We are already moving in the right direction on carbon tax, to raise carbon tax, to accelerate our green transition and to achieve our net zero target. So, it will not be consistent as we move on that front to, on the other hand, reduce fuel duties," he said.
Pump prices in Singapore have risen to record levels in recent weeks, amid a spike in global crude oil prices caused by a supply crunch and the war in Ukraine.
New Zealand said on Mar 14 that it will reduce fuel excise tax and halve public transport fares for three months to help offset the surge in petrol prices caused by Russia's invasion of Ukraine.
In Singapore, Mr Wong highlighted that the country collects fuel duties and road taxes for revenue, and also to price the negative externalities of vehicle transport, such as the impact on public health and the environment.
Fuel duties collected averaged S$920 million a year over the last five years, and revenue from these duties and taxes adds to the pool of resources available for various programmes and subsidies that "directly benefit" Singaporeans, he said.
Mr Wong said the Government should "think carefully" before giving up such sources of revenue, particularly when Singapore is facing "considerable revenue changes already".
MP Xie Yao Quan (PAP-Jurong) then asked whether the Government could consider reducing fuel duties on diesel, highlighting that it is used by vehicles that move Singapore's supply chain and deliver essential goods and services.
"Whether it is diesel or petrol, fuel duties, aside from the issue of who benefits, also has an important externality consideration," Mr Wong responded, saying that he risked sounding like a "broken record".
"For that matter, our diesel duty is already not that high, compared to fuel duties. From an externality point of view, we do need to have the duty in place in order to, as we all talked about, wanting to move greener, wanting to embrace more energy-efficient modes of transport, a point which everyone supported incidentally in this House not too long ago.
"And then now, at the first sign of price rising, we are wanting to withdraw so quickly. I think, let's have some perspective on seeing the broader considerations and challenges. Yes we have indeed an immediate issue of inflation to tackle, but we also want to press ahead with our net-zero plans and our green transition."
GROUPS AFFECTED BY HIGH PUMP PRICES
Mr Wong noted, however, that some groups, like taxi and private-hire car drivers, as well as delivery riders, are particularly affected by the increase in petrol and diesel prices.
"Various taxi and private-hire car operators have implemented temporary increases in fares to help cushion the higher fuel prices for drivers, and to have consumers share the burden," he added.
"They also have tie-ups with petrol companies to offer fuel at discounted prices, to help drivers and riders manage higher fuel costs."
Those whose incomes are impacted and are in need of financial assistance can approach the social service officers, community centres or self-help groups, Mr Wong stated.
The minister said the "better way" to help Singaporeans cope with the rise in petrol prices, as with inflation in general, is to provide them with the support measures detailed in Budget 2022.
They include the S$100 CDC Vouchers for every Singaporean household and rebates for Service and Conservancy Charges and utility bills - measures that will be brought forward where possible.
MP Jamus Lim (WP-Sengkang) asked if there will be targeted help for small businesses that use commercial vehicles, pointing to how prices in the transportation sector have increased more than others.
Mr Wong again cited how some transport and delivery companies are adjusting their fares to help their drivers and share costs with consumers, and that the Government will help cushion the impact on consumers through different packages provided in the Budget.
"So the schemes are there, companies themselves have adjusted, there is some cost-sharing now. As I said earlier, let's monitor the effects of all that we are doing, how it percolates through the economy before we decide on our next step," he said
Mr Wong said the measures extended by the Government provide "concrete, tangible help" directly to Singaporeans to cope with different needs, like utility bills, children's education, and daily essentials.
"We will continue to monitor the external situation, and the risks for our economy closely – risks both in terms of growth and inflation," he added.
"As the Government has assured this House previously, if the situation worsens, we will not hesitate to take further actions to protect jobs, and to help households and businesses deal with the increased costs."