Future Economy Council appoints 13 new members, outlines next phase of work
The council, which was established in 2017 to drive the growth and transformation of Singapore's economy for the future, held the first meeting of its new term on Friday (Nov 16).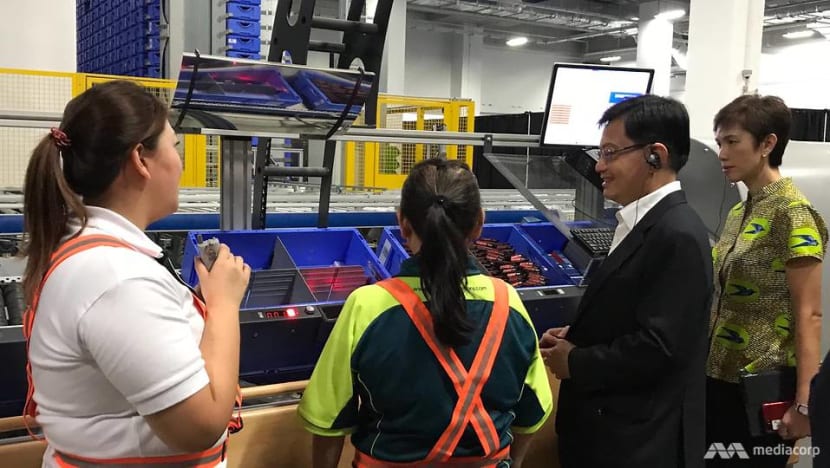 SINGAPORE: The Future Economy Council (FEC) has appointed 13 new members from various backgrounds, including industry leaders, academics and union leaders, it announced on Friday (Nov 16).
The council, which held the first meeting of its new term on Friday, also re-appointed 20 existing members. There were previously 31 members in the council.
The FEC was established in 2017 to drive the growth and transformation of Singapore's economy for the future. It also oversees the implementation of the recommendations put forth by the Committee on the Future Economy, such as the implementation of Industry Transformation Maps (ITMs).
It is chaired by Finance Minister Heng Swee Keat, and members include representatives from the Government, unions, trade associations and chambers, industry as well as educational and training institutions.
In its next phase of work, the FEC said in a press release that it would continue to focus on the implementation of the ITM initiatives and work with tripartite partners to make them accessible to more businesses, in particular, small and medium-sized enterprises (SMEs) and workers. 
It added that it will also work towards a more "cluster-based approach" to "reap synergies and strengthen linkages across multiple industries".
The FEC will also oversee efforts to drive skills upgrading so that workers are ready for the opportunities available as industries undergo transformation.
Speaking on the sidelines of a visit to the SingPost Regional eCommerce Logistics Hub, Mr Heng said the global economy has been affected by the current trade friction between China and the US.  
But he stressed that while it is important to think about how best these challenges can be navigated, it is also important to consider how the economy can be transformed in the long term.  
"The march of technology will not stop, and the changes that are happening around us in the Asian economies will not stop," he said. "Therefore, it is critical for our businesses that even as we face immediate uncertainty, for us to focus our efforts on transformation in the longer run."  
"These are changes that will position Singapore … companies, industries and our workers for a better future, and they must persist with those efforts, whatever may be the short-term obstacles," he added.  
Mr Heng added that the SingPost logistics hub is a "very good example" of how a traditional sector such as postal delivery is being transformed with the rise of e-commerce and online shopping. The 553,000 square feet hub features a fully automated parcel sorting facility capable of processing up to 100,000 parcels per day.  
"This is an example of how we cannot think along clear sectoral lines," said Mr Heng. "Industries are converging, and this is a very interesting example of how logistics and retail are converging, and how we must meet the new challenges."  
NEW MEMBERS TO BRING "FRESH PERSPECTIVES" TO THE TABLE 
Mr Heng added that the new members would bring "fresh perspectives" to help drive the next phase of industry transformation.  
"They come from a range of industries … companies of different sizes, and we also have members from the business chambers and unions," he said. "I think by gathering the different perspectives from all the different sectors, we can bring to bear the knowledge of everybody so we can all work closely together to help our businesses transform, and our workers gain new skills."  
Three government ministers are among the new members: Minister for Social and Family Development Desmond Lee, Minister in the Prime Minister's Office Indranee Rajah and NTUC Secretary-General Ng Chee Meng, who is also Minister in the Prime Minister's Office.  
The other new members include President of Nanyang Technological University Subra Suresh, Assistant Director for Research and Enterprise Development at the Temasek Life Sciences Laboratory, Azlinda Anwar, as well as Country Managing Director for Accenture Singapore Teo Lay Lim.  
When asked what she hopes to bring to the table as a new member, Ms Teo said her exposure gives her a "line of sight" on what happens globally.
"The world is getting smaller," she said. "Many of the business models may originate here, or may be an adaptation of something that has happened somewhere."  
"We talk about having a global mind but a local heart, so you think and know what's happening around the world, but you respond in a way that is relevant to home," she added.  
"That is what I hope I can contribute."