GE2020: Aim of all economic and social strategies is to have a 'more fair and just society', says Tharman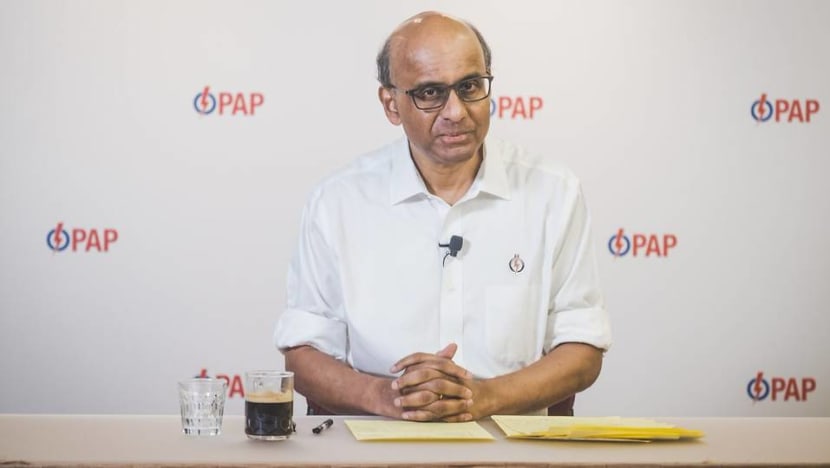 SINGAPORE: Creating a society that tempers inequalities at every stage of life through Government and community actions is the aim of Government strategies, Senior Minister Tharman Shanmugaratnam said on Tuesday (Jul 7) in a virtual lunchtime talk.

"The aim of all our strategies, economic, social, is to have a more fair and just society," he said.

He described such a society as one "where young people have hope regardless of what social backgrounds they come from, regardless of who they were born to, regardless of how they start off life, where everyone can advance in their careers, regardless of what qualifications they start with".

And at the other end of the age scale, a society, Mr Tharman said, where "seniors can look forward to living life fully in retirement and living life with a sense of security".

In a 45-minute online address titled "Straight Talk with PAP - Our Strategies for an Inclusive Society", Mr Tharman cautioned that Singapore must avoid "tensions between people" and "social fractures", and instead, "build a society with a stronger social compact".
"It is not just a set of goals … not just a set of political declarations. This is about real programmes, real programmes that we keep improving, learning over time what works. Never perfect, but constant improvement," he said.
He added that it is about programmes that can last, because building an inclusive society is a "never-ending game".

"An inclusive society has to last. It must never be for show." 
And while Singapore is achieving "real progress", there is a lot more to do, Mr Tharman added.

He went into detail on what is being done for people at their different stages of life. He also focused on social mobility as he spoke about the young. 

RAISING THE QUALITY OF EARLY EDUCATION

"Most of life's inequalities start when kids are at a very young age," he noted. But correcting this, Mr Tharman cautioned, by giving everyone a chance to have hope to catch regardless of where they start requires a "sense of realism". 

"I say realism because many countries have found that it is extremely difficult to lift social mobility, particularly as societies become more advanced and things settle in society," he said. 

He cited countries like the United States and the United Kingdom, where "a lot of money" has been spent on this but with "limited" results.

The realism has to be accompanied by passion, dedication and perseverance, he said. All this, he added, requires "deeper interventions" and "partnerships" on the ground with social service professionals, and with families to "unshackle them from their challenges".

Mr Tharman said Singapore ensures that "quality programmes" are provided at every stage of a child's life, starting before preschool. 
But he cautioned: "It's not just about broad-based quality, and not just about meritocracy, because meritocracy enables social mobility, but it doesn't assure us of social mobility," he said.

"It has to be something more. It has to involve deeper interventions to help those who start life with less, and that's what we're doing. It starts with the earliest years, which are critical."

Noting that the Government will double its expenditure on the preschool sector over the next few years, Mr Tharman said that "it's not just the dollars and cents".

Singapore's education system is now moving away from the old streaming system and towards subject-based banding, said Mr Tharman.
This not only helps students discover their strengths in specific subjects, but also has the social aim of allowing students to interact more with others, he noted.
"We all have strengths and weaknesses, we've got to know each other, we've got to grow up together, and interact with each other as much as possible. And that too is an important objective," he said.

DOING MORE FOR STUDENTS

Beyond preschool, children from lower income backgrounds here "substantially outperform" children from lower income backgrounds in "advanced" countries, and do better than the average children in these countries, he said, citing the likes of Switzerland, France and Germany.

"That is a simple summary of the quality of our system as a whole, the teachers, the principals and vice-principals, the whole system that ensures the quality is spread across the system, and it's not just in a few schools," he said.

But Singapore must do more, Mr Tharman added. "We need deeper intervention to help those who are falling behind." 
Singapore has the "smallest class sizes" and the country's spending for students who are behind in their studies is the "highest", he said. 

Mr Tharman said the Government plans to hire more teachers and professionals such as teacher counsellors to "strengthen the whole school team". He also spoke about preventing a "digital divide", by making sure everyone, regardless of income level, would have access to broadband and computers. 

PROVIDING A SENSE OF SECURITY

Mr Tharman also spoke about the need to provide senior citizens with a greater sense of security. 

"Nice-sounding promises" on what can be done - such as allowing people to get payouts from their Central Provident Fund (CPF) accounts much earlier, or having the Government pay for health care costs - tend to come up during elections, he noted. 

However, many such measures end up hurting the people they are trying to help, he said. 

Doing away with a social security system where government ensures people have retirement savings and leaving individuals the responsibility of deciding how to invest their funds will result in greater inequality and a more divided society, said Mr Tharman.

"It's happened abroad," he said.

He noted that in the United States, which has opted for a "more market-based system", those in the bottom 20 to 30 per cent retire with their debts exceeding their savings, while countries such as Denmark and Finland, which introduced earlier payouts from their own social security, are now trying to reverse their decisions.  

"We must do what is in the interests of those who need help most - the low income group, and the middle income group," he said, adding that the CPF system has evolved to "provide a lot more flexibility". 

The basic rationale of schemes such as the CPF system or MediShield Life is one of collective responsibility, he said. 

"We have to share risks. You don't know who's going to live longer than the others. You don't know who's going to have the misfortune of having a serious illness. And we don't know who's going to be at the wrong end of life's vicissitudes," said Mr Tharman. 

In addition to schemes such as CPF Life, MediShield Life and CareShield Life, the Government also provides additional support to those in the lower and middle income groups in their older years, he said. 

He pointed to the significant subsidies for MediShield Life for people in these groups, as well as the extra interest rate paid on CPF balances, particularly for those aged 55 and above. 

He also noted that Deputy Prime Minister Heng Swee Keat had announced the Silver Support scheme, which provides quarterly payouts to eligible Singaporeans aged 65 and above, would be significantly enhanced from January next year, with payouts of up to S$900 every three months. 
Mr Tharman explained why the Government chooses a system that provides targeted support.
"Because if the government is to pay for everyone, it means the better off people get the same benefits as the poor. And it also means - and we've seen this in so many societies - that you end up with higher taxes on the middle income group," he said.  

"Yes, the rich can pay somewhat more taxes. But there's no way in which the sums will add up without also raising taxes significantly for the middle income group, which is the way it is in all the advanced countries that people sometimes think of as some sort of dream society," he added. 

In such countries, the average person pays about 17 to 18 per cent of their income on income taxes, with a goods and services tax rate of about 19 to 20 per cent. Mr Tharman compared this to the income tax rate of zero or 2 per cent for the median Singaporean tax payer.

"The average person in those advanced societies pays more than one third of their incomes to the government every month in taxes," he said, adding that in some Scandinavian countries the amount paid could be more than 40 per cent. 

"So imagine in Singapore, our median income is S$4,600, it would mean that well over S$1,000 a month would be paid to the Government," he said. 

While taxes must go up as society ages due to increasing healthcare expenditure, taxes must be kept as low as possible for the middle class, with Government revenue used to help those who are most in need, he said. 

"Some promises look appealing, but they actually lead to greater inequality over time, Think hard about the need for a fair system, a progressive system and a sustainable system. That's basically what we're trying to achieve in Singapore."  

"IT'S ABOUT ALL OF US"

Mr Tharman concluded his address by pointing out that while government has a role to play and that not everything should be left to market forces or individuals, it is also about "all of us".
"It's about all of us getting involved, by taking an interest in others, particularly those who are less well off than us, or those who come from different social backgrounds," he said. 

"I think we should retain the social ethos, where people will come for themselves, take responsibility, and take pride in standing on their own feet."

Referencing a popular Hokkien song which says that 30 per cent of what happens in life is determined by the "will of the heavens", Mr Tharman said that that 30 per cent "has to be community".

He appealed to the younger generation to build an inclusive society "that doesn't just mimic efforts in other societies", but instead, does it in a way that does not impose a heavy burden on Singaporeans at large and allows for people to get involved.

He urged them to get involved in the neighbourhood, to work with less privileged children, adults who have had less education and the elderly. 

"Get involved with initiatives of your own, and find ways of joining it with what we are doing," he said, encouraging them to get involved in Mr Heng's "Singapore Together" movement.

Wrapping up, he said Singapore can emerge from the pandemic not more divided, but with a more cohesive and inclusive society.

"We can become a society which is inclusive for the next generation, not just today. And we can become a much more deeply multiracial society, which is a journey of its own, that we have to pursue. We can become a better Singapore."

Editor's note: A previous version of this article quoted Mr Tharman as saying there might be an evolution of the CPF system to "provide a lot more flexibility". Mr Tharman actually said the evolution has already taken place to provide that flexibility. We apologise for the error. 
Download our app or subscribe to our Telegram channel for the latest updates: https://cna.asia/telegram