GE2020: Workers' Party to contest 4 GRCs, 2 SMCs; Low Thia Khiang, Chen Show Mao and Png Eng Huat to step down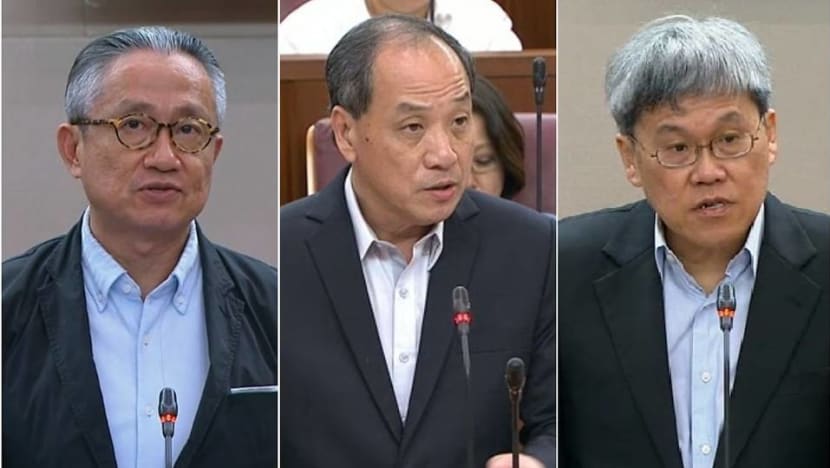 SINGAPORE: Former Workers' Party chief Low Thia Khiang and former Members of Parliament (MPs) Chen Show Mao and Png Eng Huat will not run in the upcoming General Election, party leader Pritam Singh said on Thursday (Jun 25).
Mr Singh made the announcement at a virtual press conference after revealing that the Workers' Party will contest four Group Representation Constituencies (GRCs) and two Single Member Constituencies (SMCs) at the election next month. The party also unveiled its first four prospective candidates for the General Election. 
The party will field candidates in Aljunied, Marine Parade, Sengkang and East Coast GRCs, as well as Hougang and Punggol West SMCs.
It will contest 21 seats: Five seats each in Aljunied, Marine Parade and East Coast GRCs, four seats in the new Sengkang GRC, one in Hougang SMC and another in the new Punggol West SMC. 
In the 2015 General Election, the Workers' Party contested 28 seats in total, in Aljunied, Jalan Besar, Marine Parade, East Coast and Nee Soon GRCs, as well as Hougang, Punggol East, MacPherson, Sengkang West and Fengshan SMCs.
STEPPING DOWN
Mr Singh said the decision for former Aljunied MPs Mr Low and Mr Chen, as well as former Hougang MP Mr Png to step away from the upcoming election was made "some time ago".
"The party leadership came to this collective decision with Mr Low, Mr Chen, and Mr Png some time ago, when all three shared their wish to step down at the end of the current term of Parliament," he said, adding that their decision to step down was not a retirement.
The collective decision is based on three considerations: Broadening the "leadership base" for the party to grow, for them to become "senior leaders" in the party to mentor younger members, and to stay "in touch with Singapore", Mr Singh said.
"Mr Low shared with me that it is critical for the Workers' Party to remain relevant to all Singaporeans, be they new citizens, seniors, middle age, and younger voters," he added.
"He was concerned that as the elder generation of the party ages, even as values and wisdom remain timeless, a member of parliament must have his or her pulse on Singapore society."
President Halimah Yacob thanked Mr Low for his years of service as "leader of the opposition" in a Facebook post on Thursday night.
"We may have had differing views on many policies, but I respect Mr Low for his tenacity and motivation to make Singapore a better place.
"He has been a voice of reason and rationality among the opposition in Singapore. I am glad that Mr Low is steadily getting better from his recent fall, and wish him a full recovery soon," she wrote.
Mr Low was warded in the intensive care unit earlier this year following a fall at home. The party said on May 22 that he was discharged from hospital, and was on hospitalisation leave. 
Before Parliament was dissolved this week, he was the longest-serving opposition MP.  
Mr Singh said that former Non-Constituency Members of Parliament (NCMPs) Gerald Giam and Leon Perera will stand in Aljunied GRC, while the party's organising secretary and former NCMP Dennis Tan will stand in Hougang SMC.

MORE CANDIDATES POSSIBLE
Mr Singh said the party could contest more seats if they can "find more candidates".
He said: "I think we have the best candidates that we can find ... and we want them to represent (Singaporeans) and represent them well. 
"If we can find more candidates ... of course, we can consider fielding more seats. But I think it's important for us to focus our efforts and ensure that the candidates that we put forward can do well for the Workers' Party."
He said the party will reveal over the next few days how many candidates will be new and how many will be standing again for election. 
"It will be a tough General Election, but I'm looking forward to it like the rest of the Workers' Party," he added.
Download our app or subscribe to our Telegram channel for the latest updates: https://cna.asia/telegram