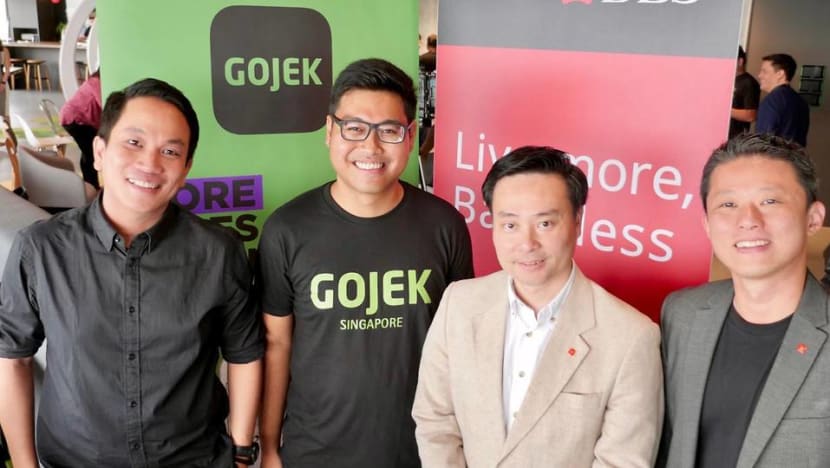 SINGAPORE: Ride-hailing company Go-Jek launched the beta version of its app in Singapore on Thursday (Nov 29), kicking off the roll-out of its services across the island.

During this beta phase, Go-Jek said access to the app will be granted in batches to balance ride demand and service capabilities.
At the initial stage, the app will be made available only in areas like Singapore's Central Business District, Jurong East, Changi, Punggol, Ang Mo Kio and Sentosa. Only passengers who are travelling to and from these listed areas may book a ride with Go-Jek during the beta phase. 
The app can be downloaded in Singapore from Thursday.

The company said the beta app marks the start of a "gradual roll-out of Go-Jek's ride-hailing services across the island as more drive-partners are onboarded over time to feed consumer demand".

The beta phase is expected to take place over a few weeks with the company targeting a full launch islandwide in early 2019. 
Go-Jek added that the launch of the app also kickstarts its strategic partnership with DBS Bank.
DBS and POSB customers in Singapore will be prioritised on the waitlist, and receive a S$5 voucher credit for each of their first two rides.
Commenting on the launch, Go-Jek president Andre Soelistyo said: "It is with great pride that we begin the roll-out of our services in Singapore. Consumers throughout the country have told us that they want more choice in this sector and with the launch of our beta app, their wait is coming to an end.
"We are launching in beta for now, while we fine tune our service to make sure it meets the high standards expected by Singaporeans. As such, we are asking all users, whether drivers or passengers, to provide us with ongoing feedback as we work towards creating the best possible service for the country." 

RECRUITMENT FOR DRIVERS 'OVERWHELMING' 
Go-Jek has also ramped up its efforts to recruit drivers by launching a portal where they may pre-register to use its platform.

In response to queries from Channel NewsAsia, the Indonesian company said the response from the drivers community "has been overwhelming" with "thousands of drivers" signing up through the portal. 
Go-Jek added that it has started some onboarding activities with a small number of driver-partners to test its processes and gather feedback. 
"The onboarding is done in batches because we want to ensure that all driver-partners have a pleasant onboarding experience. By restricting the number of driver-partners per session, we will be able to provide the best possible experience. We will continue to invite more drivers into the process as we ramp up our onboarding efforts," the spokesperson said.