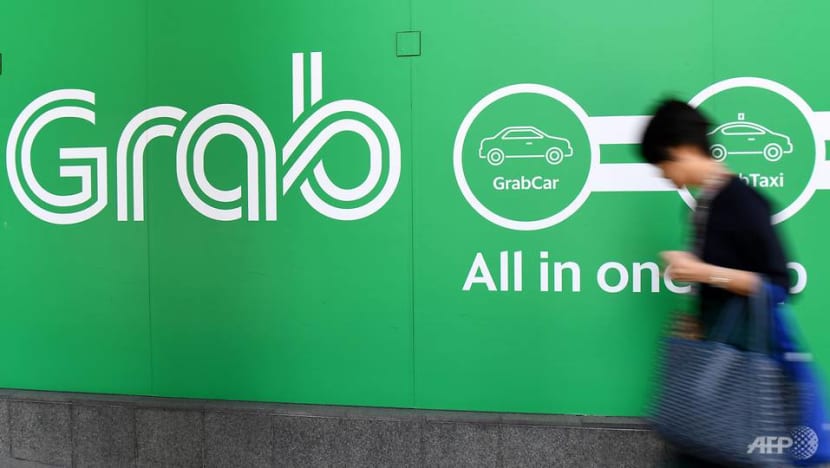 SINGAPORE: Ride-hailing operator Grab said on Tuesday (Sep 25) that it will retain the existing redemption rates under its GrabRewards programme beyond the end of this month.
Grab previously announced changes to its rewards system in July, only to backtrack and delay it until Sep 30 following "some initial unhappiness" from customers. 
"We heard your feedback. That's why we're pleased to announce that even after 30 September 2018, all Silver, Gold and Platinum members will continue to enjoy preferential pricing on Grab rewards," said Grab in an email notification to its customers.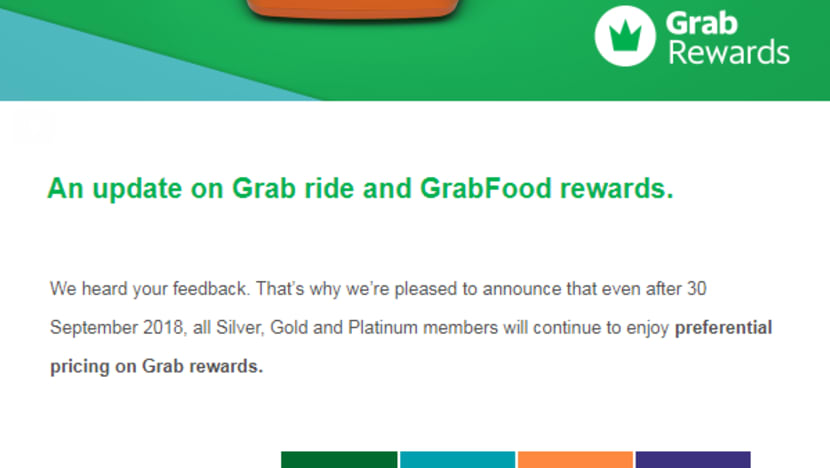 Under the original rewards system, Regular, Silver, Gold and Platinum members needed 2,200, 2,100, 2,000 and 1,900 points, respectively, to redeem a S$5 reward for Grab rides.
In a controversial move in July, Grab revised the redemption rate to 2,200 points for a S$5 Grab ride reward regardless of member tier, sparking an online furore.
Several days after announcing the revision, Grab said that it would revert to the previous ride reward rates and postpone implementing the new scheme until Sep 30 in order to give customers time to adjust to the changes.
Grab's changes to its loyalty programme - including reducing the number of points earned by riders per dollar spent - were among some of the items highlighted by the Competition and Consumer Commission of Singapore (CCCS), who on Monday imposed a S$6.42 million fine and several restrictions on Grab to address competition concerns arising from its merger with Uber.
In response, Grab said it will abide by the remedies set out by the watchdog, although it maintained that it did not intentionally or negligently breach competition laws. 
GRABHITCH SERVICE UNAVAILABLE FROM 1AM TO 5AM
In a separate notification on Tuesday, Grab said that its GrabHitch service will no longer be available between 1am to 5am from Oct 1, as part of its "continuous efforts to provide a safe and positive ride experience" for customers. 
"This initiative follows the operating hours of GrabShare and is in response to our users' feedback of disputes and tension between carpooling passengers during these hours," said Grab. 
"Rest assured that all other services will remain available. Moving forward, we will continue to increase our efforts and make strong investments in making GrabHitch better for you," it said.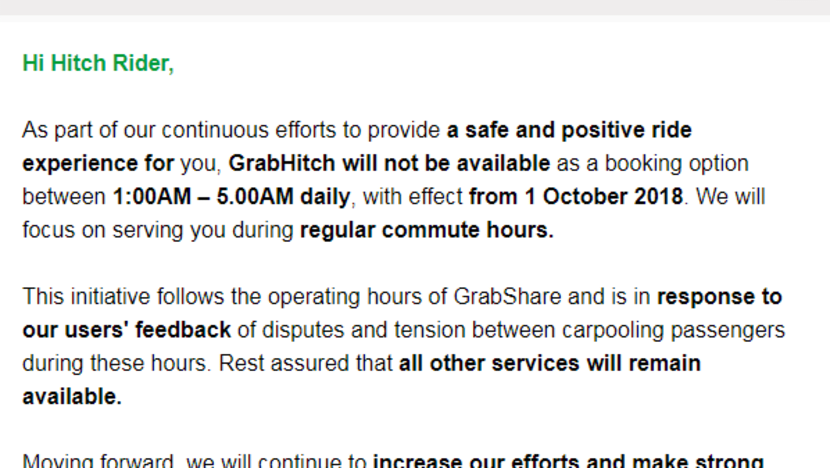 Previously in June, Grab said that it removed GrabShare services during wee hours after receiving "numerous reports" about safety concerns. 
The company told Channel NewsAsia that it received feedback from its driver partners and passengers that "it can be an unpleasant experience to be matched with unruly passengers on the same GrabShare ride".