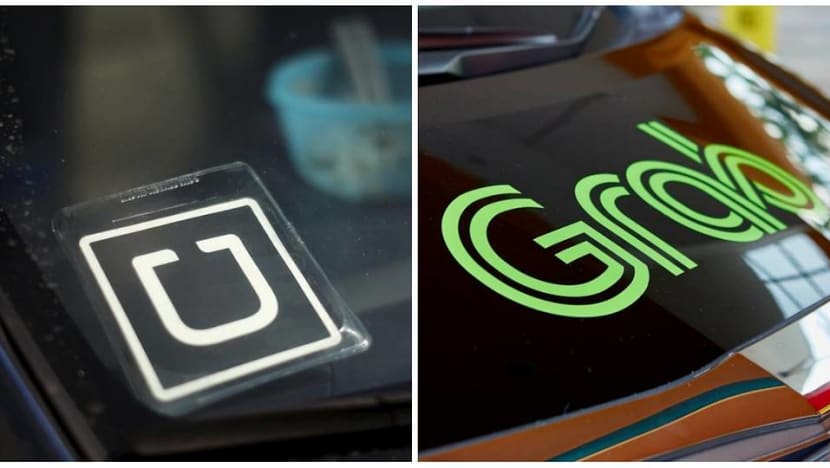 SINGAPORE: Just six months after the announcement of a merger between Grab and Uber, the ride-hailing giants have been handed a S$13 million fine by Singapore's competition watchdog.
On Monday (Sep 24), the Competition and Consumer Commission of Singapore (CCCS) said that the deal has led to a substantial eroding of competition in the ride-hailing market and that the penalties - S$6.58 million for Uber and S$6.42 million for Grab - were imposed to "deter completed, irreversible mergers that harm competition".
The competition watchdog also announced measures to lessen the impact of the deal on drivers and riders and open up the market for new players.
Here's a timeline of the events that led to the CCCS' decision. 
MAR 9: LETTERS TO GRAB AND UBER
CCCS said a letter was sent to Grab and Uber on Mar 9 to explain Singapore's merger notification regime and the watchdog's corresponding powers to investigate, give directions, impose financial penalties and/or impose interim measures. 
It added that Grab and Uber had the option of notifying CCCS of the planned merger for its clearance or seeking CCCS' confidential advice prior to completing the transaction. Nevertheless, the companies proceeded to complete the merger.
MAR 26: GRAB, UBER ANNOUNCED MERGER; CCCS NOT NOTIFIED
Grab announced that it had acquired Uber's Southeast Asia operations and would integrate Uber's ridesharing and food delivery business in the region to its platform.
It also said that Uber would take a 27.5 per cent stake in Grab, and Uber CEO Dara Khosrowshahi would join Grab's board. 
On the same day, CCCS said it had not received formal notifications from both companies on the merger.
MAR 27: INVESTIGATION INTO GRAB-UBER MERGER LAUNCHED
CCCS looked into the Grab and Uber merger a day after the deal was announced. It also proposed interim measures to preserve competition and market conditions while it conducted investigations.
MAR 30: INTERIM MEASURES PROPOSED AS INVESTIGATIONS CONTINUE
Key interim measures proposed by CCCS included maintaining Uber and Grab's independent pricing, pricing policies and products. 
The proposal also did not allow the companies to integrate their businesses in Singapore, obtain confidential information from each other and subject Uber drivers joining Grab to exclusivity clauses, lock-in periods and/or termination fees.
APR 13: INTERIM MEASURES FINALISED
CCCS issued interim measures as it continued with investigations. They included preventing Grab from taking over Uber's operational data, ensuring that drivers were not subjected to exclusivity agreements, and that the ride-hailing firms maintained their pre-merger pricing and commission levels.
At this point, CCCS also stated that the Uber platform was still made available in Singapore until May 7 instead of the previously stipulated Apr 15 "to allow a smoother transition time for riders and drivers".
JUL 5: CCCS COMPLETED INVESTIGATION, PROPOSED FINANCIAL PENALTIES
CCCS announced that it had completed investigations into the Grab and Uber merger. It added that investigations suggested that the merger had infringed the Competition Act.
It found that Uber would not have left the market if not for the merger and also proposed to impose financial penalties as it found that the companies had carried out the merger despite having anticipated potential competition concerns.
CCCS also sought public feedback on proposed remedies to address competition concerns. The proposed remedies included removing exclusivity arrangements for drivers, maintaining Grab's pre-merger pricing algorithm and driver commission rates, requiring Uber to sell its vehicle rental unit Lion City Rentals to any potential competitor except for Grab.
SEP 24: GRAB, UBER FINED A TOTAL OF S$13 MILLION
CCCS fined Grab S$6.42 million and Uber S$6.58 million over the merger it said had led to the substantial eroding of competition in the ride-hailing market.
It also announced measures to address competition concerns. CCCS ordered Grab to remove exclusivity arrangements with drivers and the taxi fleets and to maintain its pre-merger pricing algorithm and driver commission rates.
Uber was required to sell Lion City Rentals to any potential competitor with a reasonable offer based on fair market value.
In an emailed statement, Grab Singapore head Lim Kell Jay said Grab completed the deal within its legal rights, and maintained that it did not intentionally or negligently breach competition laws. He added that Grab will abide by the remedies set out by the watchdog.

Uber said it believed CCCS' decision was based on an "inappropriately narrow definition of the market, and that it incorrectly describes the dynamic nature of the industry, among other concerns".