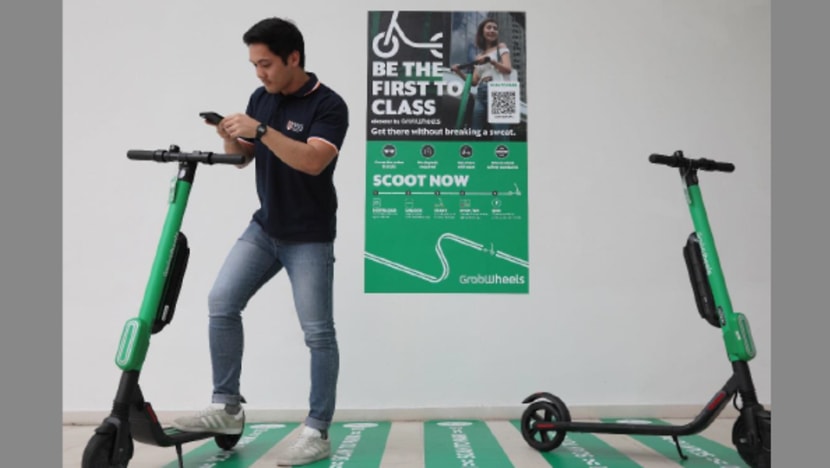 SINGAPORE: A three-month trial has begun for Grab's e-scooter sharing service GrabWheels at the National University of Singapore's (NUS) Kent Ridge campus.
E-scooters have been deployed across eight parking stations on campus in the pilot, which sees the new GrabWheels service being tested for the first time in Singapore, Grab said in a joint news release with NUS on Friday (Nov 23). 
The number of stations will progressively increase to 30 by the end of December.

To use the service, users can go to one of the dedicated parking stations and use the GrabWheels beta app to unlock the e-scooter.

Users will be charged S$0.20 for every 30 minutes of use during the pilot period.
To end the trip, the rider will have to lock the e-scooter by scanning a specific QR code located at one of the dedicated parking stations.
"These e-scooters offer us an alternative to taking the shuttle buses, especially when we are in a hurry," said Nicholas Tey, a fourth year undergraduate student.
"The parking locations are conveniently located near places where students usually hang out."

SAFETY REQUIREMENTS

Insurance coverage is included in all rides, said Grab and NUS in the statement.

Additionally, the e-scooters meet regulation standards - such as having a maximum weight of 20kg, maximum width of 70cm, and maximum motorized speed of 25km/h - as stipulated by the Active Mobility Act and the UL2272 fire safety standard.
Grab will also encourage users to ride safely through in-app messages. 
"There will also be a support team on standby round the clock, to assist users when they encounter any issue during the pilot period," it said.
Through the trial, Grab and NUS also hope "to gain insights into how e-scooters can help address transportation needs on campus" by studying commuter patterns.
"(The trial) offers interesting research opportunities to develop innovative mobility solutions that could shape the future of urban transportation," added Professor Yong Kwet Yew, senior vice president of NUS.