Higher income ceilings, enhanced housing grant for HDB flat buyers
The income ceilings to qualify for the purchase of HDB flats will be raised from Wednesday (Sep 11) as part of measures "to help more Singaporeans from the lower to upper-middle income households buy their first home".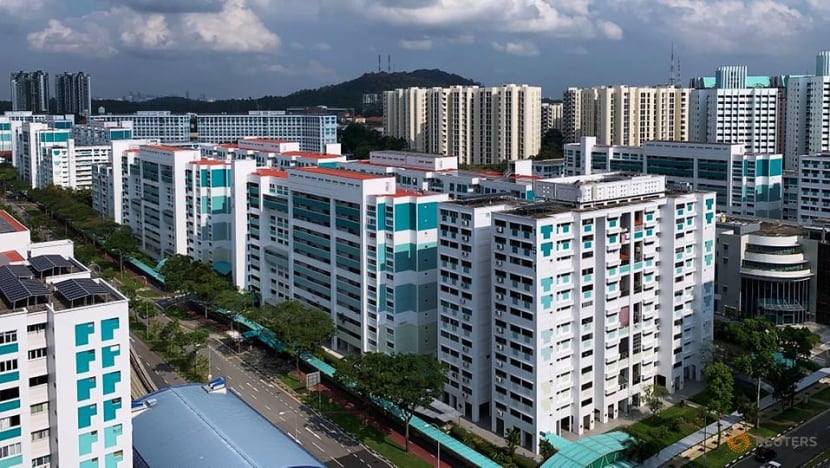 SINGAPORE: The income ceilings to qualify for the purchase of new Housing Board flats will be raised and first-time flat buyers will get more generous housing grants from Wednesday (Sep 11).

The household income cap will go up from S$12,000 to S$14,000 for families looking to buy a Build-To-Order (BTO) flat. This increased cap will also apply to HDB housing loans.
Those looking to buy an Executive Condominium will also benefit from a higher income cap, up from S$14,000 to S$16,000. For singles aged 35 and above the new income ceiling will be S$7,000, up from S$6,000.

The income ceiling was last raised in 2015.
The changes will give more home buyers access to affordable housing options, National Development Minister Lawrence Wong said on Tuesday at an event to recognise HDB projects for their excellence in design, construction and engineering.
NEW ENHANCED HOUSING GRANT
HDB will also make it easier for first-time home buyers to qualify for its housing grants.
The Enhanced CPF Housing Grant (EHG) will place no restrictions on flat buyers' choice of flat type or location, and can be used for new or resale flats. 
It also has an income ceiling of S$9,000, higher than the two existing schemes it replaces - the Additional CPF Housing Grant (AHG) and the Special CPF Housing Grant (SHG). 
The income cap for AHG is S$5,000 while the SHG has a cap of S$8,500 and is restricted to purchases of four-room or smaller new flats in non-mature estates.
However, flat buyers can only get the full EHG grant if the flat lease can cover them and their spouses to the age of 95. Families who buy flats with shorter leases will have their grants pro-rated.

"This is to ensure that all Singaporeans will be able to live comfortably in a home that can last them for life," HDB said.

For example, a first-timer couple with a combined income of S$4,800 looking to buy a four-room BTO flat in a mature estate will receive an EHG of S$45,000. Under the current scheme, the couple will only enjoy a S$5,000 AHG.

Those buying resale flats can also qualify for the Proximity Housing Grant on top of the EHG, provided they fulfil the requirements. This is not unique to first-time buyers.

"The Enhanced Housing Grant is a major step forward in making HDB flats more affordable for all first-timers," said Mr Wong.

"Home buyers will have more options for larger BTO flats in mature estates, and also the wide variety of readily available flats in the resale market."
Those who want to live near their parents will now have many more affordable options, he added.
With these changes, HDB said that it expects demand for public housing to increase. It will likely increase the BTO supply in 2020, it added.
NEW HDB PORTAL
The Minister also announced plans for a new HDB portal which will give buyers information on both new flats offered by HDB and resale flats on one platform, said Mr Wong.

Sellers can also list and advertise their flats, and complete the resale application on the portal.

"All this is work in progress, and we intend to get the new portal ready by the end of next year," said Mr Wong.

With the increase in income ceiling, caps for HDB assistance schemes will also be raised from S$6,000 to S$7,000. These include the Fresh Start Housing Scheme and the Step-Up CPF Housing Grant.
Eligible seniors with household incomes of up to S$14,000 or less will also be eligible for the Lease Buyback Scheme, the Silver Housing Bonus, and to purchase a short lease two-room Flexi flat, up from the previous income cap of S$12,000.